WATCH: Immanuel Quickley drops stunning crossover on Tyrese Maxey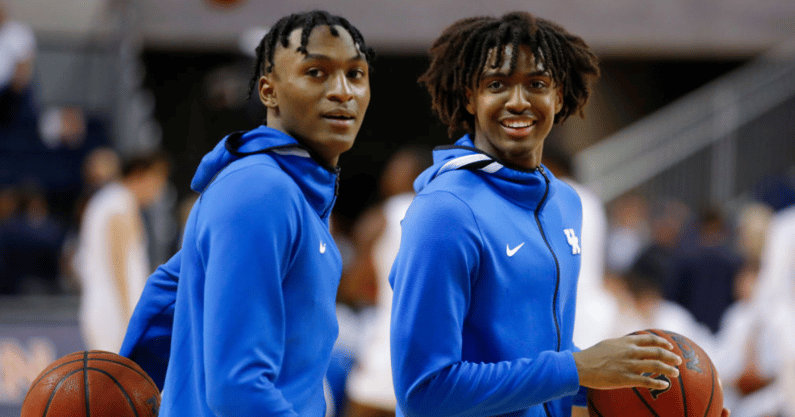 Both Immanuel Quickley and Tyrese Maxey are just two of many past Kentucky basketball players that are now doing their thing in the NBA. Sooner or later, one is going to be on the wrong end of a highlight facing another Kentucky product.
On Tuesday night at Madison Square Garden, that happened to be Tyrese Maxey of the Philadelphia 76ers who hit the road to play the New York Knicks.
On the pull-up opportunity, Immanuel Quickley sets up Tyrese Maxey with a ball screen before immediately crossing back over to his right. The second-year pro now has a tighter handle with the basketball and drains a three while Maxey is seated on the court.
As expected, the crowd goes bonkers in New York City. Cat on Cat crime is inevitable in the National Basketball Association. Unfortunately, Maxey had to be the one to bite the dust in this highlight.
Both Quickley and Maxey played together during the 2019-20 basketball season for Kentucky. The backcourt duo led the team to a regular-season SEC title with 25 wins and a No. 6 national ranking before the COVID-19 pandemic ended the season. They have moved over to the pros and are now on rival franchises.
However, each of the former teammates appears to be in a good spot playing in the Eastern Conference. Quickley is coming off the bench for the Knicks and is providing instant offense. Meanwhile, Maxey has gotten a start in every game for the 76ers and was averaging over 16 points per outing entering the contest with the Knicks.
Former Kentucky stars are doing their thing in the professional ranks.