New year, new Toppin: UK forward is dieting and working on his jumper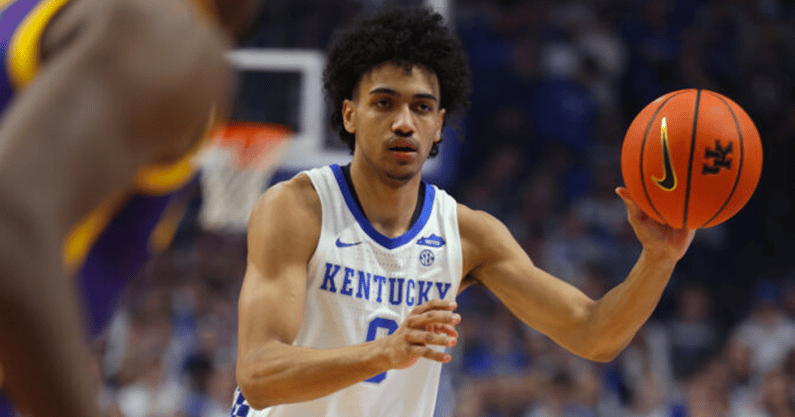 Back in the spring, Jacob Toppin snuck away from the Kentucky Basketball program to see how he fit in as an NBA prospect in the 2022 draft class. In early April, Toppin declared for the draft to test the waters but maintained his college eligibility by returning to school ahead of the June 1 deadline.
The decision to return to Kentucky was the plan all along, Toppin admitted Thursday during a press conference in Lexington. "I knew I wasn't ready," he explained. "I'm a person who was gonna go at my own pace. I'm not going to force anything."
Also from that conversation, the bouncy, 6-foot-9 forward revealed some of the advice he received during the NBA experience and what he is doing to improve ahead of his senior year of college basketball at Kentucky.
"They told me I need to get bigger, stronger," Toppin said of the NBA feedback. "I need to get more consistent at shooting the ball. Those were the three main factors that they told me."
The plan to get bigger and stronger is already going well as Toppin has added five to ten pounds since the end of last season. He is keeping a close eye on his weight this summer through a new diet implemented by the team's new strength and conditioning coach, Brady Welsh.
"He's been good for us," said Toppin. "He's been on me a lot about eating the right stuff, not just eating a lot of food but eating the right stuff and it's helped a lot. I feel healthier, I feel better, I feel stronger."
The new diet is mostly protein and good carbs, a lot of water, and no junk food whatsoever. In the past, things like potato chips and candy were routine in Toppin's diet. He has replaced those with peanut butter sandwiches and bananas.
But still the occasional Starburst when no one is looking. They're his favorite.
A new offensive threat
On the court, Toppin is preparing to take on a much bigger role for Kentucky Basketball, almost certainly in Keion Brooks' old role as the full-time starting forward. With the promotion comes new responsibility, the most important being to stretch the floor with an outside game.
"My role last season and the other season was mostly like play defense, be a defensive disruption, make open shots from the two, dribble-pull-ups, get rebounds, be a hustle player–and none of that's went away. I'm still going to be that person," Toppin said.
"Now I'm gonna be an offensive threat to space the floor at the four spot, so I'm just developing my game and just elevating."
Toppin also said he has made great strides on his jump shot because it's where the game is going. Hear all he had to say below.
Toppin on diet, new role, and more