Alabama WR Javon Baker could become transfer target for Kentucky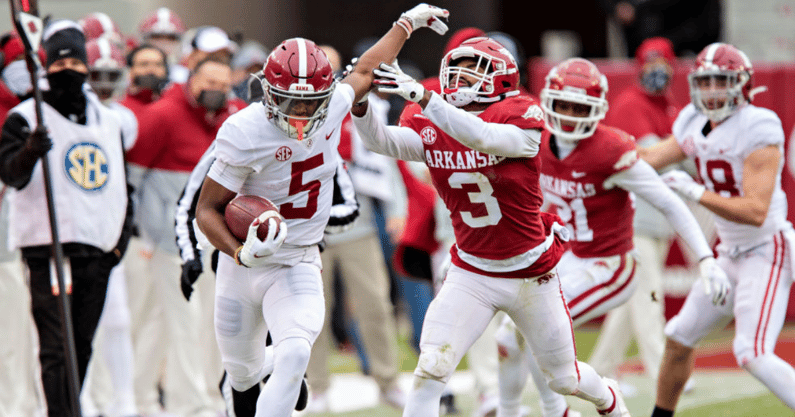 On Friday morning, Alabama wide receiver Javon Baker entered the transfer portal after two seasons in Nick Saban's program. The former top-250 recruit out of Atlanta should get a ton of Power Five interest over the next couple of weeks.
Kentucky appears to have thrown its hat into the ring.
A couple of members of the coaching staff have begun following Baker on Twitter, and sources tell KSR that the Wildcats are pursuing the former four-star recruit.
That adds up because Javon Baker appears to check a ton of boxes for Kentucky at wide receiver.
Vertical threat on the outside
Even before the 2021 season started, Kentucky knew that help would be needed on the perimeter in 2022. The Wildcats addressed this by landing a commitment from Syracuse transfer Taj Harris.
However, the New Jersey native had some issues that were not going to allow him to be a take for Kentucky. Unfortunately, the program had to move on.
To replace Wan'Dale Robinson, the Wildcats landed Virginia Tech transfer Tayvion Robinson from the portal, and the former top-500 recruit is now on campus in Lexington for the spring semester. The former ACC player is a slot wideout who should be a natural fit in Liam Coen's offense.
However, help is still needed outside. Kentucky went through the 2021 season using primarily two slot receivers — Josh Ali and Wan'Dale Robinson — and a ton of two tight end sets. The Wildcats would like to get out of it moving forward.
There has been some solid recruiting success, but the wide receiver position is still very young. Javon Baker could help change that.
The rising junior spent two seasons at Alabama playing for both Steve Sarkisian and Bill O'Brien on offense. After participating in nine games for a national championship squad as a true freshman, Baker played in seven games this fall and got some real game action.
Baker played in the College Football Playoff contest against Cincinnati after the Tide lost John Metchie III to an ACL injury. Before that, Baker recorded three catches for 21 yards in the season-opening win against Miami.
Out of high school, Javon Baker was known as a good athlete with a strong release ability off the line scrimmage that combined a good catch radius with some top-end speed. Those skills added up as someone who could be a vertical threat in an offense at 6-2 and 200-plus pounds.
That is just what Kentucky needs to add on offense. Baker is a former All-American Bowl participant who has a vertical lead of 35-plus inches on record. The skills are there to be an impact player on vertical pass concepts.
Patience is needed
The spring semester at the University of Kentucky started this week. Students are back to class after going home for winter break. What does that mean for the football team? No one can be enrolled in school until the semester is over.
Last weekend, Kentucky hosted Ohio State transfer Darrion Henry-Young for an official visit and received a commitment on Monday. Why did that happen so quickly? Likely to get the former four-star defensive end enrolled for the spring semester.
Fellow transfers Tashawn Manning and Tayvion Robinson signed with the program in December to get on campus and enrolled in school in January. Kentucky no longer has that power anymore.
Therefore, patience can be used in the transfer portal. Kentucky can take commitments but won't be able to get anyone into school until this semester wraps up.
In the meantime, pursuing Javon Baker seems to be like a smart move for the program. The former Alabama wide receiver has big-play potential and has a skillset that the Wildcats are missing on offense. Waiting on Baker until the summer could be worth it.
Roster construction never truly stops in modern-day college football.