John Calipari addresses the crowd at Big Blue Madness 2021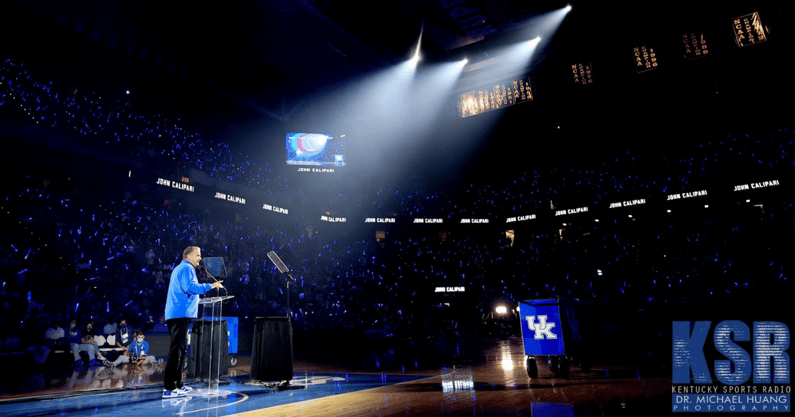 After a year with no crowds, it was easy to sense the excitement plastered all over John Calipari's face. The 2020 version of Big Blue Madness was held virtually inside of Memorial Coliseum, and it was just one of the endless adjustments that had to be made because of the COVID-19 pandemic. Kentucky admittedly lost some juice over the last 12 months.
But when Calipari walked into Rupp Arena on Friday night to a vivacious crowd of Kentucky Basketball fans, so did the swagger that he didn't get to showcase a season ago. Swaggy Cal was in full effect during this year's Big Blue Madness, rattling off name after name of former Wildcats playing in the NBA, the number of wins that Kentucky has in its history, the number of All-Americans, Final Fours, National Championships, and whatever else he could pull from the program's resume.
If you think the players missed playing in front of a crowd, that goes double for Calipari. The Kentucky head coach, who is about to embark on his 13th season in Lexington, knows the effect the crowd can have on any given game. He gave major credit to the fans first and foremost.
"Can I just say…boy have I missed that roar," Calipari said on Friday at Big Blue Madness. "What an incredible night this is to celebrate the return of college basketball. What a great evening to bring our basketball family together with you again to honor what makes this the greatest tradition in the history of college basketball.
"Tonight is about your dedication, your passion, and your support of this great program and these incredible young men. Tonight, as we tip off a new season, we remind everyone what separates Kentucky from everyone else. It's you, the fans. Tonight we celebrate you, and as I stand here before you tonight, I am reminded how much we missed (the) energy you provide. We truly understand the advantage you provide us."
And of course, it didn't take Calipari long to utter his favorite phrase when addressing the crowd, only this time around, he added a little extra flair to it.
"When's the last time I've said you people are crazy? You're nuts," Calipari added. "You were also there in the darkest of times."
And dark times they were. The 2020-21 season saw the school's worst record in roughly a century, the tragic deaths of two players, and isolation that the world hasn't collectively experienced in our lifetimes. Calipari made sure to take more than a moment to address the passing of former Wildcat Terrence Clarke, who was killed in a car crash back in the spring.
"In April, we lost a son, a brother, a young man with his whole life ahead of him," Calipari said. "Terrence Clarke came into the gym every day with a smile on his face and a spirit about him that rubbed off on everyone he touched."
The moment concluded with Clarke's family accepting a gift from the Kentucky players: a pair of custom-designed shoes in honor of their lost teammate.
Calipari went on to address the differences in the current landscape of college basketball. He acknowledged that he plans to adapt, but will do so without forgetting what has made the Kentucky program so successful over the years.
"There have been a lot of changes in our sport over the last couple of years. The ground is shifting beneath our feet and we have to be nimble and flexible," Calipari said. "But the vision of this program has not changed. Putting players first, helping them reach their dreams remains the mission. When they succeed, we all succeed. We cannot do this without understanding the foundation upon which this program was built. Eight national titles, 17 Final Fours, 55 All-Americans, the winningest program in the history of college basketball."
Before he closed out his speech, Calipari put in one request to the fans in attendance.
"Our challenge today, and challenge to you Big Blue Nation, is to come together like never before," Calipari said. "You have always been a difference-maker for us and I ask you tonight, this season, take it to a new level. We have missed you last year. And we look forward to taking to the court again in front of you.
"And before I go, because it's been so long, let me hear that unmistakable chant that everyone knows and our opponents fear. Let's do it together one time and show these young men what it feels like to hear the Big Blue Nation roar."
Go. Big. Blue.