John Calipari says Davion Mintz will play vs. Southern, UK close to 100%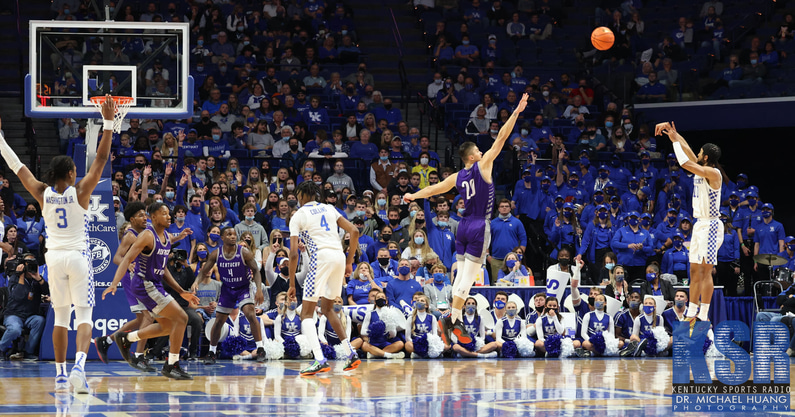 Kentucky is close to full strength as it gets into the heart of its non-conference schedule, highlighted by the return of guard Davion Mintz.
Davion Mintz is back
Mintz, who has missed Kentucky's last three games due to illness, will return to the lineup when the Wildcats take on Southern on Tuesday.
"Davion Mintz is playing. He's finally back," John Calipari said on his call-in radio show Monday evening. "I told him, 'It's good to have you back.' I come out today, and he's running sprints to get himself right before we practice, he's shooting. And then he made every shot in practice.
"… Aside from what he does offensively, it's what he does defensively. He's one of our defensive guards. He said, 'I'll be better than when I left.' It's just great to have him back."
Full strength again?
Beyond Mintz, Calipari said freshman forward Bryce Hopkins is still dealing with a minor back issue, but everyone else is back to full strength.
"Bryce (Hopkins) went half (speed), he's still beaten up a little bit," Calipari said. "Jacob (Toppin) has come back, he's been good. A couple car crashes (in practice), but he's good. … Car crash means you're not looking to avoid contact. It's a car crash in the lane in practice. … Lance (Ware) is fine, he's 100%, plus his mom was in town today. He was really on point. Keion (Brooks Jr.) has been fine, he came back and he's doing (everything). Daimion Collins, he's back. … He's back and doing great. He's doing good stuff."
With Hopkins in the rotation — despite still being limited — Kentucky is practicing at full strength again for the first time since the start of the season.
"We had a full team for like two practices, it's unbelievable," Calipari said. "Two or three practices, we had seven or eight guys. … We would've had a game with six players if we played this week."
Growth in limited numbers
Despite being limited overall due to injury and illness, Calipari said his team was still able to get better in recent weeks, a positive sign moving forward.
"I'll be honest with you, we got something out of those practices," Calipari said. "… I was really pleased with what we got out of the practices."
Kentucky is set to take on Southern University at Rupp Arena on Tuesday at 7 p.m. ET.