John Calipari, Sean Woods on trip to Underground Railroad Museum: "It was magnificent."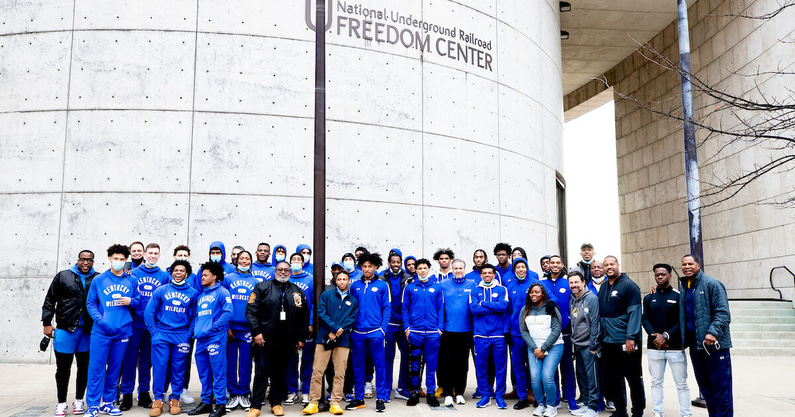 The inaugural Unity Series between Kentucky basketball and members of the Southwestern Athletic Conference is set to begin Tuesday, as the Wildcats will host Southern University in Rupp Arena. It's the first of five consecutive seasons of matchups vs. institutions from the SWAC, which is made up of historically black colleges and universities.
As part of the series, teams involved will raise awareness of the missions of HBCUs and raise funds to provide opportunities for students at their institutions. The first step of this year's matchup? A joint trip to the National Underground Railroad Freedom Museum in Cincinnati.
"What can we do together?"
On Sunday, players, coaches and staff from both Kentucky and Southern met at the Freedom Museum and received an educational orientation and guided tour.
"You know (UK Executive Associate Athletics Director for Diversity, Equity and Inclusion) Ray (Rock) Oliver really did a great job — Ray is close with both Sean and I — but he did a great job of organizing this," John Calipari said on his call-in show Monday evening. "We were talking about, 'What can we do together? What are some things our teams can do?'"
The museum established in 2004 reveals stories of freedom's heroes ranging from the era of the Underground Railroad to contemporary times and challenges people to take courageous steps for freedom.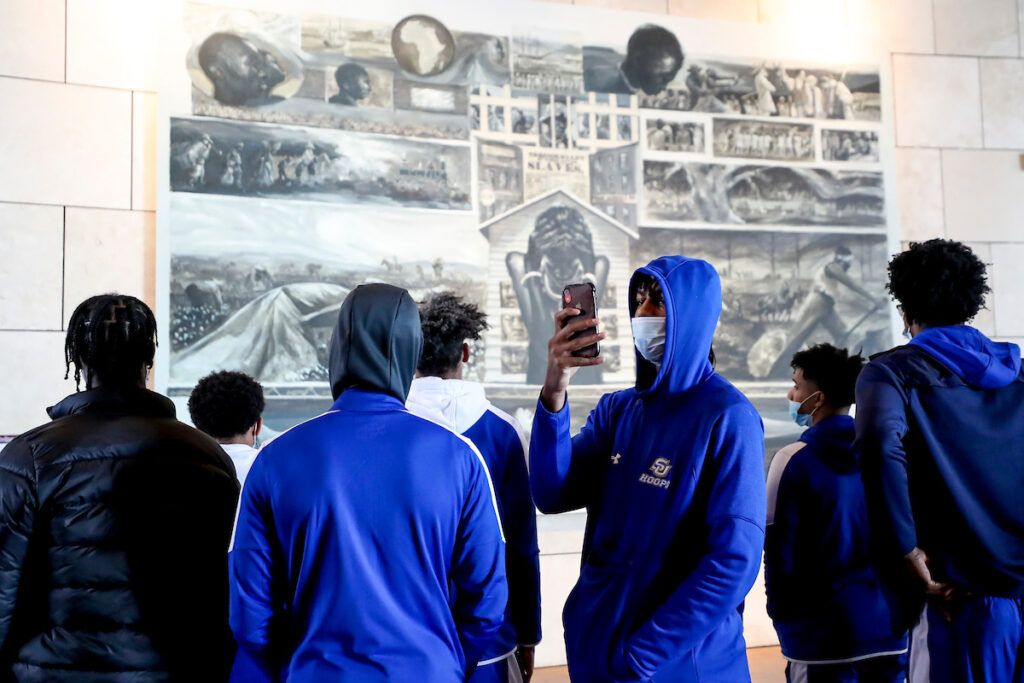 "Magnificent."
It was a way to share and embrace history together, a learning experience for both sides.
"It was magnificent," Southern head coach and UK Athletics Hall of Famer Sean Woods said Monday. "Our guys are still talking about it. I told them that everybody has this mystique, but history is not taught — history is new to you. With this situation, even though we're part of an HBCU and our kids are getting the HBCU experience, when you mention the Underground Railroad, you only mention Harriet Tubman. I'm 51 years old, my family is from here. My mom went to Douglass High School here in town. I never knew anything about this, the Underground Railroad."
Woods shared a story about an employee at the museum getting emotional as his players took the experience to heart, asking questions and digging deeper. And he thanked Calipari for not only creating the opportunity, but doing more to fight for equality and spread awareness.
"The significant thing, (an employee) started crying on us because my guys really asked her questions about the Underground Railroad and so on and so forth," Woods said. "She not only talked about that, but also about how society is now because of that. The one thing that people don't understand — and Cal, I'm not saying this just because you're here — you've been an ambassador as a coach. You've taken advantage of mentoring and trying to bridge the gap."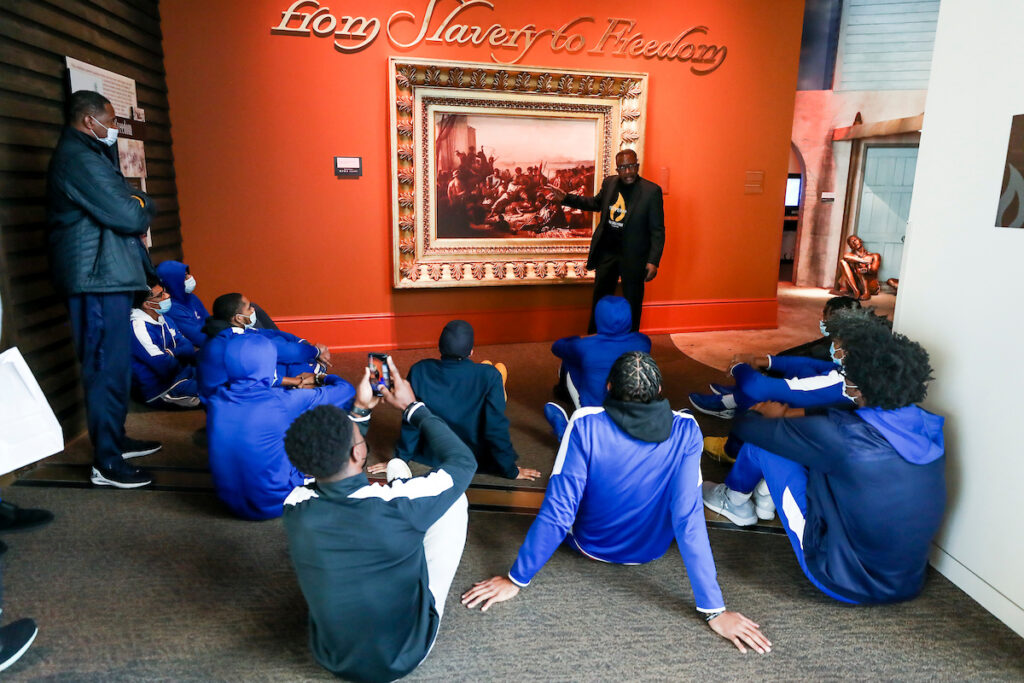 "You're doing your part."
It's a learning experience for him, as well.
"For you and Rock (Oliver) to do this and give everyone an opportunity to get educated on who we are and why we're at this place right now, it's magnificent. I'm just totally proud," Woods added. "It's a great thing for Southern University to be the first team to play in this unity deal because it's an awareness already because of the Black awareness going on, but it can't just stop, you know what I mean? You've given everyone an opportunity, you're helping HBCUs, you're doing your part. I've got to commend you and the University of Kentucky for doing that and I hope that we can continue to do this. I'm taking heed, so at my level, I can do something like this myself."
"We're in positions where we can do things."
For Calipari, it's about moving forward and doing what his platform allows him to do as the head coach at the University of Kentucky. He could've done more in the past, but that won't stop him from slowing down his efforts in the future.
"If you see things that aren't quite right and you're in a position to do something, and you don't, it's almost a sin if you don't try something," Calipari said. "I look back and say, 'Why not ten years ago?' How would I be if I lived in the mid-1800s? You hope you'd have the same heart. When you go (to the museum) and you look at that, I'd tell everybody, it makes you uncomfortable. It'll make you uncomfortable.
"I talked to my team today, and not just that. I mean, the Holocaust? It's evil to do something — you're one human being to another. It's evil. Us doing it and talking about it today after practice — one guy said, 'Why are we doing all this stuff with Southern?' We went and said, 'Let me explain all this.' So we went through the McLendon stuff, why it's important. I think all of us, we're in positions where we can do things."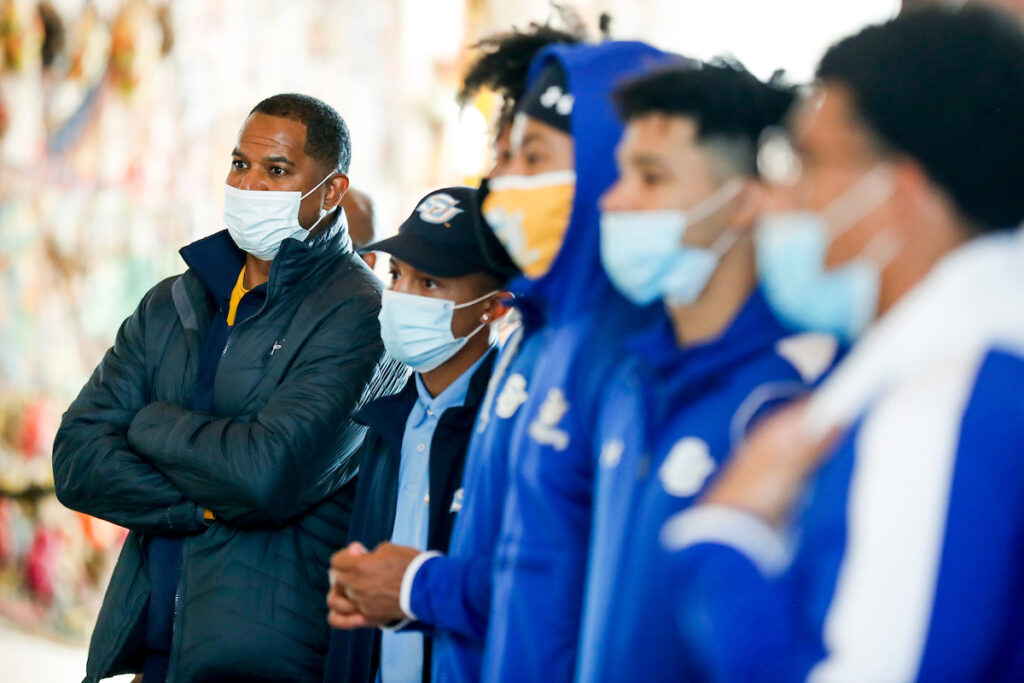 "We can do more."
His efforts may not be the end-all solution to injustice and there's more to do, but it's a start.
"I told the story today," Calipari said. "A little girl is on the beach and there's a bunch of starfish that wash up on the beach — hundreds and hundreds and hundreds. This little girl, she's 12, throwing the starfish one at a time, back (into the water). A man walks behind her and says, 'Little girl, do you see all these starfish? Do you really think you're making a difference?'
"She throws another one in, says, 'I am with that one.' Threw another one in and said, 'I am with that one.' I think for all of us, whatever you do — because some of us are in different positions. We can do more. (It's about) doing something for your fellow man, being kind."
The game between Kentucky and Southern will tip off at 7 p.m. in Rupp Arena on SEC Network.