Jon Scott on UK's STRENGTH OF SCHEDULE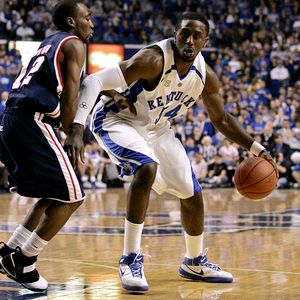 As many of you know, there is no better website on the internet for UK fans than Jon Scott's Statistical Site, which gives you all of the information about UK basketball and its statistics that you can even imagine. Jon is a student of UK basketball and has a great deal of insight on the team both historically and statistically. Every so often, he will write things for this site, and today is one of those pieces:
Is UK's Strength of Schedule Really That Poor ?
During halftime of this weekend's game with Tennessee, Greg Anthony mentioned that to him LSU, Florida and Tennessee are locks for the NCAA tournament while Kentucky is still firmly on the bubble. Now maybe he's changed his mind after watching the second half of the game, but it is reasonable to ask what makes him say this. One possibility when
comparing these two teams is their RPI
. [Note for this discussion I am using results from realtimerpi.com's results as of Feb. 23.] Tennessee (16-10) sits at a comfortable #25 in the country with an astounding #2 strength of schedule (SOS). Kentucky (19-8) has a #62 RPI with a #76 SOS, neither of which are reassuring for a team looking to receive an at-large bid. So why the big difference between the two schools RPI rankings ? Tennessee actually has a worse win % than UK so the difference has to be due to schedule strength. (Note that 25% of the RPI in its most basic form is made up of a team's win % while 75% has to do with their schedule.) More than one national commentator has mentioned Kentucky's 'poor' schedule. It's instructive to compare the two schedules in detail.
[Note that in this example, only non-conference games are considered since conference games are considered largely equivalent. Also, although not entirely accurate nor correct, for simplicity sake the RPI ranking of each opponent will be used to represent each opponent's effect on the team in question's RPI.]
When you look at the difference between the two schools by lining up opponents from best RPI to worst, two significant areas become apparent. 1.) while the top end (ie top 20 where the really dangerous teams reside) is comparable (3 to 2 in favor of Kentucky),
Tennessee has a significantly higher number of opponents in the top 20-50
range than Kentucky (6-1). 2.) additionally, at the very bottom end of the scale, Kentucky played a significant number of teams with
terrible RPIs
. (7-1 for oppponents ranked greater than 250). In the first case, this is a matter of
Tennessee going out and scheduling very ambitiously
, which is to their credit. Kentucky did not schedule badly in this area although not in line with historical Kentucky schedules. They probably should have been more aggressive. One opponent which hurt them is Indiana with an RPI of 192. Typically Indiana would be a team that is expected to consistently be in the top 50 at least. But what really has hurt Kentucky's overall schedule strength is the large number of
bottom dwellers
. Too much dead weight will drag down the entire ship and this looks to be the major difference between the two school's RPI ratings. One aspect of the RPI is that it treats contributions from different opponents equally. This means that some teams that are 'easy wins' can come back to hurt you if you're not careful, while other 'easy wins' don't hurt nearly as much. So, for example Kentucky playing North Carolina (#3) and Mississipi Valley State (#330) [an expected win and a loss], to the RPI they might as well have played Tennessee Martin (#152) and Middle Tennessee State (#172) [both expected wins]. In the RPI's eyes where each opponent's contribution is counted equally, the first case UK played against opponents with an average rating of 167 while in the latter case the RPI erroneously thinks the competition was slightly tougher as the average rating of the opponents was 162.
When you have a large number of turkeys on your schedule as UK does, it effectively erodes whatever credit you would otherwise receive for facing genuinely tough opponents
. In the end, while Tennessee does indeed have a more difficult schedule than UK this year (due in large part to the relatively large number of top 100 teams faced), the difference between the two is actually smaller than it appears on paper when looking only superficially at RPI numbers, again owing to the enormous amount of dead weight on UK's schedule.
If UK had instead scheduled more games against teams likely to be in the RPI 100-200 range
, slightly tougher but still winnable games, their overall 'schedule strength' would be much more respectable. [Granted it's not always possible or desireable to avoid all turkeys. For example the game versus Mississippi Valley State was done as a favor to former UK player Sean Woods. The games versus Delaware State and Longwood may have been non-negotiable as part of the Las Vegas Invitational.] Minimizing the scheduling of turkeys is an area that UK needs to improve on in the future if they want to avoid similar problems down the line.