New Troy coach Jon Sumrall will stay with Kentucky through Citrus Bowl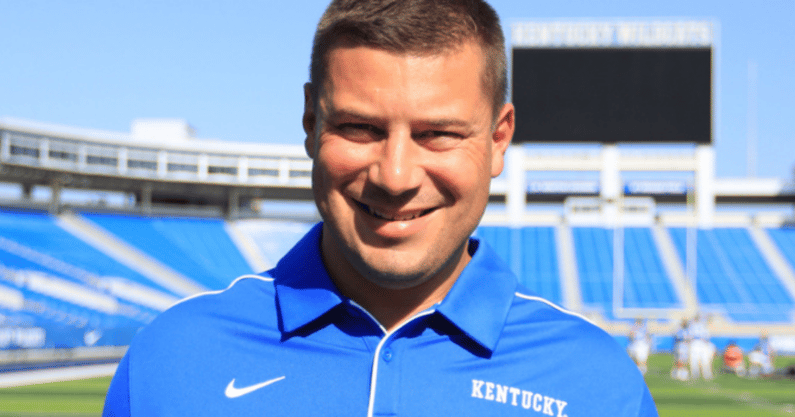 Jon Sumrall was introduced as the head football coach at Troy on Monday morning. Kentucky's co-defensive coordinator will be coaching in the Sun Belt in 2022, but the 39-year-old has some business to handle first.
After making some staffing hires and getting to know the personnel on the Troy roster, Sumrall will be returning to Lexington to coach Kentucky in the Citrus Bowl.
"I am going to coach in the bowl game," Sumrall told reporters on Monday afternoon. "Coach Stoops and I have communicated. Mitch Barnhart and I have spoken or communicated about it as well. The plan is for me to coach in the bowl game. I'd love to get win No. 10, and coaching some of those young men there means so much to me. I really will cherish one more opportunity to go out with those guys.
It's very clear that the University of Kentucky and its football program mean a lot to Jon Sumrall. Even after agreeing to a contract with Troy, the linebackers coach quickly returned to Lexington to help with some recruiting as official visitors were on campus.
"For a little while, I'll be kind of split between two jobs," said Sumrall. "I flew back to Lexington from here on Saturday morning. I got here on Friday at Troy. Met with the team and flex to Lexington on Saturday.
"Just kind of seeing some of the guys on the official visits last week because a couple of those guys were guys that I had recruited from an area standpoint. Did lunch with some of those guys and just kind of hugged their neck and let them know that they're at the right place going to Kentucky. Regardless of whether I was there or not."
Sumrall is excited to get going as the leader of a football program, but there is a job to finish in Lexington. The co-defensive coordinator wants to finish what he started and help the Wildcats secure another double-digit win season.
"I really want to emphasize that yeah I'm doing this job, and that's what's next but I'm going to finish this job before I fully move on," Sumrall told the media. "Most of my attention these next couple of weeks is going to be on Troy. I'll do things here or there for Kentucky, and I'll continue to do whatever Coach Stoops asks of me.
"I'm coaching in that game because I want to finish the job. I want to finish it for Coach Stoops, I want to finish it for Brad White, I want to finish it for the linebackers I coach, I want to finish it for the university. I want to see us get to 10 wins and finish in the top 25."
Built by Kentucky
Mark Stoops hired Jon Sumrall to coach linebackers at Kentucky following the 2018 season after Matt House left the program for the Kansas City Chiefs. He spent three seasons in Lexington, but his relationship with the program goes longer than that.
Sumrall played linebacker for both Hal Mumme and Rich Brooks at Kentucky from 2002-04. He got his coaching start as a graduate assistant under Brooks. He followed former Kentucky running backs coach Ron Caragher to San Diego. He was hired by former wide receiver Neal Brown to work at Troy from 2015-17. Behind the mic on Monday, Sumrall stated that Stoops, former Kentucky defensive coordinator Mike Archer, and offensive line coach John Schlarman have had a huge impact on him.
"The University of Kentucky is important to me," said Sumrall. "The young men on that football team are important to me. Getting win No. 10 is important to me.
In today's version of college football, loyalty is not often seen when it comes to the coaching carousel. Nick Saban decided to fire offensive coordinator Lane Kiffin in 2016 after he accepted the Florida Atlantic head coaching job as things appeared to be too much of a distraction for a team chasing a title. Brian Kelly left Notre Dame this season for LSU when the Fighting Irish still had a chance to get into the playoff. Lincoln Riley seemingly had a deal agreed to with USC before the season was over at Oklahoma.
However, there is a different set of circumstances for Jon Sumrall and Kentucky. There is a special relationship between the alum and his alma mater. Now he wants to finish the deal.
"The University of Kentucky has sculpted me and helped me become who I am in so many different ways."