Keldon Johnson dislocates shoulder, expected back to open season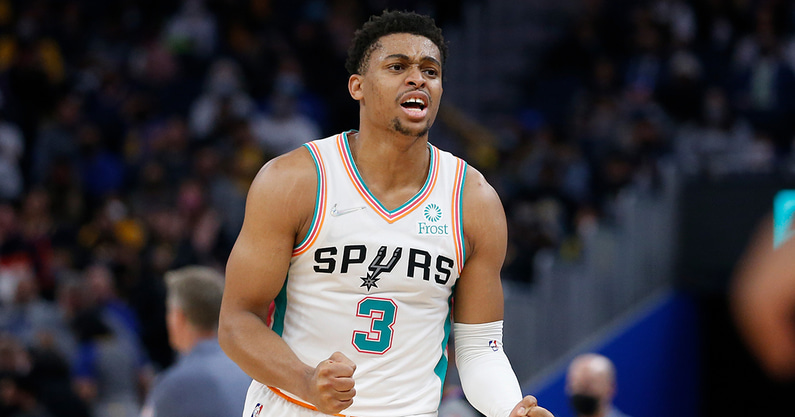 Former Kentucky standout Keldon Johnson has suffered a minor setback leading up to the 2022-23 NBA season. Two months removed from the four-year, $80 million extension he signed in July, the San Antonio Spurs star has suffered a dislocated right shoulder, an injury that will keep him out of the start of training camp.
According to the Spurs, though, Johnson is expected to return for the start of the season.
"San Antonio forward Keldon Johnson suffered a right shoulder posterior dislocation during Spurs open gym and has started actively rehabbing," the team announced Saturday. "While he will miss the start of the Spurs preseason schedule, Johnson is expected to be available for the start of the regular season."
Johnson, just 22 years old, broke through in his third year with the Spurs in 2021-22. He averaged an impressive 17.0 points, 6.1 rebounds and 2.1 assists per contest while shooting nearly 40 percent from three.
The former Wildcat signed his $80 million extension in July, putting him under contract with the Spurs for five more seasons, closing out his four-year, $10 million rookie deal this year.
Seen as a potential lottery pick in the 2019 NBA Draft, Johnson slipped all the way down to No. 29 overall before he was picked up by the Spurs to close out the first round. Three years later, he's seen as a franchise cornerstone ready to lead the team through its upcoming rebuild.
During his lone season at Kentucky in 2018-19, the 6-foot-6 forward averaged 13.5 points on 46.1 percent shooting to go with 5.9 rebounds and 1.6 assists per game.
Short-term setback for a strong comeback.