Kenny Payne on John Calipari, future of Kentucky vs. Louisville rivalry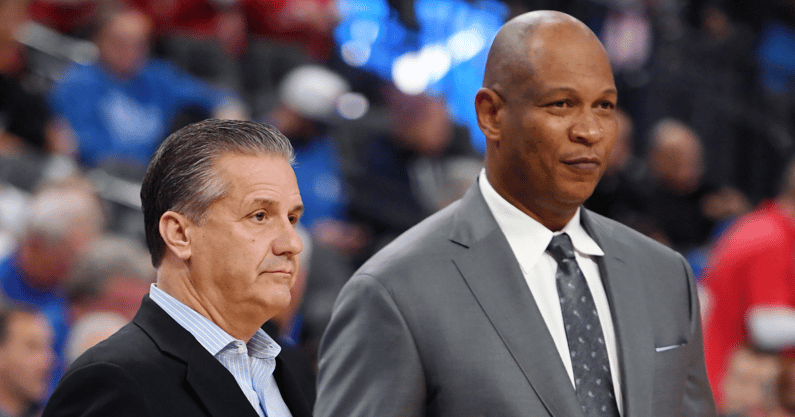 When Louisville and Kentucky square off in December, it will mark a new chapter in one of the biggest rivalries in sports. With Kenny Payne, a former Cardinal who spent ten seasons as John Calipari's right-hand man in Lexington, now at the helm of his alma mater, are we in for a kinder, gentler Cats vs. Cards? For at least 364 days of the year, both coaches say yes. Payne appeared on Jon Rothstein's podcast yesterday and shared a story Calipari told him shortly after he accepted the Louisville job.
"The first thing I have to tell you, this is funny, Cal was speaking to someone and he called me after he did a speech and he said, 'Kenny, I have to tell you what I said to this group. There will be one day a year when I'm going to try to beat Kenny Payne's head in. I love him but I want to beat his head in and he's going to try to beat my head in.'"
Considering Calipari seemingly wanted to beat Rick Pitino's head in every single day Pitino was at Louisville and vice versa, that will be a definite change from the old days. Payne added that while both men will do everything they can to win, nothing trumps their friendship, not even UK vs. UofL.
"Cal is a friend, a mentor, a person that I've learned so much from and I love him as a person and his family, Ellen, Brad, and the girls. But also we both are competitive men. We both want a culture of winning. And that in no way will be, from my side or his side, I don't believe — it won't be the negative hatred for John Calipari from me. It'll be a game that I'm going try to do everything in my power to help my team win and he's going to do the same. I hope I win by one but we'll see how that goes and regardless of what happens, we're going to give it our best shot."
"It should lighten up their side and our side," Calipari said of the rivalry when Payne took the job in March. "Like, look, it's one game a year! WHO CARES? It's life and death. 'I'll jump off a bridge.' What? It's one game. I've said it for 13 years."
"Rick Barnes and I have been friends for 40 years and I encouraged him to take the Tennessee job," Cal added. "He and I have remained friends, even though they've beaten us a bunch. We're friends. Kenny Payne, whatever happens in these games, we'll be friends."
Payne on Calipari: "He cares about me but he also cares about the state of Kentucky and basketball"
John Calipari has publicly voiced his support for Payne taking the Louisville job, going as far as to say the Cardinals should have hired him four years ago instead of Chris Mack. According to Payne, UK President Eli Capilouto and Athletics Director Mitch Barnhart also reached out to show their support for the move, which would elevate the rivalry should Payne bring Louisville back to its former glory.
"Cal was probably one of the first people to say, 'Kenny, it's an unbelievable job. It has all the things you just said. It has a great tradition, it has great facilities. It's a basketball school. You've got to — it's your home. You've got to seriously consider it and I hope you take it, for you and for that community.' He was one of the first people to do that and say that to me.
"Two things with that. One, it shows he cares about me but he also cares about the state of Kentucky and basketball. Not just the University of Kentucky, but does it really look right if Louisville is down and Kentucky is up? How does it look when both of us are having a lot of success and it creates a lot of buzz throughout the state? To have that foresight to see that and recognize it, it goes to show — and not just him, the president of the university [Eli Capilouto], Mitch Barnhart, they all were very supportive and reached out and endorsed it."
To me, the rivalry only looks right when Louisville is down and Kentucky is up, but I guess Payne building the Cards back into a winner would spice things up.
Lessons from Calipari, Louisville's forthcoming sanctions
Payne spent a good portion of the podcast sharing what he learned from Tom Thibodeau while on the New York Knicks staff and Calipari at Kentucky. The most valuable lesson he learned in Lexington? Put the players first.
"I've learned so much from [Thibodeau] but also very similar was Cal. Cal was the first real coach I was around that said, let's not, as coaches, worry about ourselves. Let's put these kids first. What can we do that will make their life easier? What can we do to make their job easier to understand? Their success is in our hands.
"I live by that because you don't want a kid to fail on your watch; that's an awful feeling. If you're a caring person, the worst thing that can ever happen to you as a coach is a kid not reaching his goals. It's easy to say it's the kid's fault, it's the parents' fault, it's AAU's fault, but that's not reality. The reality is that the kid is on your watch. You've got to do whatever it takes for him to succeed."
Speaking of success, finding it in the short term may be difficult for Payne at Louisville due to forthcoming NCAA sanctions. Payne obviously didn't share details but said while considering the job, he asked UofL Athletics Director Josh Heird to give him the worst-case scenario of the fallout from the investigation into the school's involvement in the pay-to-play scandal.
"I heard what he said and I listened to it. Think about this. I'm with the New York Knicks. I have a great job. Not a good job, but a great job with the New York Knicks. If there was something there to really give me pause, I would have never taken the job. I took the job knowing, feeling good about whatever they give us, whatever it is, it's not going to be so severe that it destroys our program."
Darn. For more on Payne's vision for the Cards, check out the entire podcast below.