Kentucky among top schools reaching out to 4-star wing Amier Ali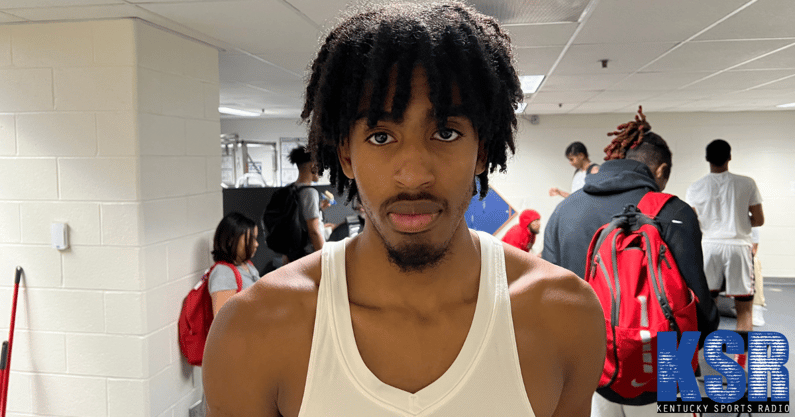 You won't find a more confident player in the rising junior class than four-star wing Amier Ali. A quick-trigger shooter capable of putting points on the board in a hurry at 6-foot-8, he's racked up early offers from Alabama, Arizona State, Florida State, Kansas, LSU, Memphis, Mississippi State, Ohio State, Texas, Texas A&M and Virginia Tech.
He's also heard from Kentucky to open the direct contact period, a program that values his size and shooting ability from the outside.
During his time at the Nike EYBL Peach Jam in North Augusta, that deep bag of shooting tricks has been on full display. And above all else, he's playing up an age group.
"It was fun. I'm younger, so it was definitely competitive with the older dudes," Ali told KSR on Saturday. "But it was mostly fun and a great learning experience for next year. I just have to go harder, player harder, keep getting better."
What did he hope to prove during his time at the most prestigious recruiting event of the year?
"Just mental toughness, that I can hang with the big dogs," he said. "I'm not afraid of nobody and I fear no man."
Back to the confidence side of things. Ali is quick to find his shot and launch from deep with zero hesitation. It's a key part of his game, something that's allowed him to become a top-30 prospect in the class of 2024.
The only way to stop him, Ali says? Hope for the best.
"I can basically do everything, nothing you can do, for real," he told KSR. "Just hope I have a bad game, that's all."
What schools are reaching out to him the most at this point?
"Kentucky, Texas, Ohio State, those are the main ones recruiting me and texting me every day," he said.
Kentucky was one of the early schools to reach out, someone who has looked to build a relationship from the start of the contact period.
"I talk to the coaches (at Kentucky), but mainly my dad talks to them," he told KSR. "They've been keeping in touch a lot, for sure. They like my versatility and my toughness, my mental toughness on the court. I still have to do my research on the program because I'm younger, just focused on little things right now. Soon, when I get to know the colleges, then, for sure. Just building relationships."
What about the other schools reaching out?
"The only thing I know is Ohio State because I grew up there," he said. "With football — I'm a big football fan. I know about the big campus and the fanbase. … (Texas) loves me. I'm from Ohio, but I live in Dallas right now. They love me. I went on a visit, and basically they said they love me, yeah. They want me to come there. I'm one of their main targets."
What will he be looking for in a school when it comes time to make a decision?
"Loyalty from the coaches, for sure," he told KSR. "Checking up on me and letting me play through mistakes so I can be a one-and-done and just learn.
Is that his ultimate goal?
"Yes, I want to be a one-and-done, for sure."