Kentucky Baseball avoids sweep with 7-1 win over South Carolina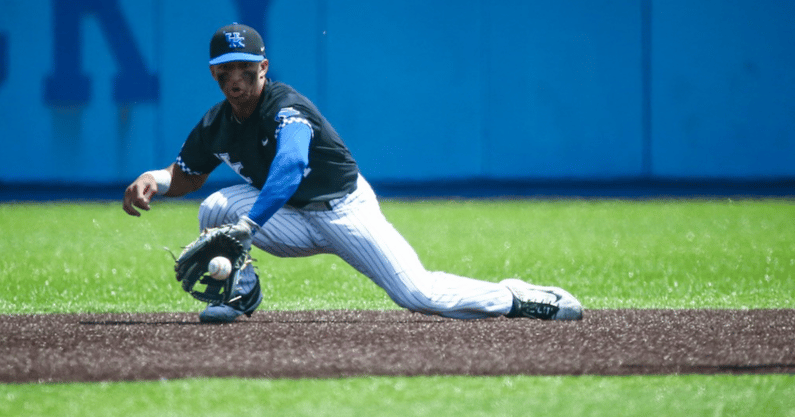 After a tough past two days in Columbia, the Kentucky Baseball team bounced back with a much-needed 7-1 win over South Carolina on Sunday afternoon. The Bat 'Cats were outclassed in the first two games of the series on Friday and Saturday, dropping both by a combined score of 18-3 to the Gamecocks. But UK managed to avoid the sweep in game three.
The 'Cats struck first thanks to a solo homer from shortstop Ryan Ritter in the top of the second. University of Hawaii transfer Adam Fogel hit one of his own just minutes later, extending the Kentucky lead to 3-1.
South Carolina threatened to tie or take the lead in the bottom of the fifth. Kentucky pitcher Tyler Bosma found himself in a bases-loaded bind after hitting two batters and giving up a single. Lexington native Tyler Guilfoil entered the game shortly after in an attempt to keep the Gamecocks off the board.
Guilfoil walked his first batter, scoring Brandt Belk from third. He dug in after that, though, and struck out the next two batters looking to end the inning. He ended Sunday's game with seven strikeouts and just one hit allowed. Guilfoil was instrumental in last weekend's series win over top-ranked Tennessee as well, which earned him SEC Pitcher of the Week honors.
The 'Cats added another in the sixth thanks to an Oraj Anu single to score Ritter. Anu, one of the team's leading hitters, went 2-4 at the plate.
Chase Estep got in on the fun in the eighth. The Corbin, KY native hammered a ball to right field, giving the 'Cats their third homer of the day. The long shot gave Kentucky a well-cushioned 7-1 lead, where the game would end.
With Sunday's win, Kentucky is now 10-17 in the SEC and second to last in the East. They will return to Lexington this week to take on Tennessee Tech on Tuesday night. After that, they'll welcome the Auburn Tigers to Kentucky Produ Park on Thursday to begin their final series of the regular season — and it's a big one. The 'Cats need some wins if they hope to make this year's SEC Tournament in Hoover, Alabama.