Kentucky Cheer announces roster for 2022-23 squad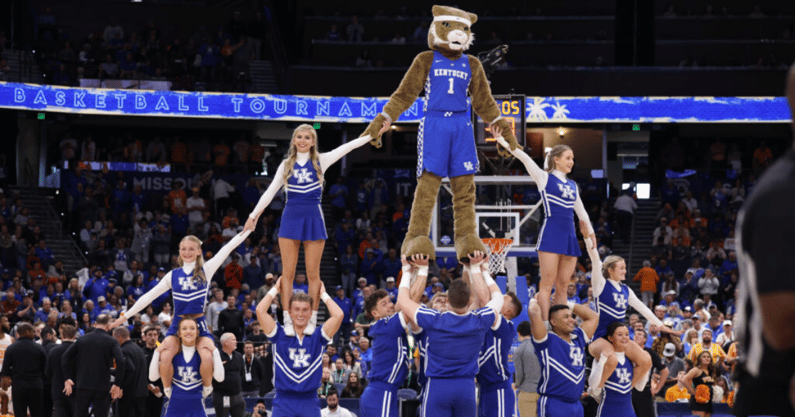 Kentucky Cheer has announced its squad for the upcoming 2022-23 season. The Wildcats boast two teams, the White and Blue Squads, both who have received much national acclaim.
The Cheer 'Cats are coming off of a disappointing overall competition season in the 2021-22 season. The all-time most winningest collegiate cheer program in the country finished in eighth place at nationals earlier this year in Orlando, FL.
In addition to the eighth place finish in co-ed finals, the 'Cats placed fifth in the game day competition. Kentucky finished in second place leading into the final day of competition, but fell to eighth after a few errors on the mat.
UK currently has 25 United Cheerleading Association titles, well ahead of SEC rival the University of Alabama, which holds just two titles. That being said, Kentucky is still finding its footing after hiring head coach Ryan Martin O'Connor in 2020.
O'Connor still has high hopes for the program, saying after the loss that the squad would "…take what we learned this year and use that to reload and refocus for next year." The young head coach recently added three new assistant coaches to her staff for the 2022-23 season.

The third new assistant coach, Whitney Hollman, is a former star for Kentucky Cheer. She is one of the most decorated Kentucky Cheer alumni in recent years, winning four UCA titles during her time at Kentucky.
In addition, Hollman won an NCA partner stunt national championship, an international partner stunt championship, won three ICU world championships and represented the United States in the 2018 Winter Olympic Games in Pyeongchang, South Korea.
Kentucky Cheer will be back in action at Kroger Field for Kentucky Football's season opener on September 3rd.