Kentucky Football Countdown: No. 28 Jordan Robinson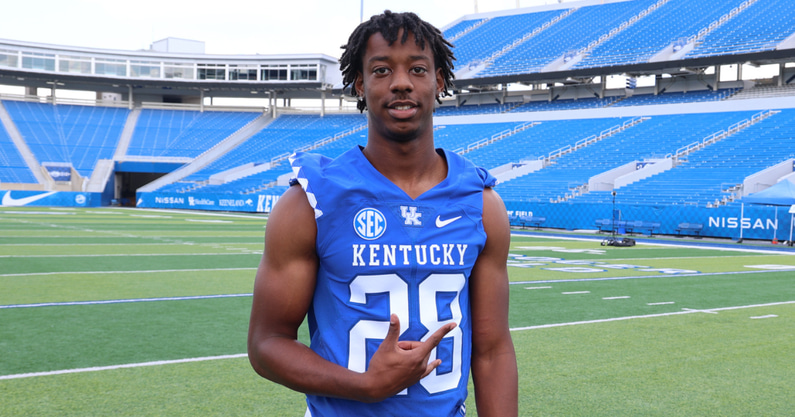 In four more Saturdays, the Big Blue Nation will fill up Kroger Field to watch the Kentucky football team kickoff the 2022 season against Miami, Oh. Just 28 days away, let's take a closer look at a newcomer from the transfer portal, Jordan Robinson.
About Robinson
Jordan Robinson's recruitment got lost in the wash, thanks to COVID-19. The pandemic was hitting the country hard ahead of his senior high school football season. He could not show off his size and speed at various camps, limiting his offer sheet. He ultimately signed with Division II Livingstone College in Salisbury, NC.
Jordan Robinson Fun Fact
You can connect the dots between Kentucky and the cornerback. He grew up near starting safety Jalen Geiger and the two worked out with the same trainer, ChaChi Sullivan.
Robinson initially intended to transfer from the D-II ranks to Appalachian State. Recruited by Chris Collins, the Wildcats kept their intentions quiet. When he announced his commitment to Kentucky, it was arguably the most surprising commitment of the Mark Stoops era.
2022 Forecast
Jordan Robinson fits the mold of what Kentucky wants in its cornerbacks. A lengthy defender, he is a 6-foot-4, 200-pound athlete on the edge of the Wildcat defense. He has the tools, without a ton of production to match. Last year he made 26 total tackles, grabbed two interceptions and deflected six passes for the 1-8 Black Bears.
What will Robinson provide this fall? Mark Stoops said Robinson looks the part in early practices, however, it's too early to tell where he will fit into the rotation. It's probably safe to assume it will take Robinson time to adjust to the level of play from DII football to SEC football. Keidron Smith and Carrington Valentine appear to have locked up the top two cornerback spots. Robinson is among a plethora of players competing to be the third cornerback.