Kentucky Football is in the Golden Era of Coordinators
Kentucky's Mark Stoops is entering his tenth season with a 59-53 career record. His team won ten games for the second time in four seasons and is coming off a fourth consecutive bowl win. Stoops' coordinators have changed during his stay in Lexington. The trio of Liam Coen, Brad White, and Vince Marrow is the best combination of upper-level leadership in the Stoops era. Let's take a look.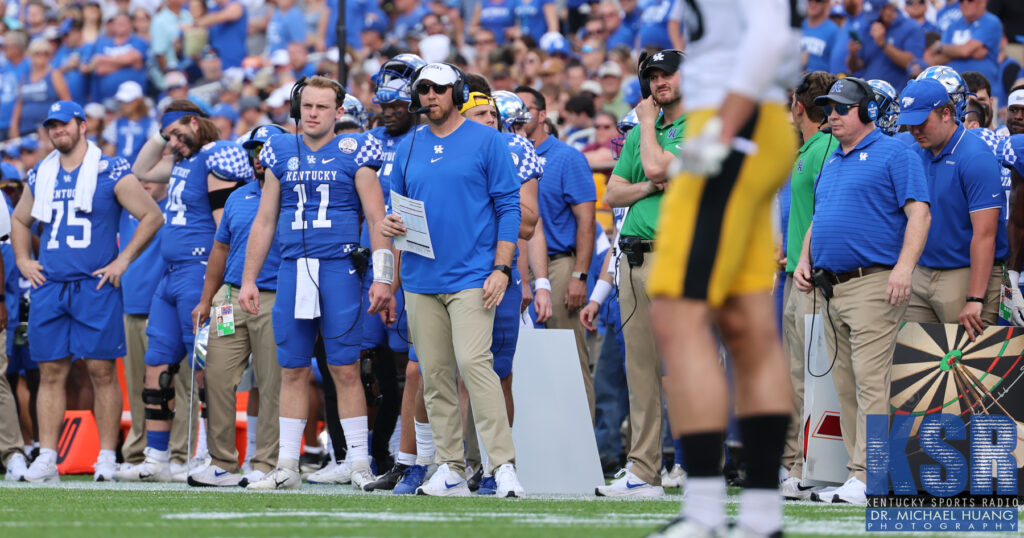 OFFENSIVE COORDINATOR – LIAM COEN
The Wildcats had been a heavy-run team with an emphasis on physicality along the line of scrimmage under former coordinator Eddie Gran. Gran enjoyed success, especially in the run game, and engineered one of the most exciting seasons in program history with receiver-turned-quarterback Lynn Bowden Jr. exploding on defenses on a weekly basis. That 2019 team went on to go 8-5 and defeated Virginia Tech in the Belk Bowl. He also led the Cats to a ten-win season in 2018 behind the program's all-time leading rusher, Benny Snell. Gran was a vital contributor to UK's upward trajectory. However, Stoops coveted more offensive balance and made a coordinator change. 
*On a personal note, I have a great deal of respect for Gran and am extremely happy that he remains with the team in an off-field capacity. 
Mark Stoops turned to the Los Angeles Rams assistant Liam Coen to lead his offense into a new era featuring an NFL scheme. Coen delivered in his first season in Lexington. The Wildcats averaged over 200 yards on the ground (200) and through the air (225). His offense averaged 6.4-yards per play compared to 5.15 from the previous season. The Cats accumulated 106 more total yards per game and jumped from 37% on third down to 51%. Red Zone efficiency also made a significant improvement after the Cats scored 39 touchdowns inside the 20-yard-line compared to 17 in 2020. The most obvious upgrade came in the passing game. Led by rising star quarterback Will Levis, Kentucky threw for 225 yards per contest compared to just 122 in 2020. Wan'Dale Robinson thrived in his lone year as a Wildcat by rewriting program records with 104 receptions for 1,334 yards. 
Year One under Coen has to be considered an overwhelming success. There were growing pains at times. Changing from a downhill run team to a multiple, diverse offensive attack was not an easy task. Coen was also faced with new college rules and personnel that was constructed to play bully ball. Other programs took notice of his scheme and production. Kentucky upped his pay from $775,000 to $1.1 million, which should be enough to keep the riser in Lexington for at least one more season. 
There is a great deal of excitement for year two with Liam Coen. Will Levis is poised for a breakout season on the national scene after completing 66% of his passes for 2,826 yards and 24 touchdowns. The signal-caller also provided a spark in the run game by rushing for 376 yards and nine scores. Running back Chris Rodriguez Jr. announced his return for a senior season which gives Coen a forceful weapon in the run game. Rodriguez Jr. has rushed for 2,740 career yards which ranks sixth in program history. Replacing Wan'Dale Robinson and three starting offensive linemen will not be easy. But, with Levis and Coen, the 2022 Cats have a chance.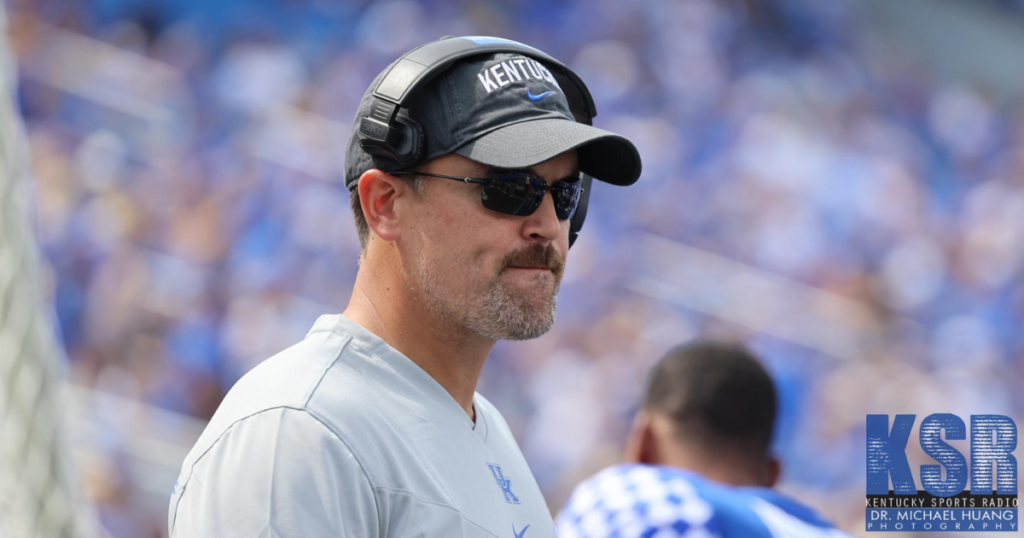 DEFENSIVE COORDINATOR – BRAD WHITE 
I've been trumpeting Brad White for quite some time if you're new to this website. Kentucky's defensive coordinator has produced three consecutive Top-5 finishes in the SEC. Liam Coen grabbed headlines, but the job that White did in 2021 was equally as impressive. His first two units led the conference in pass defense but took a dip in 2021 mainly due to having just three cornerbacks for the majority of the season. A perfect example of White's influence was on display in the Citrus Bowl against Iowa. Down multiple starters, several role and depth players held the Hawkeyes to 17 points and finished the contest with an interception late in the fourth quarter. 
White's defenses have allowed 22.3 points per game over the past three seasons. Total yardage allowed is a number that is increasing due to the offensive shift in the league. His unit has surrendered 348 yards per contest. Kentucky is also producing NFL players at a high level. As a position coach, White developed Josh Allen into a first-round selection. Five defensive Cats had their names called in the 2021 Draft including the 19th overall pick Jamin Davis. Josh Paschal, Yusuf Corker, and Marquan McCall are next. Kentucky rewarded White's services with a $1.4 million salary which was necessary after LSU and others showed interest.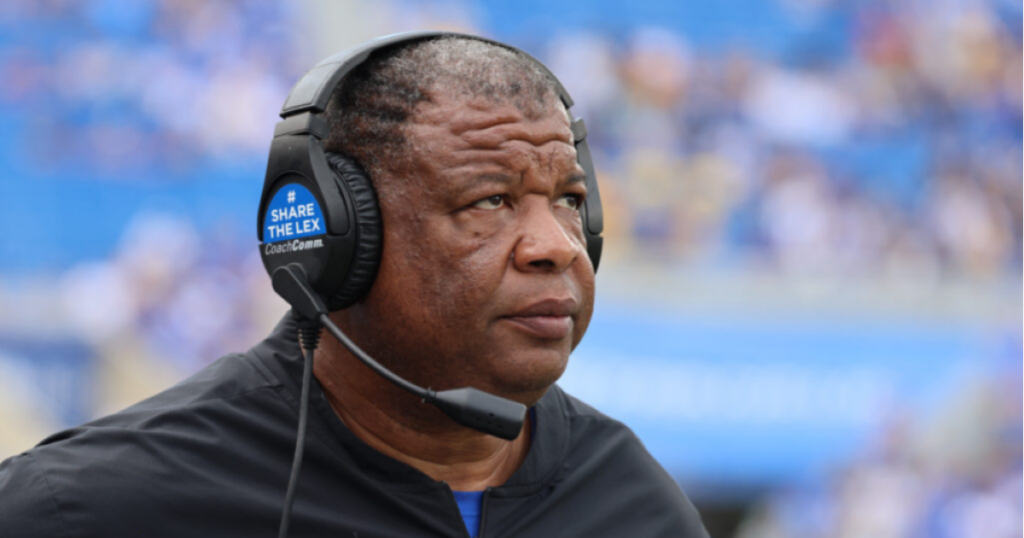 RECRUITING COORDINATOR – VINCE MARROW 
Vince Marrow has changed the game at Kentucky. The Big Dog is the most impactful assistant coach in program history. Marrow's recruiting footprint is in Ohio and Kentucky. He is also situationally utilized for prized prospects around the nation and oversees UK's overall recruiting strategy. Recently, Kentucky signed the 14th ranked class in the nation as per On3's Consensus Recruiting Rankings. Marrow has been with Stoops since the beginning. He started by selling a vision with antiquated facilities and below-average results on the field. Both have since been upgraded. 
The Big Dog has been loyal to the university when others came calling. He was rewarded with a salary that is said to be close to $1 million per season which is money well spent. While Stoops is the leader and face of the program, Marrow is his connection to the fans. He's never shied away from expressing confidence in the Cats on social media or in interviews. Listing players that Marrow signed would be an exhausting endeavor. But, from Benny Snell and CJ Conrad to Kiyaunta Goodwin and Jager Burton, the Big Dog has led a concerted recruiting effort that has led to a significant increase of talent in Lexington. 
[UPDATE: Sources tell KSR Marrow's salary is $1.1 million this year increasing by $100,000 each year through the 2024 season.]
What Does All This Mean?
Entering his tenth season at Kentucky, Mark Stoops will be the longest-tenured head coach in program history. Stoops will tie Bear Bryant with the most wins in school history with a victory over Miami (Ohio) in the season opener. 
There have been individual coordinators that have exceeded Coen and White's production. But, at no point has Stoops had two rising stars in the industry on the sideline at the same time. Cincinnati Bengals head coach Zac Taylor's remarks are an indication of what those outside of Lexington think of the duo. Taylor recently said this about Coen, "Kentucky's lucky to have him. He's done a great job. He's going to be a head coach in one of these leagues soon enough, college or pro. That's how much I think of his football IQ, his work ethic and his relationship with the players. I really think the world of Liam. No surprise, I watched every game they played this year whenever I could, just to see the cool things he was doing." Strong words on the Cat's offensive leader. 
Taylor is also familiar with Brad White. He said, "On the other side of that, Brad White, the defensive coordinator, was my host on my recruiting trip when I signed with Wake Forest. Brad got me to Wake Forest, we played on the same team there for two years. It's awesome to see him succeed as well."
We are in an era of firsts in Kentucky football. This is applicable in terms of wins, bowl games, recruiting classes, facilities upgrades, and salary pool. Stoops' coordinator salaries justifiably exceed a million dollars. There are personnel issues that still need to be answered for 2022. But, it's fair to say that the current trio of coordinators construct the best top-level leadership of the Stoops era. In addition to the head coach, a great deal of credit should go to Mitch Barnhart. The Kentucky Athletics Director believed in his head coach during the challenging times and has overseen vast facilities upgrades. 
Holding on to Coen, White, and Marrow will be challenging. So, enjoy the 2022 season. Should be fun.