KSR's 2022 Kentucky Football Season Predictions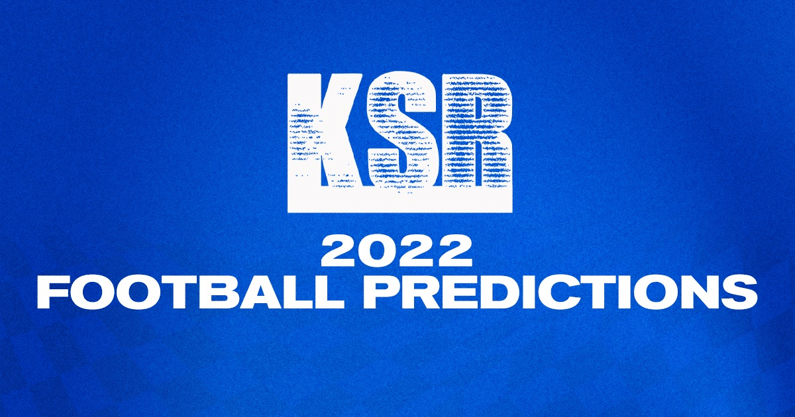 The 2022 Kentucky Football season kicks off on Saturday and KSR has high expectations for the Cats in Mark Stoops' tenth season.
All twelve members of our panel picked the Cats to win at least nine regular-season games, which is over the Vegas win total of eight. Five of us predicted the Cats will enter the postseason with ten wins, and two brave souls even have the Cats knocking off Georgia. The website staff — including BTI! — met virtually to reveal and break down the picks on our YouTube Channel. Check it out below.
Prefer written form? We've got you covered.
KSR's 2022 Kentucky Football Season Predictions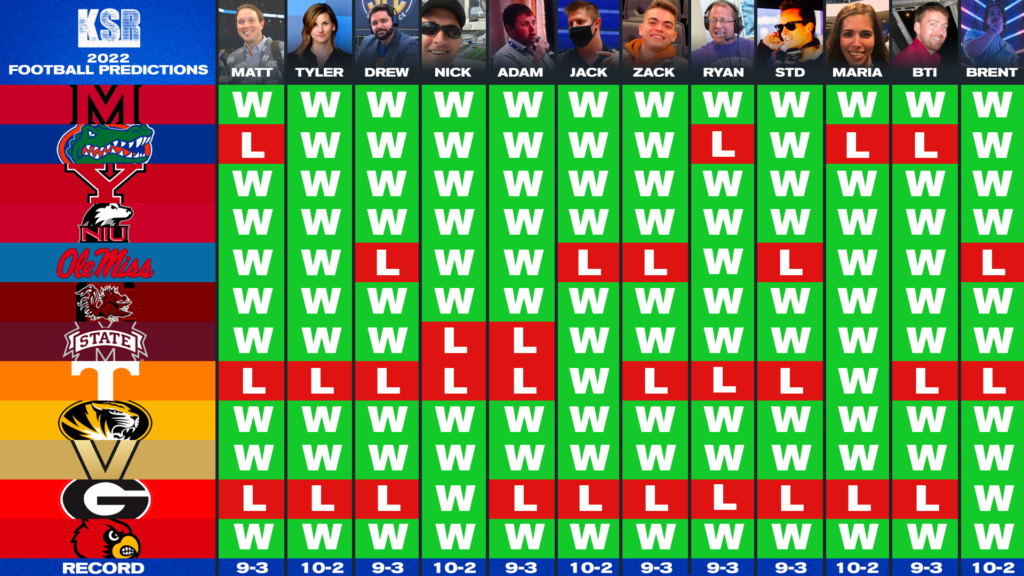 Comments from the panel…
BTI: 9-3 (Losses to Florida, Tennessee, Georgia)
Florida and Tennessee have mobile quarterbacks.  Those always kill us.  The Swamp will be a tough environment with a new coach early in the year so that will be the ultimate test for Levis.  Hard to get out of my mind how Tennessee shredded the Cats last year and now thinking we'll beat them in Knoxville.  And I'll never pick them to beat Georgia until they prove they can.  But they will be competitive in all 12 and we rarely can say that. 
Zack Geoghegan: 9-3 (Losses to Ole Miss, Tennessee, Georgia)
It'll be another impressive start to the season for Mark Stoops and company as the 'Cats head to Oxford with a 4-0 record. Kentucky will cruise to a double-digit win at Florida and take care of a pesky NIU squad a couple of weeks later. Unfortunately, the unbeaten streak will end against Ole Miss, but bounceback performances in back-to-back outings against South Carolina and Mississippi State will realign the wheels. Despite having a bye week ahead of the Tennessee game and riding plenty of momentum, it's going to be tough to predict a win down in Knoxville. Kentucky will then finish the season on a 3-1 stretch, including a close loss to Georgia and a closer-than-expected win over Louisville. Toss in another bowl game victory and Stoops will earn his third 10-win season over the last five years. 
Nick Roush: 10-2 (Losses to Mississippi State, Tennessee)
I can get behind Chris Doering's Georgia win prediction. If there's ever a time for Kentucky to beat Georgia, it's now. However, no Kentucky coach has ever won at Knoxville and Gainesville in the same season. Even though the home team has held serve in the Miss. State series, Arnett's 3-3-5 defense is talented and that scheme is something Rich Scangarello has not seen before. It feels like a bad trap, but the Cats can still recover and end the season in the Sugar Bowl. 
Adam Luckett: 9-3 (Losses to Mississippi State, Tennesee, Georgia)
Kentucky will host Georgia in a matchup of ranked teams on Nov. 19, but it won't be for the SEC East title as the Bulldogs will have clinched that by going 7-0 in their other SEC games. A hot start builds a ton of buzz as the Big Blue Nation will dream big. But for the second year in a row, Kentucky will drop consecutive SEC games in October. Another trip to Orlando for the Citrus Bowl could be the move for New Year's again.
Drew Franklin: 9-3 (Losses to Ole Miss, Tennessee, Georgia)
at Florida: Win
Kentucky can't miss the opportunity to get the rare win in the Swamp against Florida while the Gators are down and playing the first SEC game under a new head coach Billy Napier. Maybe Top-10 Utah will beat Florida up in Week 1 to help the Cats' chances.
at Ole Miss: Loss
Kentucky is the better team, but winning on the road in the SEC is a tough task. The Rebels win a close one between two 4-0 teams in Week 5 but it doesn't spoil all of the fun in Oxford.
at Tennessee: Loss
I'm done picking Kentucky to beat Tennessee.
vs. Georgia: Loss
Kentucky will put up an admirable fight against last year's national champ, but the Dawgs are still a little too far ahead to knock down that door. 
Tyler Thompson: 10-2 (Losses to Tennessee, Georgia)
Kentucky is strong enough to win in the Swamp without Chris Rodriguez, and this may be the Cats' best shot for a bit considering Florida is in rebuilding mode. Historically, Kentucky doesn't do well on the road vs. SEC West opponents — 0-10 in the Stoops Era — but I think the Cats snap that streak in Oxford, buoyed by Rodriguez's return. (Plus, I'm going to that game so I can't predict a loss.) That said, I also can't predict a Kentucky win over Tennessee given past heartbreaks. Same goes for the epic upset over Georgia. The Cats have made incredible strides towards their goal of making an SEC Championship, but Georgia's still Georgia and those final inches can be miles when you're near the top. Prove me wrong, Cats.
---
Your turn. What will Kentucky's record be this season?