Kentucky Football Wednesday recruiting notes, offer roundup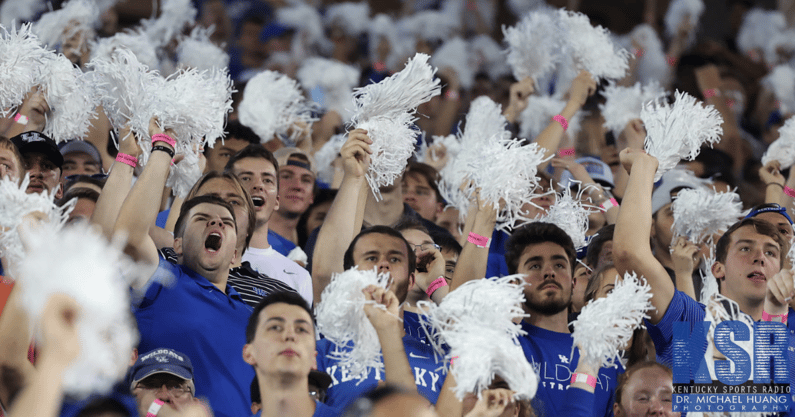 Time for our weekly recruiting update presented by our friend Andy Luedecke at MyPerfectFranchise. Andy is a huge college sports fan and franchise veteran, having owned multiple franchises and businesses. Using his expertise, he helps others find their American Dream through a very thorough consultation and evaluation process.
---
Good afternoon, folks! You know the drill at this point. The Kentucky Football coaching staff continued to hit the recruiting trail this week, spending most of their time in the southern states of Florida and Georgia or further up north in nearby Ohio. We've seen at least 20 more scholarships go out over the last few days from the Wildcats, including one to a new quarterback on the radar and another to a recruit still in middle school.
Let's dive right into today's offer roundup. I've also added a couple of minor recruiting notes at the bottom of the post.
*All rankings are courtesy of the On3 Consensus.*
Class of 2023
Dontavius Braswell: 5-11, 190-pound RB | Washington County (Sandersville, GA)
4-star, No. 292 overall; No. 19 RB
Kentucky defensive backs coach Chris Collins extended an offer to Dontavius Braswell on Wednesday afternoon. One of the top rising senior running backs in the country, Braswell is hearing from all the big-name schools, already earning offers from the likes of Penn State, Tennessee, and Alabama. Clemson and Georgia are on him heavily, too. Braswell told On3's Joseph Hastings in March that 'Bama was among his top three, but did not disclose the other two. Braswell also tweeted on May 5 that his "recruitment is still 100% open".
Andy Jean: 6-0, 175-pound WR | Northwestern (Miami, FL)
4-star, No. 300 overall; No. 44 WR
Considered a Florida Gators lean as of right now, Andy Jean received a Kentucky offer on Tuesday. He's already hauled in scholarships from the likes of Alabama, Arkansas, Michigan State, LSU, Penn State, and plenty of others. Jean was actually a Miami (FL) commit from Jan. 29 through March 18 before re-opening his recruitment. But still, Florida has already gotten him on campus this spring and will get his only currently scheduled official visit in late June.
Jaquez Keyes: 6-1, 205-pound RB | Ironton (Ironton, OH) [WISCONSIN COMMIT]
Despite committing to the Wisconsin Badgers just five days ago, Jaquez Keyes received an offer from Kentucky associate head coach Vince Marrow on Wednesday. Keyes also picked up an offer from Michigan on Tuesday. While he's not a ranked prospect by On3, he is considered a low-three star by other recruiting services. Prior to choosing Wisconsin, Keyes also held scholarships from the likes of Pittsburgh, Iowa, and Coastal Carolina. But Kentucky has been on him for a while now actually, even getting him to visit Lexington earlier this spring. The Wildcat coaching staff is very familiar with the Ironton program too. The other interesting note here is that UK already has a running back committed to the class of 2023 in local product Kaden Moorman. Despite that, Keyes and Dontavius Braswell both picked up UK offers.
Class of 2024
James Madison II: 6-3, 190-pound WR | St. Thomas Aquinas (Fort Lauderdale, FL)
4-star, No. 53 overall; No. 9 WR
One of a handful of St. Thomas Aquinas rising juniors offered this week is James Madison II — and he's easily the most-heralded of the bunch. His offer from Kentucky came via inside linebackers coach Mike Stoops on Monday, just one day before Western Kentucky reached out with a scholarship of its own. Prior to that, Madison received offers from the likes of West Virginia, Georgia Tech, Nebraska, Oregon, Missouri, Ole Miss, Georgia, Penn State, and Tennessee, among others.
Walter Matthews: 6-7, 245-pound ATH | Hiram (Hiram, GA)
4-star, No. 66 overall; No. 5 ATH
One of the most impressive high school recruits in the country from a physique perspective is Walter Matthews, who clocks in at 6-foot-7 and nearly 250 pounds. He's listed as an ATH by On3, but mainly suits up as an imposing tight end. His offer from Kentucky actually came over the weekend on Saturday from Coach Marrow. In just the month of May, Matthews has earned scholarships from Penn State, Arkansas, Michigan, Virginia Tech, Louisville, and Pittsburgh. As you might expect, he doubles as a bruising power forward on the hardwood.
Chance Robinson: 6-1, 180-pound WR | St. Thomas Aquinas (Fort Lauderdale, FL)
4-star, No. 275 overall; No. 44 WR
Our second St. Thomas Aquinas recruit is Chance Robinson, who picked up three offers this week: Western Kentucky, Alabama A&M, and UK, which came from Mike Stoops on Monday. It should be pointed out that Robinson tagged Glenn Holt in his tweet announcing the offer. Holt was a wide receiver for the 'Cats from 2002-05, totaling eight overall touchdowns and over 800 receiving yards. Holt is now the wide receivers coach at St. Thomas Aquinas, which could help the 'Cats with recruiting both Robinson and James Madison II.
Jordan Lyle: 5-11, 185-pound RB | St. Thomas Aquinas (Fort Lauderdale, FL)
3-star, No. 367 overall; No. 29 RB
Moving on to St. Thomas Aquinas prospect No. 3, Jordan Lyle was given a scholarship to Kentucky on Monday. He received an offer from Colorado the same day and then one from Oregon on Tuesday. It's been a busy May for the budding tailback, who has also earned offers from Georgia, West Virginia, Western Kentucky, and FAU this month.
Danny O'Neil: 6-0, 165-pound QB | Cathedral (Indianapolis, IN)
3-star, No. 396 overall; No. 35 QB
For those of you who want Kentucky to offer more quarterbacks, look no further than Danny O'Neil, who picked up his Wildcat offer on Monday. It's been a rather busy spring for O'Neil, who has visited Kentucky, Northwestern, Georgia, Notre Dame, Ohio State, and Virginia over the last few months. He plays for the same high school as major Kentucky target Kendrick Gilbert, a four-star class of 2023 DL.
Jasen Kelly: 6-1, 190-pound LB | Whitmer (Toledo, OH)
3-star, No. 410 overall; No. 38 LB
Jasen Kelly is one of three Whitmer High Schoolers to earn a Kentucky offer this week, with his coming from the staff on Tuesday. It was his eighth total Divison I offer but just the second from a Power 5 school (Iowa State).
Nicholas Rodriguez: 6-1, 190-pound LB | St. Thomas Aquinas (Fort Lauderdale, FL)
Our fourth and final St. Thomas Aquinas recruit is Nicholas Rodriguez, who received his Kentucky offer on Monday, as did the rest of his teammates. He holds additional scholarships from the likes of Ole Miss, Arizona, Miami (FL), Penn State, and LSU.
Mark Nave: 6-4, 325-pound IOL | Central Catholic (Toledo, OH)
It's been a life-changing week for Mark Nave, who went from zero Divison I offers to four in a matter of just two days. Akron and UMass offered first on Monday before Kentucky did the same by the end of the day. Toldeo then reached out on Tuesday with a scholarship.
Class of 2025
Amari Wallace: 5-10, 160-pound S | Miami Central (Miami, FL)
Malik Autry: 6-5, 250-pound EDGE | Opelika (Opelika, AL)
Ezekiel Marcelin Jr.: 6-1, 195-pound LB | Miami Central (Miami, FL)
Amaree Williams: 6-5, 200-pound WR | The Benjamin School (Palm Beach Gardens, FL)
Kendarius Reddick: 6-0, 165-pound ATH | Thomas County Central (Thomasville, GA)
Napoleon Jemison: 6-2, 180-pound LB | Whitmer (Toledo, OH)
Carter Lowe: 6-5, 280-pound OT | Whitmer (Toledo, OH)
Jaystin Gwinn: 6-1, 165-pound QB | Westerville Central (Westerville, OH)
Class of 2026
David Rodriguez: 6-0, 155-pound WR | Loomis Chaffee School (Windsor, CT)
To my knowledge, David Rodriguez might be the only eighth-grader to publicly post a Kentucky offer over the last several weeks. His opportunity from the 'Cats came courtesy of wide receivers coach Scott Woodward on Monday, joining UMass and Pittsburgh as the three schools to extend offers. Rodriguez's connection to the Loomis Chaffee School, where Kentucky is recruiting multiple prospects, surely helped the UK staff identify him early.
Wednesday recruiting notes
Jamarrion Harkless picks up an Ole Miss offer. The Frederick Douglass (Lexington, KY) defensive lineman blew up on the recruiting scene last month, hearing from the likes of Georgia, LSU, Michigan, Auburn, Louisville, and, of course, Kentucky. Well, that momentum hasn't slowed down much since then, with Ole Miss extending an offer on Wednesday. The UK staff will have their work cut out for them trying to keep the three-star DL in their own backyard.
Avery Stuart setting up his official visits. Considered a four-star prospect and a top 200 player in his class, the Alabama native told On3's Jeremy Johnson that he has locked in one of his official visits for this summer: Florida State on June 25. That's significant. Kentucky made Stuart's top six in late April, as did FSU, Auburn, Arkansas, Miami (FL), and Michigan State. UK will hope to join Florida State on the OV list.
---
Learn more about Andy Luedecke and franchise ownership through these resources:
Andy's Story
Why a Franchise
Service Based vs Brick and Mortar
Semi Absentee Ownership
The Process and How It works
Book time with Andy: Andy's Calendar