Kentucky still has ground to make up with 5-star center Adem Bona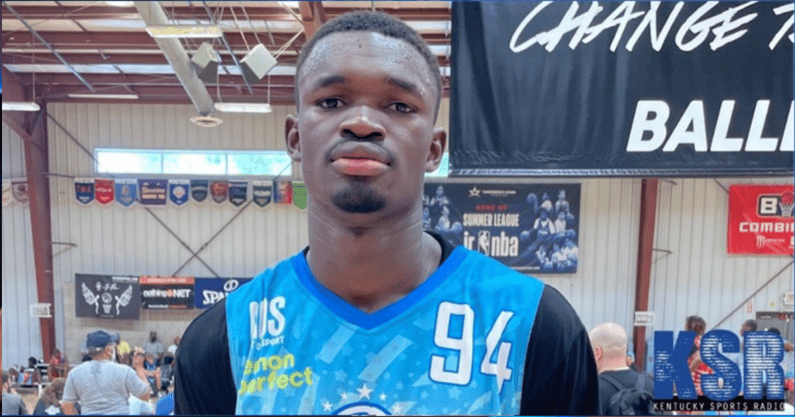 Dereck Lively II announced his commitment to Duke this evening, choosing the Blue Devils over Florida State, Kentucky, Michigan, North Carolina, Penn State, and USC. It's an addition that gives Duke the No. 1 recruiting class in the 2022 team rankings, surpassing Kentucky for the top spot.
With Lively headed to Duke, the consensus is that Kentucky now makes a serious push for a commitment from five-star senior Adem Bona. And with Bona long seen as a heavy UK lean, there's an assumption a pledge could be imminent.
On the surface, it's not terribly off-base. Yes, Bona would like to play for John Calipari at Kentucky. Yes, UK was his dream school and the offer he received in August was a game-changer in his recruitment.
To keep things completely transparent, though, Kentucky has some ground to make up with Bona before the 6-foot-10, 230-pound center rushes to join the fold.
As momentum with Lively shifted in Duke's favor to open the weekend, sources tell KSR there were internal conversations within Bona's camp about moving up his commitment date, potentially as early as this week. There were even brief conversations about a Monday decision – yes, today – to secure a spot in the Kentucky frontcourt.
With Bona taking an official visit to Kansas this past weekend, along with UCLA making him a top priority, though, those conversations shifted toward a wait-and-see approach with UK. A commitment would not come without further conversations (and clarifications) with the staff.
While Bona's interest in the Kentucky program remains strong, sources tell KSR that he wants to feel prioritized in the same way Lively was prior to his commitment to Duke. At times, Bona felt like the secondary option to Lively – UK, on the other hand, wanted both and felt the two could play together – and didn't want to be a rebound target for the program.
Bona is not necessarily worried about touches, shots or minutes, sources tell KSR, but he wants to feel like a top option. The five-star center is confident in his abilities and wants an opportunity to prove himself on college basketball's biggest stage. He wants to play for a school that will help develop his game for the NBA. The track record speaks for itself, but Bona wants to see how his dreams could become reality in Lexington.
Kentucky knows it can do that for the five-star center, but they have to show it now on the recruiting trail. At times, Bona has not felt like the staff's pitch has been completely clear about where he fits into things and his potential role at UK. This was magnified as the program's full-court pursuit of Lively continued. Calipari's visit out West on Sunday – a trip that was scheduled before Lively's commitment date was set- certainly helped smooth things over, but that relationship will need to continue to build.
That starts with more in-person meetings and a visit to campus, which is currently scheduled for the weekend of October 1-3. He knows the tradition and history, but Bona is intrigued to see what the program has to offer in terms of facilities, campus, and most importantly, the staff's blueprint for him should he sign with the program.
On UK's side of things, interest is strong and the staff is preparing to go all-in with the five-star center. Kentucky is infatuated with Bona's motor, length, aggressiveness, and defensive versatility. Lively has the higher NBA ceiling, but Calipari and his staff believe Bona's floor is comparable (if not higher) at the collegiate level. The 6-foot-10 center is capable of being an athletic double-double machine in Lexington, a perfect complement to UK's emphasis on scoring and speed in the backcourt. He's one of the most college-ready players in America.
The possibility of Kentucky signing the Nos. 1 and 2 prospects in high school basketball was intriguing for obvious reasons. It would have solidified the top recruiting class in America and arguably the best of the Calipari era, at least on paper. But in terms of a one-year fit, the gap between Lively and Bona isn't significant in the slightest.
A visit to UCLA is also scheduled and the Bruins remain "very much in play," sources tell KSR. The five-star center is clearly the team's biggest priority in the frontcourt and they have made that known for quite some time. And while UCLA is the biggest threat to UK's chances, Kansas also hosted Bona for a visit this weekend and is prioritizing him in the class.
Kentucky remains in a tremendous spot for Bona and it'd be silly to discount the Wildcats' chances. UK has been the dream destination for the 6-foot-10 big man from the start, and that hasn't changed. He would like to play with the program's other top additions and feels like a complementary fit with their styles of play. There's a reason Kentucky was seen as such a heavy favorite from the start.
But make no mistake about it, Calipari and his staff will have to work for it to land Bona's commitment. And yes, they have competition.