Heavy home slate presents great opportunity for Kentucky football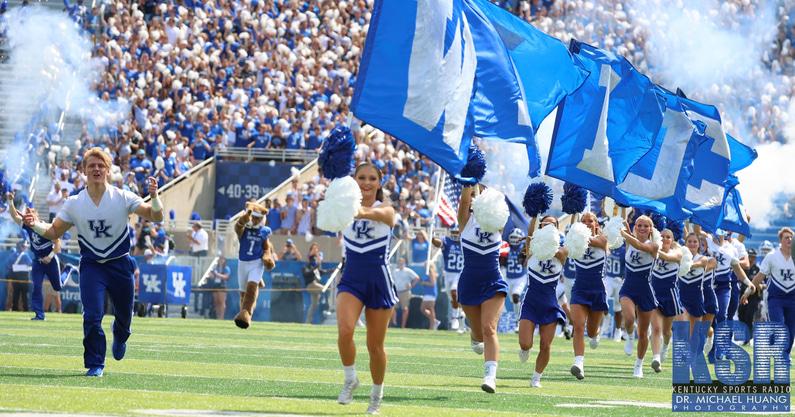 Expectations are high for Kentucky football in 2022. Some fun times could be had at Kroger Field thanks to a jam-packed schedule. Even the handicappers out in Las Vegas appear to be on the train.
PointsBet has released season win total odds for the college football season, and the Wildcats have received a very high total this year with the number coming in at 8.5 wins. Twice in the last four seasons, the football program has recorded a 9-3 regular-season mark and capped that off with a bowl victory in Orlando to secure an AP Top 25 finish.
For the first time since 1978, Kentucky should be included in the preseason top 25 as there is a palpable buzz surrounding Mark Stoops and his program heading into 2022. The Wildcats have a chance to have a special season, and the home slate is a major reason why.
While others in college football have looked to expand their non-conference games and potentially try out neutral sites, Kentucky has stayed true to its scheduling philosophy. The Wildcats have the permanent rivalry game against Louisville but use the three available non-conference slots against one FCS team and two Group of Five opponents. That philosophy has led to success.
Due to this, when Louisville makes the trip up I-64 in November, Kentucky has the rare chance to host eight home games at Kroger Field. That will occur this season. Now the Wildcats are combining it with a team that is preseason top 25 good on paper. Add that in with some shuffling going on in the SEC, and UK could be a betting favorite in numerous games this season.
ESPN's Bill Connelly released his preseason SP+ ranking back in February, and the advanced metric rating shows a home slate that is very manageable for Kentucky.
Miami (Ohio) — No. 80 overall (61st on offense, 99th on defense)
Youngstown State — FCS
Northern Illinois — No. 88 overall (53rd on offense, 115th on defense)
South Carolina — No. 49 overall (58th on offense, 40th on defense)
Mississippi State — No. 12 overall (26th on offense, 15th on defense)
Vanderbilt — No. 113 overall (113th on offense, 106th on defense)
Georgia — No. 2 overall (2nd on offense, 5th on defense)
Louisville — No. 29 overall (8th on offense, 67th on defense)
Kentucky checked in at No. 21 overall ranking inside the top-30 in both offense and defense. A new update should be released soon after the final transfer portal additions are made, but the Wildcats will have a great chance to improve their 22-6 home record that has been collected since 2018.
If these ratings were to hold, Kentucky would be near a three-touchdown favorite or more against four opponents at home: Miami (Ohio), Northern Illinois, Youngstown State, and Vanderbilt. Against South Carolina, Kentucky would be more than a touchdown favorite. The clear expectation should be for the Wildcats to win all five of those games.
Against Louisville, the Wildcats would be favored by less than a touchdown but would still expect a victory. Meanwhile, Mississippi State is the clear toss-up game.
Early lines were realized earlier this week and had Kentucky as a 16-point home dog to Georgia for the penultimate game off the schedule. On the road, the Wildcats would be a clear favorite against Missouri with both road trips to Florida and Ole Miss falling into the toss-up category. Currently, Tennessee would be about a touchdown favorite making that game in Neyland Stadium more difficult.
So let's just play out some hypotheticals here at KSR. In Kentucky's two 10-win seasons the Wildcats went a combined 13-2 at home with the 2018 team going 7-1 at Kroger Field. That only loss was to Georgia in November for the SEC East title. Due to a strong home record in toss-up games against anyone other than Tennessee, a 7-1 home record feels likely. On the road, a split between Florida and Ole Miss and taking care of business against Missouri could give the Wildcats two more wins.
When drawn out, a 9-3 record seems like a reasonable expectation. Kentucky will be a favorite in at least seven games and have three true toss-ups — Florida, Ole Miss, and Mississippi State — The sportsbooks are realizing that and setting the win total appropriately.
We have yet another sign that the game against Georgia on Nov. 19 could have high stakes in the SEC East.