WATCH: Behind-the-scenes of Kentucky and Michigan's London prep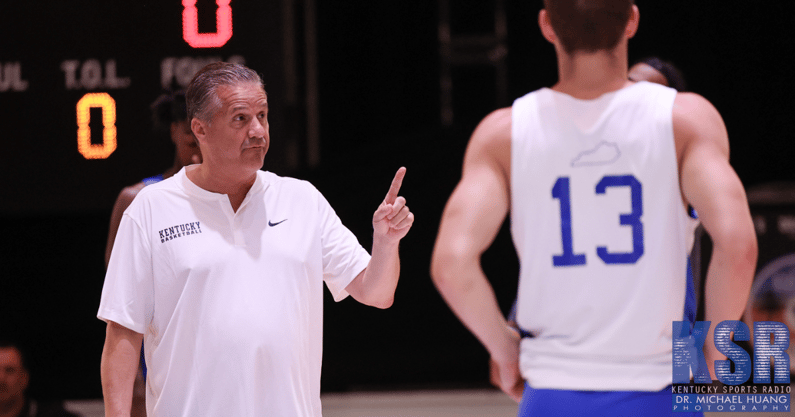 The Kentucky Basketball team has arrived in London, and thanks to The Basketball Hall of Fame, we're getting a behind-the-scenes look at their preparation for Sunday's game vs. Michigan in the famous O2 Arena.
In partnership with Learfield Studios, the Hall of Fame is releasing "Hoophall: London Showcase," a three-part docuseries on the trip featuring exclusive footage and interviews with coaches and players from both teams. All three episodes will be released on the Hoophall social channels. Episode One dropped this morning. In it, you can see the Cats and the Wolverines practicing and coaches and players discussing their excitement and expectations for the trip.
"We've got a fight coming up," Oscar Tshiebwe said. "This game is not a joke. I'm looking forward to competing. To compete and bring the victory. I hear a lot about London. I'll just be excited to be there."
"I want to see the double-decker buses that are always in movies," Michigan guard Joey Baker said.
"Knowing about that arena and what it means to their country and what it means to the world is a pretty big deal," John Calipari said.
Episode 2 goes live on Saturday, Dec. 3 at 3 p.m. ET and will explore the teams' experience in London, including a jersey exchange with Chelsea FC. Episode 3 will be released on Monday, Dec. 5 at 3 p.m. ET as a grand finale, all-access wrap-up of the event with perspective from both Kentucky and Michigan programs. ESPNU also will air a 30-minute show encompassing the experiences of the teams, and the game itself on Thursday, Dec. 15.
This morning, Kentucky Basketball's Twitter account shared a video of the Cats arriving in London. Hopefully, my travel goes as smoothly as theirs.