Kentucky men's tennis hosting NCAA Tournament Sweet 16 this weekend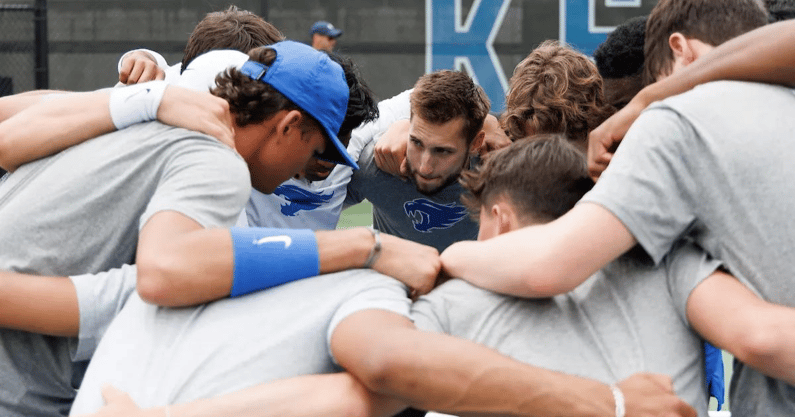 For the second year in a row, Kentucky men's tennis is hosting the Sweet 16.
After a wild comeback victory (4-3) over Northwestern in the Round of 32 over the weekend, the Wildcats have made it back to the Super Regional. Kentucky, which reached the program's first-ever national championship game in 2022 and received the No. 4 overall seed in this year's NCAA Tournament, will look to continue its postseason run this weekend in Lexington, KY.
The Wildcats (26-4; 9-3 SEC) will host Stanford (16-10; 4-4 Pac-12) at the Hilary J. Boone Tennis Center on Saturday, May 13 at 2:00 p.m. EST. The winner will advance to the Elite 8, which is set for Thursday, May 18 in Orlando, FL.
You can purchase tickets for this weekend's match here. Gates will open one hour prior to the start.
Stanford reached the Sweet 16 by sweeping St. John's in the opening round and then upsetting 13-seeded Columbia 4-2 in the Round of 32. There might not be a more historic program in the history of men's tennis than Stanford, which has made the NCAA Tournament 15 straight seasons and has won a grand total of 17 national titles, the most recent coming in 2000.
The Cardinal won all 17 of its titles from 1973-2000, including one four-peat (95-98), one three-peat (88-90), and three different back-to-back title runs (73-74, 77-78, 80-81). While Stanford hasn't won the championship game in over 20 years, the program has been a national runner-up twice in 2006 and 2011. There is plenty of talent on this season's roster, with Arthur Fery being named the Pac-12 Singles Player of the Year and Samir Banerjee chosen as the Pac-12 Freshman/Newcomer of the Year.
In last year's Super Regional, No. 8 Kentucky took down No. 9 Wake Forest 4-2 in Lexington to advance to the Elite 8, where the Wildcats would take down top-seeded TCU 4-3. UK then beat No. 4 Ohio State in the Final Four before falling to No. 7 Virginia — which has won five of the last eight national titles — by a score of 4-0 in the championship match.
In 2023, Kentucky has been one of the nation's top teams all season long, winning the program's first SEC Tournament championship since 1992. Cedric Kauffmann's crew has beaten several ranked opponents this season, including then-No. 1 ranked Virginia in February. UK reached as high as No. 2 in the country this season.
Discuss This Article
Comments have moved.
Join the conversation and talk about this article and all things Kentucky Sports in the new KSR Message Board.
KSBoard