Kentucky Offense Laments Red Zone Woes, Potentially Pinpoints Problem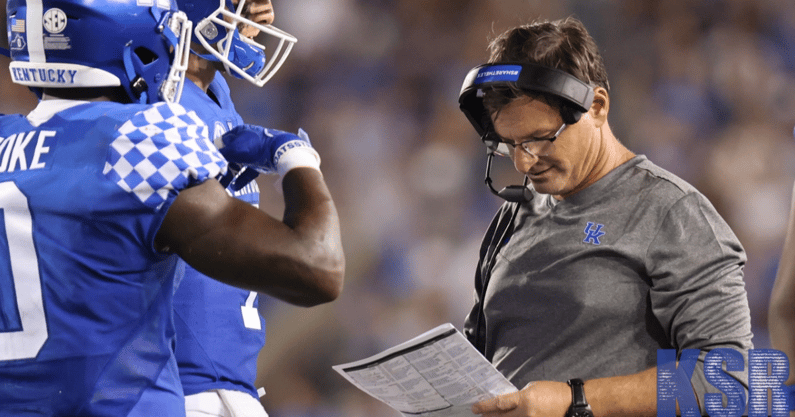 What's wrong with the Kentucky offense? To put it plainly, they can't score enough points, more specifically, the Wildcats aren't executing in the red zone.
Just before the Kentucky basketball team tipped-off in the Champions Classic, maligned offensive coordinator Rich Scangarello met with members of the media to talk about his team. Most of the talk centered around the Wildcats' red zone struggles. He went through drive by drive where they went wrong against Vanderbilt, before eventually summing up the situation that's plagued Kentucky all season long.
"We're moving the ball and we're doing good things, but we're not getting in the end zone. One of the downsides — we've had explosives but they're not scoring all the time. Chunk plays are great, but when chunk plays get tackled on the 25 instead of scoring, it's hard," he said.
"You gotta earn your way into the red zone and you have to be precise. We had a 14-play drive in that game and came away with nothing. We missed a kick because we took a sack down there. When you're shortening the game and playing complementary ball and not playing fast, not speeding the game up, it demands precision and demands execution in the red zone that rely on touchdowns, not field goals. That ultimately has held us from being an explosive offense that scores points and creates separation. It just hasn't happened. We've let every game linger because of it. Whether it's get down there and kick it, we've had kicks missed, we've taken sacks and made kicks harder. We gotta be better complementary and we gotta get touchdowns."
There are missed assignments from every spot on the offense. There are also young players being asked to execute in critical situations, particularly all of the freshmen wide receivers.
"Their best days are ahead of them. They're learning everyday," said Scangarello. "A guy gets tired and a guy subs out, he goes in there and he's not as crisp or doesn't run something right. That's on us. We gotta make sure they're prepared and maybe it is one too many plays in the red zone. There are things we've been doing since training camp and fall camp that wasn't new stuff. That's the difficult part sometimes. But you know, you gotta win some one-on-ones down there some time too. They did a good job covering us, they rushed us and pressured us and maybe (the problem) was play design."
Scangarello's words tell you what happened, but exactly why is Kentucky struggling in the red zone? One of those redshirt freshman wide receivers, Dekel Crowdus, has a theory.
"Probably — I would have to say the play-caller, because we were down in the red zone and just couldn't get it," Crowdus said. "That's pretty much all I can say."
Subscribe to the KSR YouTube Channel for press conferences, interviews, original shows, fan features, and exclusive content.