Kentucky reaches out to stock-soaring center Flory Bidunga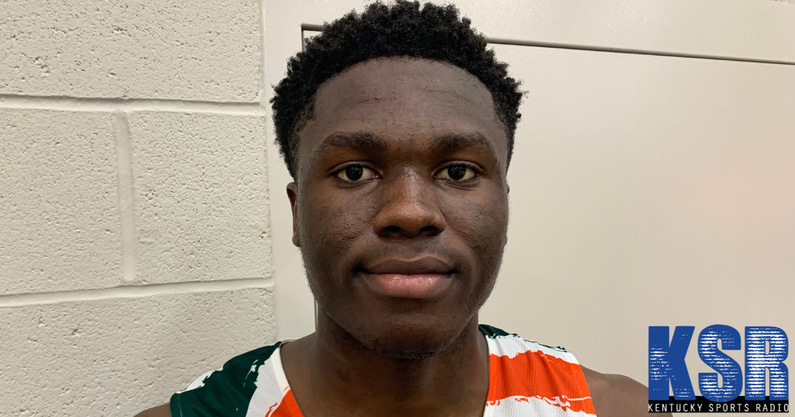 An international student from the Democratic Republic of the Congo, 2024 center Flory Bidunga arrived in the United States just 10 months ago. He made his Kokomo (IN) High School in November, where he averaged 17.5 points, 13.3 rebounds and 5.3 blocks per game while leading the Wildkats to a 20-8 record and a run to the Indiana Class 4A Final Four.
That was just high school. When the spring rolled around, the 6-foot-9, 230-pound center exploded on the adidas 3SSB circuit with Indiana Elite (16U), showing off his explosiveness, interior scoring and defensive tools against the best of the best in his age group. The stage was bigger, but the production was the same.
It was a spring that resulted in an invite to the 2022 NBPA Top 100 Camp in Orlando, one of the most prestigious annual events high school basketball has to offer. The nation's best players, regardless of shoe circuit or age group, all together under one roof competing in front of college coaches and NBA scouts. Bidunga is among that elite crop of talent.
How has he stacked up against the competition? Through four games, the standout center is averaging 10.0 points on 76.0% shooting (19-25 FG), 6.8 rebounds and 2.0 blocks per contest, including a 16-point, seven-rebound, four-block performance against 2023 five-star center Aaron Bradshaw to open the event on Wednesday.
He hasn't just looked like the best center in his class, that's a given at this point. With the most important eyes watching him in the entire basketball world, he's looked — at times — like the best center in all of high school basketball. His ranking now reflects that, jumping all the way up to No. 6 in the latest Rivals update. A similar rise is expected when On3 releases its new player rankings in the near future.
"I didn't expect this," Bidunga told KSR this week at the NBPA Top 100 Camp. "I just came to the United States ten months ago and started playing basketball. All of this is new for me. I just play ball."
The soon-to-be five-star is an unstoppable force in the paint, a physical finisher on offense and a shot-blocking phenom on defense. For a player who has only played basketball for two years, he's got wildly impressive touch and feel for the game down low, along with great instincts as a rim-runner and lob-catcher. Physically, he's college-ready with a naturally strong frame and room to add weight.
"What sets Flory apart from everyone else is his motor. He just never stops playing hard," Kokomo head coach John Peckinpaugh told KSR. "He's got great hands and great feet around the rim where he can be patient, take his time with his athleticism and be very productive both offensively and defensively. That's shown here this week at the (NBPA) Top 100 (Camp).
"He's just going to keep getting better and better because he works so hard. It's fun to see a kid like that perform at a showcase like this. I'm happy for him."
Bidunga has accomplished what he hoped to show going into this event, doing little things to impact winning. It's not about the points or shots, it's about helping his team however he can.
"It's going pretty good (this week)," he told KSR. "My teammates and I work together, even though we don't know each other. I just try to play ball and help my team. Whether it's a ball screen, a rebound, all of that stuff. … I just try to go inside and play ball, feel comfortable."
Peckinpaugh has seen his dominance up close and personal for ten months now. Any questions regarding Bidunga's talent and potential have now been answered following his standout performance at NBPA Top 100 Camp.
"It's nice to see some questions answered about his game and what he can do against guys with his size and athleticism," he told KSR. "I mean, he's out here playing with the best of the best with just as much athleticism as he has. His motor just allows him to be successful, and it's nice to see him get the recognition he deserves."
The continued production and spike in recognition has resulted in new interest pouring in from the nation's best.
"We've had a lot of calls come in, I can't list them all," said Peckinpaugh. "But Wake Forest, Creighton, Bradley and Purdue Fort Wayne have all offered. Those schools have done a really good job recruiting him so far, but it's all new to him. His main goal right now is just to continue to get better each day. Continuing to learn about the process each day and try not to get overwhelmed, kind of enjoy being a kid here in America. Enjoy the process instead of letting it turn into something that's not enjoyable."
Of the long list of schools to reach out? You guessed it, the Kentucky Wildcats. The UK coaching staff began watching Bidunga on the adidas 3SSB circuit, and then watched him again on multiple occasions this week in Orlando.
"We've heard from Kentucky," Peckinpaugh told KSR. "They like what everyone likes (about him). His motor's unbelievable and he's skilled around the rim. He plays extremely hard."
Interestingly enough, Bidunga singled out Kentucky as a school he was open to learning more about, joining the likes of Indiana, Purdue and Ohio State, among others. Overall, though, he's putting recruiting on the back burner as he continues to develop as a player.
"I just focus on basketball," he said.
When it does come time to focus on his recruitment, what is the stock-rising center looking for in a school?
"You know, he's so new to all this, it's only been 10 months," Peckinpaugh told KSR. "He's learning college basketball, what level he's going to be productive at, what kind of system he needs to play in to be productive. So he's definitely kind of taking it slow and trying not to let it become an overwhelming process, which it can be. Just kind of figuring out league, what system, what coaching staff is going to help him get to that next level."
What's next for Bidunga as a basketball player?
"He wants to keep working this summer, get ready to try to win a state championship at Kokomo," said Peckinpaugh. "Then, you know, his long-term goal is to do whatever he can to become an NBA player one day."
Unranked going into the spring – most didn't even know his name – Bidunga has firmly cemented himself not only as a five-star-caliber talent, but a top-10 prospect in the country.
Now, Kentucky is looking to throw its hat into the ring.