Kentucky roster stay/go decision updates from McDAAG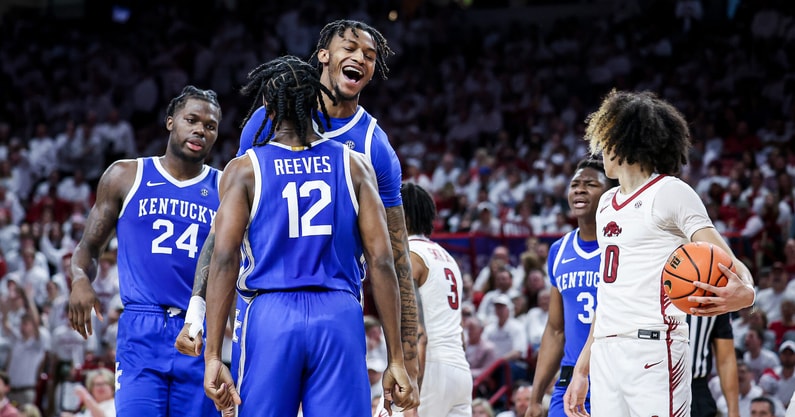 McDonald's All-American Game week is a great opportunity to get an up-close-and-personal look at basketball's next stars, specifically for the University of Kentucky — the Wildcats have an event-leading four players in attendance. It's also a massive grouping of NBA scouts and personnel who are in the process of juggling the current draft class and the ongoing stay-or-go decisions to open the offseason.
And Kentucky sure has a lot of those this time around, with multiple players weighing their pro and transfer options, along with the possibility of returning to Lexington.
KSR spoke with several NBA officials in attendance to get a feel for where things stand regarding those decisions, specifically the toss-ups on the roster. Among them? Chris Livingston, Antonio Reeves and Daimion Collins.
Let's start with the bad news. Livingston is expected to test the draft waters, a process he's expected to take very seriously with the intention of staying in. Multiple league officials indicated the freshman forward was highly unlikely to return to Kentucky and those around him believe he is a first-round draft pick. The hope is Klutch convinces a contender to take him at the end of the first in hopes of developing him in the league rather than waiting for a potential second-year jump in Lexington (or elsewhere).
He'll keep his options open, including the transfer route, but a jump to the pros is the top priority. Either way, very little optimism regarding a return to UK.
Elsewhere, NBA scouts are skeptical Reeves will receive an offer from a team in the league that exceeds what he'd make in NIL with another year at Kentucky. League officials expect the senior guard to go undrafted and earn an Exhibit 10 deal, one that would force him to work his way up from the G-League making $50,000, assuming he spends at least 60 days with the affiliate. He can earn a two-way deal and eventually make a league roster, but it's an unnecessary grind when you can make six figures — what he made with NIL this past season in Lexington — with another year of college.
He'll test the waters, but NBA teams expect him to ultimately decide to return to Kentucky for one final season.
And then there's Collins, who has to weigh his options for unfortunate reasons after losing his father to open his sophomore season in Lexington. It's an unthinkable tragedy that puts basketball on the back burner as he considers his future, putting family first. The expectation among scouts and unanimously in basketball circles is that the 6-foot-9 forward hits the portal and transfers closer to home in Texas. That's the growing belief on Kentucky's side, as well.
If this were a basketball decision, Collins would be back. He has enjoyed his time at UK and the support system he's developed over the course of his two years here. But this isn't about basketball, unfortunately. He's got to do what's best for himself and his family, and the expectation is that will be to head home.
Official announcements will begin to roll out this week for the Wildcats, potentially as early as Monday. Stay tuned.