Kentucky football could create major buzz on signing day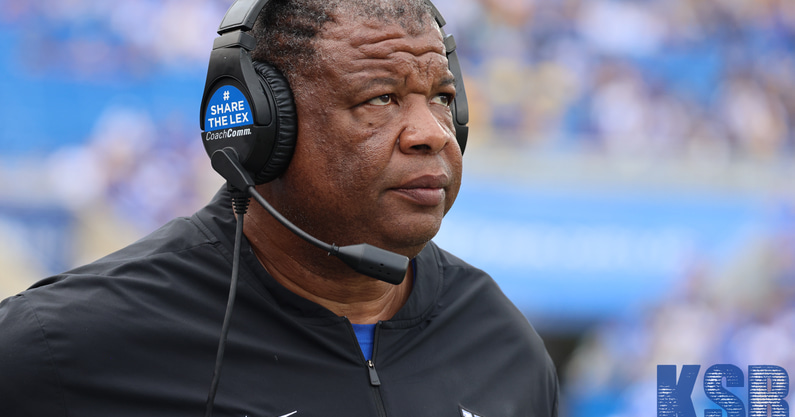 The early signing day for the class of 2022 is less than two weeks away. Mark Stoops' 10th class at Kentucky appears to be in great shape.
In On3's team rankings, Kentucky currently sits at No. 13 overall with 18 verbal commitments. In the SEC, only Georgia (No. 1), Alabama (No. 2), and Texas A&M (No. 3) are currently ahead of the Wildcats.
Following an announcement of a contract extension, Stoops confirmed that his main goal now is recruiting after the university administration committed to improving facilities within the program.
"I've been hitting the ground," Stoops told Tom Leach on Monday. "I said that Saturday after the game that I was ready to get to work on Sunday, and that's all I've been doing. That's all my concentration has ever been on is making this program better.
How do you improve a program? By landing good players on the recruiting trail. Kentucky is on its way to doing that, and the program has a chance to create some major buzz in two weeks when pen meets paper on national signing day.
KSR has the future storylines today if Kentucky can close strong.
Closing out an elite recruitment
Five-star offensive tackle Kiyaunta Goodwin has been committed to Kentucky since April. However, this blue-chip recruiting battle has not slowed down.
Goodwin took multiple unofficial visits to Kentucky during the season but the star recruit made official visits to Alabama, Florida State, Michigan, and Texas A&M. New weekend, Goodwin will be taking an official visit to Michigan State.
Goodwin will host all of those schools for in-home visits over the next two weeks. Recruiting coordinator Vince Marrow and offensive line coach Eric Wolford visited the 325-pound offensive tackle on Wednesday night.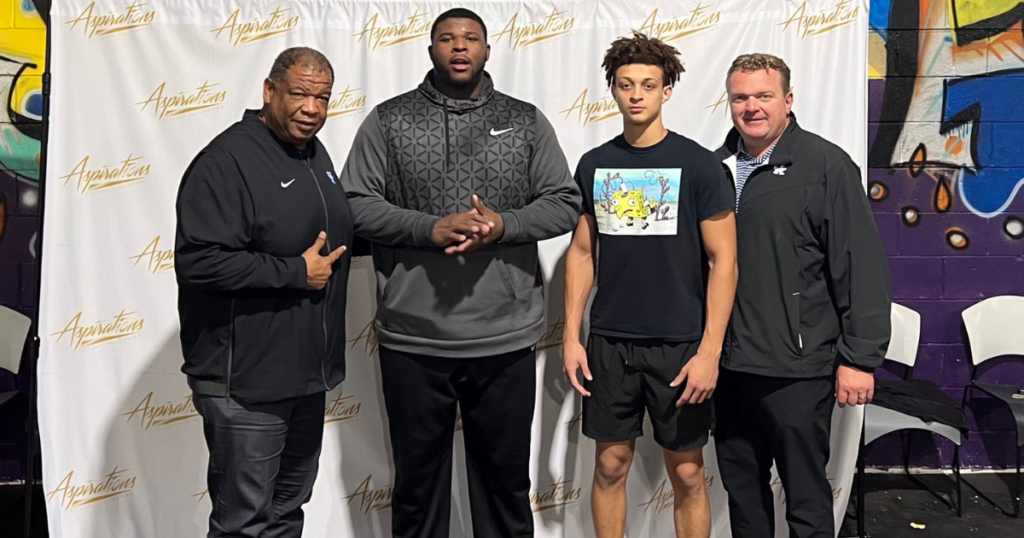 The crown jewel of the Kentucky recruiting class is Goodwin, and the Wildcats will need to hold onto him the last two weeks. If that happens, the recruiting win will be lauded by prognosticators and the coaching staff will have successfully landed the top prospect on their recruiting board.
Winning these types of recruitments is how perceived ceilings are broken.
Success in Nashville ahead of signing day
On the field, Tennessee picked up a huge victory in Josh Heupel's first season when the Vols knocked off ranked Kentucky at Kroger Field on Nov. 6. UT finished 7-5, and the offense looked the part once Virginia Tech transfer Hendon Hooker took over at quarterback.
Many things are going right for Heupel, but the recruiting needs to improve. The Vols do have a top-25 class, but the in-state recruiting is not going great.
In Metro Nashville, the Vols do not have a commitment from a blue-chip prospect. Meanwhile, Kentucky has three.
Twins Destin Wade and Keaten Wade were huge early wins in the recruiting cycle and the four-star prospects out of Spring Hill (Tenn.) Summit High looks to be the real deal. Meanwhile, the Wildcats just beat out Alabama for blue-chip wide receiver and top-100 prospect Barion Brown out of Nashville (Tenn.) Pearl-Cohn High.
If Kentucky can continue to build a pipeline in Nashville that could open the doors to some very good football players combined with giving one of your biggest division rivals some major in-state recruiting headaches.
That double-dip could allow the Wildcats to start having some more on-field success against the Vols. No program is at its best if unable to recruit local players from the biggest metropolitan area in the state.
In-state dominance
The same thing goes for Kentucky at home. For the Wildcats to be at their best, the football program must convince the best players in Kentucky to stay at home.
That mission appears to be accomplished in this recruiting cycle.
The Wildcats have commitments from 4 of the top 5 players in the state and every blue-chip recruit in Kentucky. The coaching staff landed Kiyaunta Goodwin out of Louisville, Dane Key out of Lexington, and both Grant Bingham and Treyveon Lonmire out of Eastern Kentucky.
Vince Marrow has continually dominated in-state recruiting, and the only miss this cycle will be Owensboro (Ky.) High quarterback Gavin Wimsatt. The blue-chip quarterback has enrolled early at Rutgers and played for the Scarlet Knights this season despite being in the class of 2022.
Kentucky must get a signature from Goodwin on national signing day, but the Wildcats have built a fence around their state, and the best players in the Commonwealth are wanting to wear the blue and white at the next level.
Recruiting never stops.