Kentucky staff sees signs of Josh Paschal in Tommy Ziesmer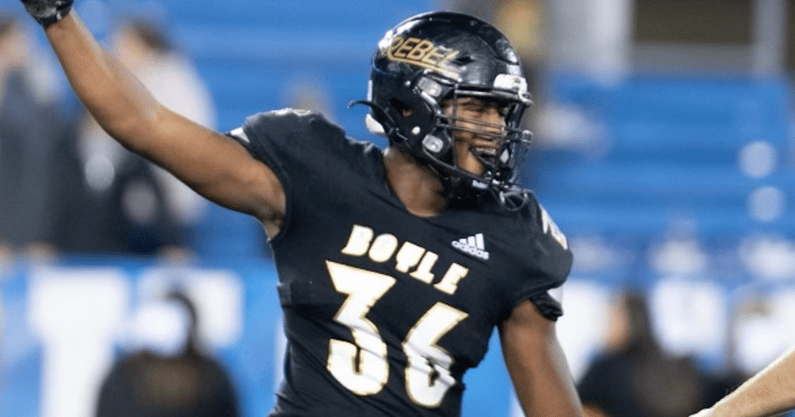 Mark Stoops and the Kentucky Football staff added the sixth piece to the 2023 recruiting class on Saturday in homegrown product Tommy Ziesmer.
A three-star edge rusher out of Boyle County High School (KY), the 6-foot-1, 240-pound Ziesmer has been on the Wildcats' radar since he was offered a scholarship over a year ago in March 2021. Kentucky associate head coach Vince Marrow, the one who extended the offer to Ziesmer, told him back then that he could fill into the mold of former Wildcat Josh Paschal, now with the Detroit Lions.
That pitch from UK has remained the same throughout Ziesmer's recruitment, and it ultimately played a significant factor in his decision to pick the 'Cats this weekend.
"I've actually watched him a few times at UK," Ziesmer told KSR on Sunday about Paschal. "They showed me and some other recruits his game film and I feel like I have what it takes. He has a high motor like me as well. A lot of similarities in what we do."
Ziesmer added that he's open to playing multiple positions, but rushing off the edge is where Kentucky sees him thriving at the next level.
Sticking with the home-state program
Just a few hours before he committed to Kentucky, a report surfaced indicating that Ziesmer would take two official visits in June, one to UK and the other to West Virginia. WVU has long been the top competition for the rising senior as Mountaineers head coach Neal Brown is a Boyle County alum and well-versed in the Bluegrass State's football scene.
But Ziesmer went ahead and chose the 'Cats later that day anyway. He told KSR that Marrow and Kentucky had been pushing harder for him as of late. Ziesmer has always been highly intrigued by UK, and the number of players the program has pushed through to the NFL Draft over the years (four getting selected in 2022) helped nudge him a bit in Kentucky's direction.
"Coach Marrow came to see me for practice and he loved everything I could do and he's kinda been on me a lot more and he's been talking to the coaches about my stuff. He really wants me there type stuff," Ziesmer told KSR. "Then I started thinking about it and then I have all my peoples sending me a bunch of stats of people going pro from UK. All these players are going pro, let me get a chance to maybe have a shot at that."
Growing up just an hour from Lexington also played a role in his decision. He was able to visit for multiple games back in the fall and made it to town for Junior Day in January. Driving back home when he wants won't be much of an issue.
Ziesmer used the term "polished" a couple of times to describe another reason why he chose Kentucky. He's also big on education and says that UK will set him up with a great opportunity for life after college and after football.
As for that previously scheduled WVU visit set for June 24-26, Ziesmer isn't sure if he'll still take it or not. He wants to talk it out first before making a final decision.
"Right now it's up in the air," Ziesmer said. "I have to talk to my coaches about it and see what the popular reaction is so I'm not putting out a bad image or have people think something that it's not."
Ziesmer did confirm that he'll still take his official visit to Kentucky from June 10-12.
Kentucky now has six total commits for the class of 2023, including four in-state products: four-star WR Shamar Porter (TN), 3-star RB Kaden Moorman (KY), 3-star TE Tanner Lemaster (OH), 3-star OT Malachi Wood (KY), and 3-star DB Ty Bryant (KY) join Ziesmer.