Kentucky Still In the Hunt for 4-Star DL Kendrick Gilbert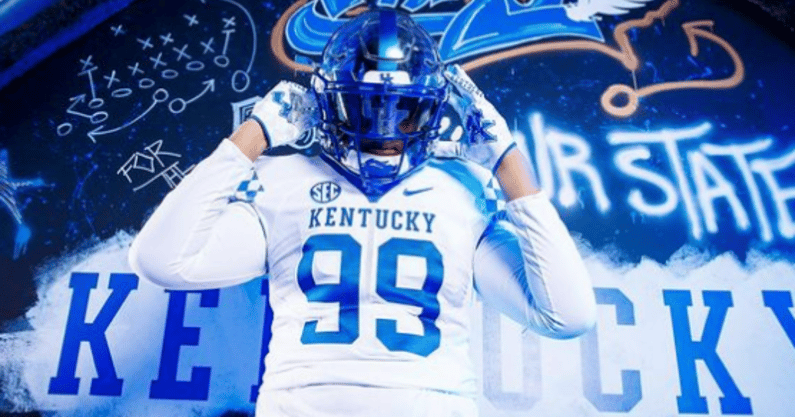 The SEC/Big 12 Challenge matchup on the hardwood is the ideal recruiting opportunity for Mark Stoops' Kentucky football team. While all eyes are on the Juniors and underclassmen quarterbacks, there will be one talented player on campus that could suit up for the Wildcats this fall, Kendrick Gilbert.
247 Sports' Steve Wiltfong reports four-star defensive lineman Kendrick Gilbert will spend the final weekend before National Signing Day with the Kentucky football program. The visit will serve two purposes. His sister, Kaitlyn, plays for the Missouri women's basketball team. The Tigers take on Kyra Elzy's Cats at Memorial Coliseum Sunday afternoon at 2 pm.
We thought William "Woo" Spencer was the only potential late addition to Kentucky's 2023 recruiting class because of the nature of Gilbert's recruitment. He's kept it quiet, only speaking to Wiltfong throughout the process. The Indianapolis Cathedral product took his official visits over the summer, and UK appeared to be the favorite. I even submitted an RPM prediction for Kentucky. He delayed his decision multiple times, then picked nearby Purdue.
Following Jeff Brohm's departure from Purdue, it felt like the ideal time for Kentucky to push for a flip, yet we heard nothing. There wasn't even any Louisville buzz. Coach Prime kicked the tires in Boulder, but it was still mostly crickets from Kendrick Gilbert and the schools potentially pursuing a late flip. Even though he did not sign, it was a safe assumption to believe he was sticking with Purdue.
Kendrick Gilbert visited West Lafayette last weekend. There's a chance he could stick with Ryan Walters, but Kentucky is getting the last word. Significant.
If Mark Stoops' staff can pull a National Signing Day flip, the Wildcats would add a Top 500 prospect with ideal size, strength and length for Anwar Stewart's defensive line. Just when you thought they might be done, a Blue Chip addition is on the table. Mark Stoops commended his staff for closing well during the Early Signing Period. This would be one more outstanding surprise.