Tight ends are 'important part' of offense for Rich Scangarello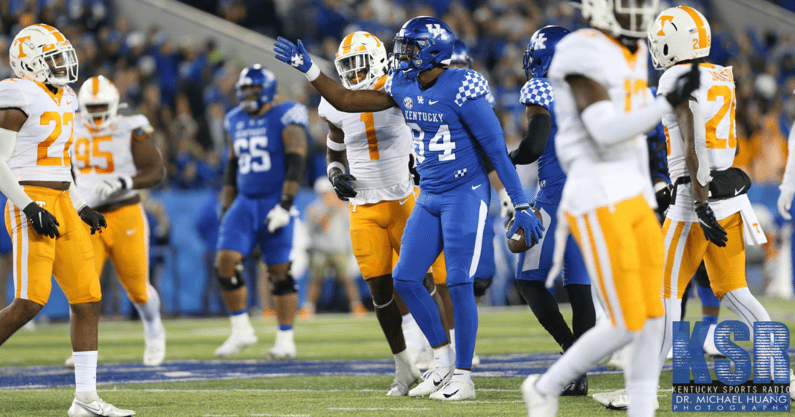 "Throw the ball to the tight end". That may be the most popular phrase said within the Big Blue Nation during every football season. In 2022, all of those wishes could finally be answered.
San Francisco 49ers assistant Rich Scangarello is now the play-caller for Kentucky, and the NFL assistant is coming from a passing offense that was very tight end driven. Early signs point to the new offensive coordinator utilizing that position heavily at Kentucky.
The Wildcats will enter fall camp with five scholarship tight ends. Scangarello is very excited about that position group.
"I don't know that I've ever been around a tight end room with this much depth and talent. You just can't put this many guys together in an NFL environment," Scangarello told Tom Leach on The Leach Report on Friday. "Coach [Vince] Marrow's done an outstanding job recruiting the right types of guys. They're smart. They're complementary."
"Honestly, I feel like there's a couple NFL guys in that room that have a chance to be pretty good football players."
That should get people excited.
Last fall under Liam Coen, the tight end position collected 47 receptions for 508 yards and eight touchdowns. The position group saw a much bigger role in 2021. However, that is likely to increase this season as the Wildcats must replace Wan'Dale Robinson's 104 receptions.
Virginia Tech transfer Tayvion Robinson is expected to be WR1 for redshirt senior quarterback Will Levis. True freshmen wideouts Barion Brown and Dane Key will also have a role in the offense. After that, there are some questions pass-catching questions. That's where the tight end position could take on a heavier volume.
"I like our skill guys," Scangarello said. "Our tight ends are pretty darn talented as well. Quite honestly, some of them have borderline receiver-type traits. Izayah Cummings was a receiver type, but he's got really special skills and he's tough and smart. You got in-line tight ends and guys that can play off the ball."
Cummings was a receiver his first season at Kentucky and then transitioned to tight end one year ago during training camp. That turned out to be a shrewd position change as the Louisville (Ky.) Male product became a key target for Levis. The junior is joining forces with Brenden Bates in 2022 and that will give Kentucky a solid twosome. After that, both Keaton Upshaw and Jordan Dingle can be factors for the offense.
Expect the new offensive regime at the Joe Craft Football Training Facility to maximize this position. There will be numerous two tight sets with a variety of formations to help take advantage of this strength. Tight ends will get consistent targets in the passing game this season.
"We'll do everything we can to use them," Scangarello said. "They're a real important part of what we want to do."