Kentucky's Big Blue Wall named semifinalist for 2021 Joe Moore Award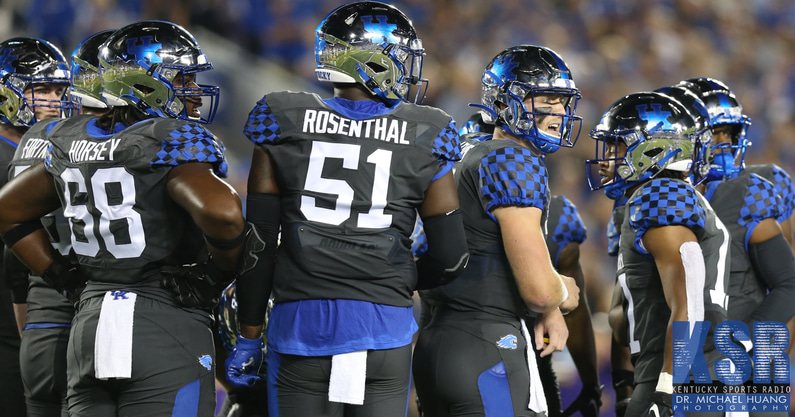 Kentucky was named one of thirteen semifinalists for the 2021 Joe Moore Award, an honor presented annually to the top offensive line unit in college football. The Foundation for Teamwork announced the award semifinalists on Tuesday.
Kentucky's Big Blue Wall joins Air Force, No. 25 Arkansas, Appalachian State, No. 9 Baylor, No. 1 Georgia, No. 23 Louisiana, No. 2 Ohio State, No. 6 Michigan, No. 12 Michigan State, No. 11 Oregon, Oregon State, and No. 18 Wisconsin on the list of semifinalists.
The Joe Moore Award has been presented annually since 2015.
The 13 semifinalists have a combined record of 115-28 and represent six FBS conferences. The teams average 439.7 total yards and 218.9 rushing yards per contest.
What does the committee think about Kentucky?
Kentucky (8-3)

Offensive line coach: Eric Wolford

– Kentucky averages 5.28 yards per carry, fourth in the SEC and T-16th nationally. 

– The Wildcats are averaging 2.5 rush yards before contact, 24th-most in the country. 

– Kentucky has a "Gotta Have It" rate of 66.7%, converting two thirds of the time they are in a 3rd and 3 or less or 4thand 3 or less situation. 

– What the committee is saying:

"I'm in on Kentucky. First play of Vandy and you see it immediately. Body bag games aside, I think they see things through 'one set of eyes' [sorting out assignments] really well and are great with run combos. I put on Tennessee and they initially struggled with movement, but from Play 9 on, where the C violently threw the NT down on a screen release, and plays 10 thru 12 which are riddled with pancakes, it started to show back up. I like that they got it sorted out on sideline and got it figured out so quickly.

"Soft edges in pass pro at times off the edges, but these guys build a wall and pry dudes out. Consistently fly up to the second level with bad intentions. They're enforcers, not watchers. Losing Cox for the home stretch will be tough, but I think they've earned their place based on what we've seen so far."
Finalists coming in December
A vote will be held to select the 2021 recipient of the Joe Moore Award by a voting body of 200-plus members. It's one that includes all of the current offensive line coaches at the Division I level, along with former players, coaches and media, among others.
The Joe Moore Award finalists will be named on Tuesday, December 7, with the winner later recognized during a surprise visit to campus at the conclusion of the regular season.
Past recipients of the Joe Moore Award include the offensive lines of Alabama (2015), Iowa (2016), Notre Dame (2017), Oklahoma (2018), LSU (2019), Alabama (2020 – first repeat winner).