Kentucky's Ugonna Kingsley arrives on campus Thursday evening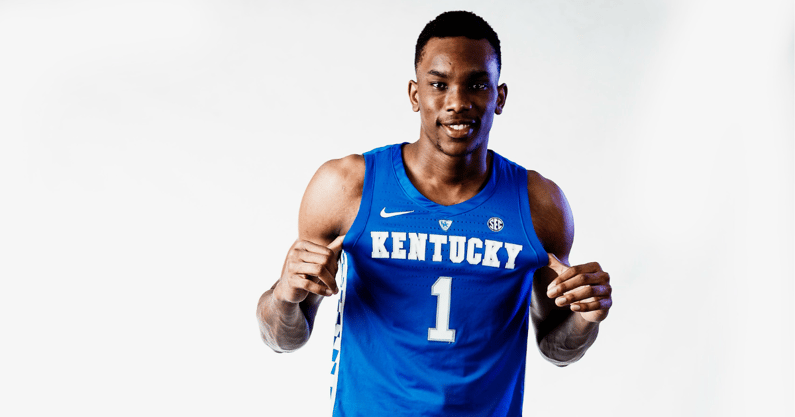 Kentucky basketball's 2022-23 roster will be complete later this evening when five-star center Ugonna Kingsley Onyenso makes his way to campus.
The freshman signee will arrive in Lexington this evening and begin the move-in process, sources tell KSR.
Onyenso's locker is already set up, with the 6-foot-11, 225-pound shot-blocker set to wear No. 33 as a Wildcat, his AAU program revealed Thursday.
"My guys constantly make fun of how hard I smiled on our visit at Kentucky," Team New England Basketball Club wrote on Twitter. "It was one of the happiest days of my club's journey thus far. I watched a kid's dream come to fruition EXACTLY as he planned. Rare moment.
"(Kentucky basketball) is ready. (Ugonna Kingsley Onyenso) is ready. #BBN."
"What excited me most about Ugonna is he wanted to not only be here but wanted to be here to train with us and learn from guys like Oscar (Tshiebwe) and Lance (Ware) immediately and help us chase a national title," Kentucky head coach John Calipari said. "Ugonna has unbelievable natural athleticism and great instincts for a young player. He is going to be able to defend at the rim and is a terrific finisher. Ugonna has only been in the United States since January but has been fully immersed in basketball for several years with his experience at the NBA Academy in Africa. The staff and I are excited to help push him every day in a competitive and focused environment as he continues to improve and become the best version of himself both on and off the floor."
"I am proud to join the Kentucky basketball family and I can't wait to help work for a national championship," Onyenso added. "I'm so comfortable with Coach Cal and the staff and I know they will help me reach my goals as long as I work hard and come to play every day. I am excited for their positionless style of play and I know I'm going to continue to get better because I'll be pushed every day in practice with players who have the same drive that I do."
Onyenso is the fourth first-year player to sign with the Wildcats for the upcoming season, joining Chris Livingston, Adou Thiero and Cason Wallace.
The five-star center finished ranked No. 18 overall and No. 3 among centers in the final 2022 On3 Player Rankings.
Following the team's return from the Bahamas, players went home for a week for one final break before returning this weekend for the start of classes on Monday.
And then in a few weeks, practice returns for the Wildcats to start preparing for the 2022-23 season.
Kentucky's final piece is on his way.