Kirby Smart, Georgia preparing for 'physical' Kentucky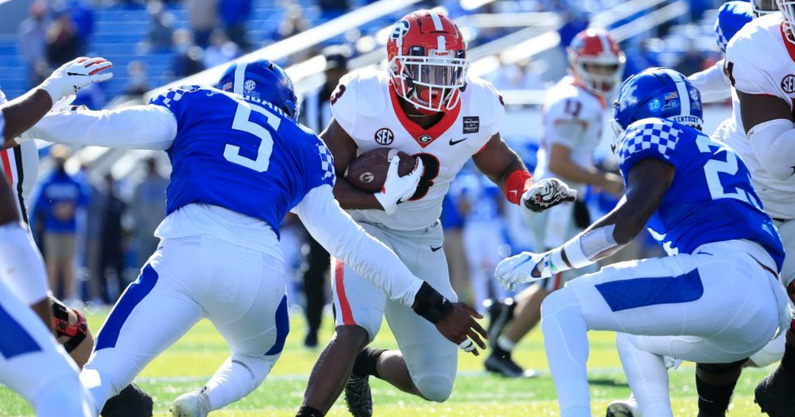 There is no hiding from what a Kirby Smart team at Georgia wants to do. The Bulldogs are all in on bully ball.
With a roster filled with top-notch recruits, UGA wants to establish the run game on offense and smother opposing offenses with length, girth, power, and speed on defense. All of this has added up to be a winning strategy for the former defensive coordinator at Alabama.
UGA is 58-14 since Smart took over the program in 2016. The Bulldogs are hunting for their fourth SEC East title in five seasons, their second-ever College Football Playoff berth, and a national championship for the first time since 1980. Georgia will accomplish these goals by out-punching opponents at the point of attack.
However, no one else on their yearly schedule challenges the Bulldogs in this area of the game more than Kentucky.
"They've always been one of the most physical games — if not the most physical game — we played in," Smart told reporters on Monday. "I don't think the rest of the world understands the physicality in which their offensive line has played with.
The Big Blue Wall has a reputation that is known well through SEC circles. John Schlarman built one of the best offensive line units in college football and the high-level play has continued under new offensive coordinator Liam Coen and position coach Eric Wolford. Smart thinks highly of this unit that is blazing the way for a rushing attack that ranks 13th nationally in yards per rush (5.54).
"They've got, I think, four draftable prospects. A guy that's going to go high in their tackle, transfer tackle is a really good player, center's a really good player — [Luke] Fortner. They've always had a good offensive line," said Smart. "They had a good offensive line last year and I think 4 of the 5, 3 of the 5, are back and then the transfer from LSU is a really good player."
"[Darian] Kinnard is one of the most physical guys we've ever played against. He is huge, long arms. They're committed to the run game and what they do. Very physical and really good team."
Kentucky's commitment to the run has remained the same in the new scheme as the Wildcats rank in the top-20 nationally in run play percentage as quarterback Will Levis is only throwing the ball 18.5 times per game in SEC play. Kentucky's DNA is the same, but the evolution of the passing game has made this a more complex offense to defend.
"The added dimension now is the quarterback with the vertical passing game, weapons they have outside obviously are different," said Smart. "The backs they run so physical and so downhill."
"I think people don't understand that because they look at them last year and they didn't have a lot of the same weapons in the pass game. Quarterback wasn't a thrower like this guy is and they got a really good team. A lot of respect for how they play."
In many ways, Kentucky and Georgia run similar programs. Both defensive head coaches pride themselves on being physical at the point of attack, leaning on a good defense, and playing smart, clean football. Many times, relying on the kicking game to win the field position battle in a game where possessions could be limited.
In recent offseasons, both Smart and Stoops went to the NFL and transfer portal to bolster the passing game in their offense. Those stylistic changes will be on display in the game, but there is no hiding from what this matchup will be.
Kentucky and Georgia will lineup and trying to beat the snot out of each other play after play. Get ready for some old-school football.