Kroger KSR Game of the Week: West Jessamine at Woodford County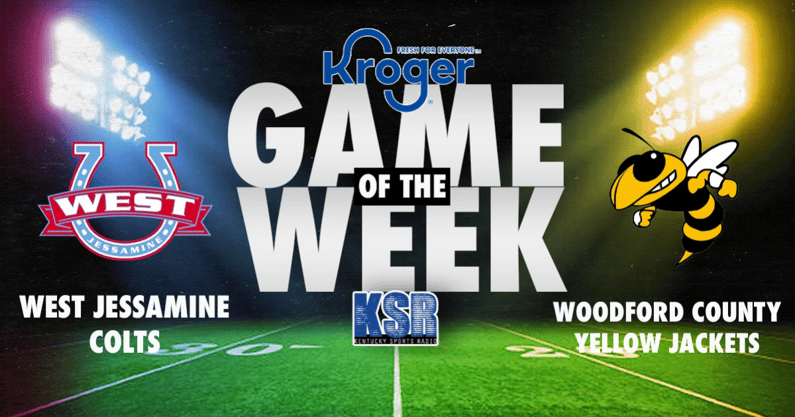 KSR makes its first trip to Versailles for the Kroger KSR Game of the Week featuring West Jessamine at Woodford County. The Yellow Jackets are 5-0 and coming off a bye week. West Jessamine quarterback Jacob Jones sports a UK offer. Jones led the 3-2 Colts to a 26-7 win over arch-rival East Jessamine a week ago. 
Woodford County is coached by a UK legend. Dennis Johnson has constructed a rebuild in Versailles and has his team ranked second in the 5A RPI poll just behind Frederick Douglass. West Jessamine comes in at No. 18. 
The Yellow Jackets are paced by quarterback Bryce Patterson's 163-pass yards per game. Running back Preston Stacy is Woodford County's top ball carrier. Receivers Jacob Jackson and Aden Nelson have recorded over 200 receiving yards. Linebacker Jackson Geilear anchors the defense. He's recorded 26 total tackles including four for loss. 
West Jessamine quarterback Jacob Jones is completing 55% of his passes for 1,000 yards and 9 touchdowns. The junior has 8 rushing touchdowns to go along with 296 yards. Jones is a highly sought-after signal caller and is the son of UK legend Pookie Jones. Bryce Chestnut leads the Colts on the ground after rushing for 392 yards. Hunter Chastain leads the defense with 46 tackles, 5 tackles for loss, and 3 QB sacks. 
A Message from Kroger
We're excited to tell you about something new from our friends at Kroger. Did you know Kroger is America's largest grocery chain that started over 135 years ago? They are doing something they've never done before: bringing fresh groceries right to you with a new service called Hometown Pickup. 
That's right, for those of you in Cynthiana, Midway, Eminence, Bedford, McKee, Dry Ridge, Carlisle, Eubank, Georgetown, Mt. Vernon, Jackson, Frenchburg, Irvine, Mt. Olivet, and Paris, Kentucky you can now order all your groceries online and pick them up at a central location in your hometown. No more long drives into the city to get fresh food for you and your family. Now THAT is truly Fresh for Everyone. Thanks, Kroger. 
Learn more and place your first order at Kroger.com/hometown.