KSR Monday Huddle: Ending another streak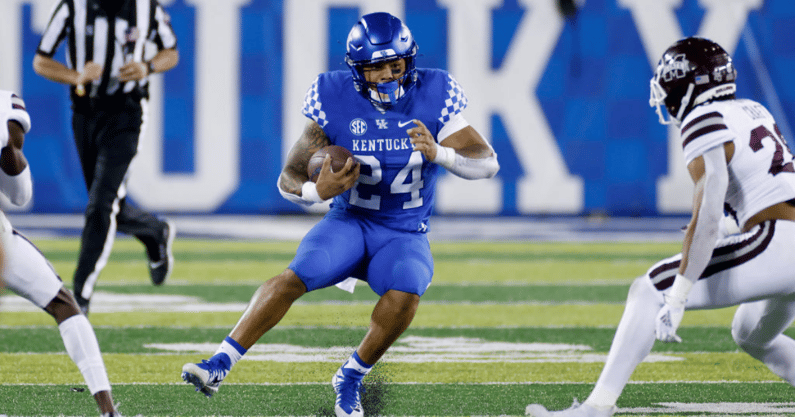 The bye week has come and gone. Now Kentucky football will play in five consecutive weekends to end the 2021 regular season. There is a lot left to play for.
For the third time this year, Kentucky will hit the road to play their annual SEC West opponent. Mike Leach is in year two at Mississippi State and has the Bulldogs sitting at 4-3 with a pair of SEC wins. State is pulling out all the stops this week for what will be a huge game at Davis-Wade Stadium.
Kentucky will be looking to win in Starkville for the first time since 2008 and for the only time in the Mark Stoops era. A lot is on the line for both teams. Expect a physical and exciting football game on Saturday night.
KSR's Monday Huddle is here to get the football week started.
First down: Air Raid preparations
There is no hiding from what a Mike Leach offense wants to do. Mississippi State will be in the shotgun every snap and will run about 6-7 base plays out of numerous formations. The Bulldogs don't have a tight end but will use two running back sets. State will throw swing passes, tunnel wide receiver screens, mesh routes, a deep cross from a slot receiver and occasionally slip in four verticals. The strategy has worked for decades for the 60-year-old head coach who has made stops at Kentucky, Oklahoma, Texas Tech, Washington State, and Mississippi State since 1997.
However, Mississippi State did not have the personnel to run that offense effectively last year and it resulted in a bad season. Thanks to high school recruiting and the transfer portal, the Bulldogs are better suited to run it this year. Mississippi State is young leaning on a bunch of sophomores but proof of concept is showing through in year two.
The Bulldogs have a strong home victory over NC State and a signature road win over Texas A&M to give Leach's program some momentum. Sophomore Will Rogers is driving the train at quarterback as he's becoming one of the SEC's most effective passers (73.6% completion rate, 50.9% passing success rate).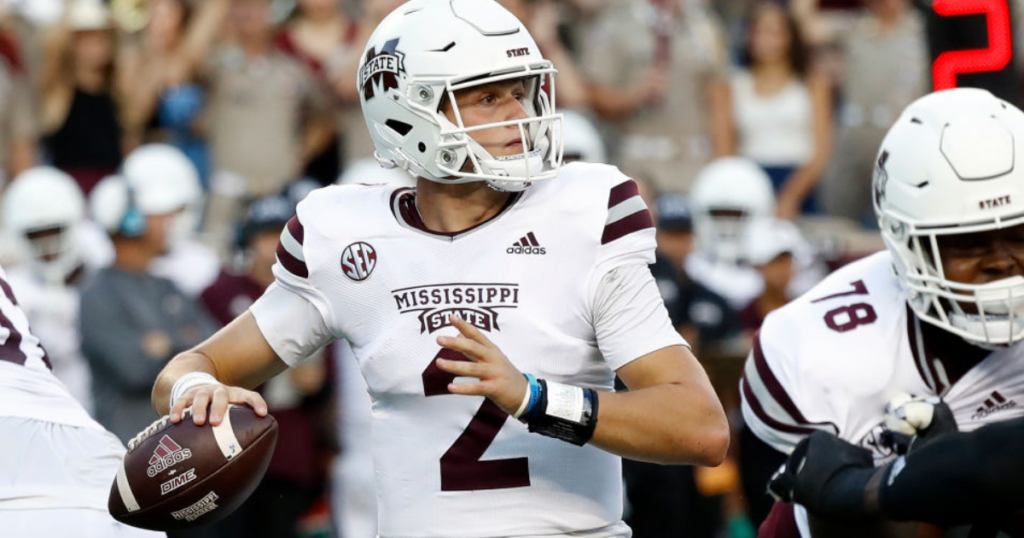 Rogers' top two targets are sophomores Makai Polk and Jaden Walley. Polk, a California transfer, leads the team in receptions (58) receiving yards (552), and receiving touchdowns (6).
While this offense has been very efficient at staying ahead of the chains, creating explosive plays has been an issue, and that is the main reason why the Bulldogs rank No. 76 nationally in scoring offense.
Mississippi State has flaws, but this is a young opponent that is growing with confidence in each outing. The unique pass-heavy scheme creates different challenges when trying to slow down the Bulldogs.
Second down: Establishing the run
On the other side of the football, it will be strength on strength when Kentucky and Mississippi State go at it. The Bulldogs excel at stopping the rush with their 3-3 stack defense, and Kentucky ranks 30th nationally in run play percentage (58.82%). The winner of this matchup will likely will the game.
Using yards per rush, Mississippi State's defense ranks 25th nationally (3.39) and Kentucky's offense ranks 23rd nationally (5.16). That number is still strong despite the Wildcats getting stoned at the line of scrimmage in the loss to Georgia.
Mississippi State's defense is 11th in the SEC in yards per play allowed (5.61), but most of the damage by other teams has been through the air. The Bulldogs have allowed 26 completions of 20-plus yards, and only Vanderbilt has a poorer mark in the SEC.
Kentucky will be able to create some explosive opportunities against the Bulldogs, but Liam Coen's offense needs the rushing attack moving at an efficient pace to create the shot play chances.
If Kentucky can establish the run, it will be very hard for Mississippi State to create stops. That will allow the Wildcats to control the tempo of the game and take advantage of a leaky secondary with well-timed passing plays. If the Wildcats can't get the ground game going, Kentucky will find itself in a passing contest against a team that passes it more than anyone else in college football. That is not where Mark Stoops wants to live.
The argument can be made that Kentucky will be the most dangerous rushing attack Mississippi State has faced with a pair of 300-plus yard performances in the SEC this season. However, the Wildcats struggled to get the ground attack going against this unique defense last season.
Third down: Season-defining moment
The last time Kentucky played a football game, it was a program-defining moment for the Wildcats. A win over Georgia would've made Kentucky a legitimate SEC title and national championship contender. Everything would've been elevated.
However, the Wildcats lost but still have much in front of them in the last month of the season. To set it up, Kentucky must beat Mississippi State in Starkville for the first time since 2008.
Mississippi State appears to be at a big moment under Mike Leach. The Bulldogs were disappointing in year one but have had some moments this season. Defense and special teams carried the way for a top 25 home win over NC State, but the stadium was just 75 percent full.
The Bulldogs followed that up with ugly losses against Memphis and LSU in games that State seemed to have the better team. However, Leach delivered with a signature win on the road against Texas A&M before dropping a clunker against Alabama with over 53,000 in attendance at Davis-Wade Stadium.
Mississippi State responded well to that loss by throttling Vanderbilt on the road, but the Kentucky game could be a fork in the road moment for the season. At 4-3, a win could open the door to a potential 8-win season. A loss could make 5-7 possible and create a make it or break it year three for Leach.
It seems that the administration is aware of just how big this game is. Mississippi State will have homecoming this weekend, is honoring the 2021 national championship baseball team (the first team to ever win a title at Mississippi State), and is offering discounted tickets.
There should be a lively atmosphere, and Kentucky will likely get Mississippi State's best shot on Saturday night. The 49th meeting between the two programs has a lot riding on it.
Kentucky is a win away from hosting Tennessee for a chance to climb back into the playoff race. However, the Wildcats must beat Mississippi State on the road to get there.
The week ahead at KSR
Another jam-packed football week full of content at KSR will be unleashed as the Wildcats get ready to face former Kentucky offensive coordinator Mike Leach.
On Monday afternoon, we'll have coverage of Mark Stoops' weekly press conference to go along with his radio show in the evening. Practice reports will come throughout the week. Podcasts galore will be available for your consumption. Plus much more content highlighted by the KSR Scouting Report on Thursday.
Can Kentucky finally get a win in Starkville? Now feels like the right time.