KSR Rapidly Reacts to Kentucky's 96-88 overtime win over Saint Joseph's
Tre Mitchell on Kentucky's OT win over St. Joseph's
Kentucky needed an extra five minutes to take down the Saint Joseph's Hawks on Monday night at Rupp Arena. But as the old saying goes: a win is still a win.
While fans would obviously prefer a blowout in every single game, the reality is the Wildcats will be faced with some close contests throughout the season. St. Joseph's presented the perfect challenge for this young Kentucky team, hitting 15 three-pointers and winning the battle on the glass. But UK never wavered, finding ways to score just enough points and pull out the 96-88 win in overtime.
Didn't catch the game? Still excited about DJ Wagner's breakout 22-point performance? Simply want to wrap yourself up with even more postgame coverage? Lucky for you, we have a fresh Rapid Reaction that should help tide you over until Kentucky's next game on Friday.
More Kentucky News and Views on the KSR YouTube Channel
Kentucky Sports Radio has expanded its coverage of the Wildcats in the most ridiculous manner possible on our YouTube Channel. Here you will be able to find interviews with coaches and players, as well as commentary from the KSR crew. From Rapid Reactions following big events to our lengthy lineup of live shows, subscribe to the KSR YouTube Channel to stay up to date on everything happening around the Big Blue Nation.
Monday: Mark Stoops Press Conference & Rapid Reaction
Monday, 8 PM: KSR Football Podcast
Tuesday evening: Interviews with Liam Coen and the offense
Tuesday, 8 PM: Sources Say
Wednesday evening: Interviews with Brad White and the defense
Wednesday, 8 PM: 11 Personnel
Thursday Afternoon: Pigskin Preview
Thursday evening: Final comments from Stoops after practice
Friday night: Kroger KSR Game of the Week recap, highlights
Saturday: Postgame Press Conferences, Interviews, Rapid Reaction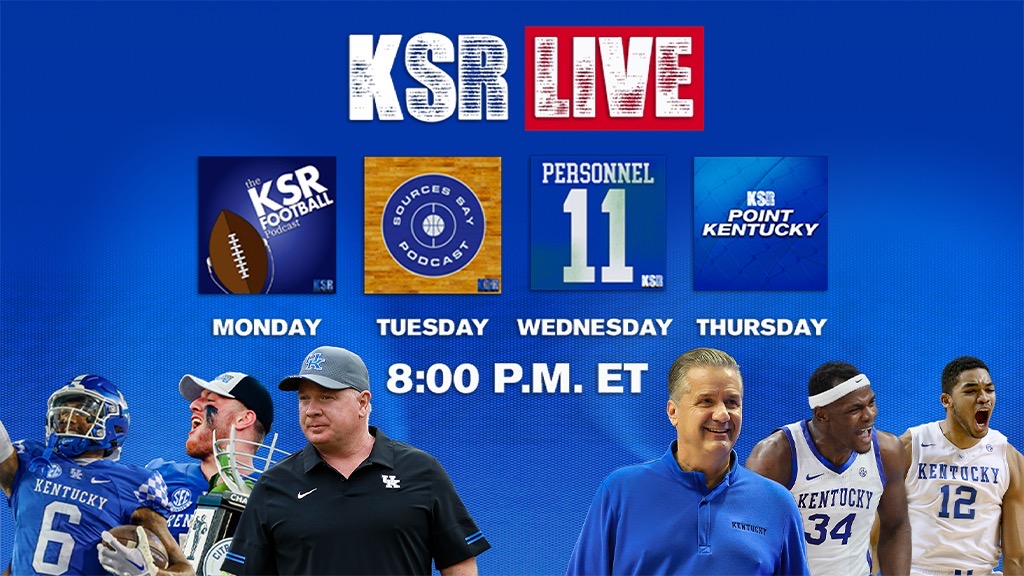 Discuss This Article
Comments have moved.
Join the conversation and talk about this article and all things Kentucky Sports in the new KSR Message Board.
KSBoard