KSR's 2022 NBA Draft Roundtable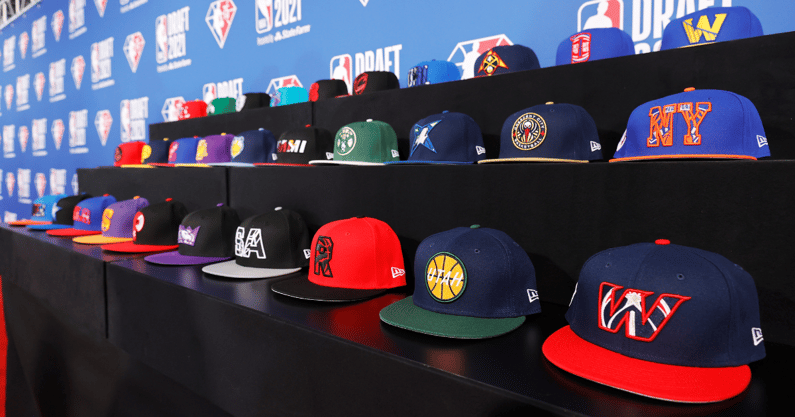 Folks, it's finally here. The moment you forgot was happening.
Unlike the NFL Draft, the NBA does not waste its time with months of in-between games and its draft. Thursday night dreams will come true for 58 young basketball players, including two that once graced the Kentucky sidelines, Shaedon Sharpe and TyTy Washington. The KSR crew put its collective heads together to share a few NBA Draft thoughts before Adam Silver takes center stage at the Barclays Center.
The Draft will begin at 8:00 p.m. EST on Thursday in Brooklyn. It will be broadcast live on ESPN and ABC. Second-round coverage will continue exclusively on ESPN.
Nick Roush
One of my first autonomous actions as a young adult was centered around the NBA Draft. My friends and I rode our bikes to the Hooters on Dixie Highway in Louisville to watch the Pistons select Tayshaun Prince. It became a tradition of sorts and has continued to be an enjoyable watch. This year, I'm just ready for it to be over.
The Shaedon Sharpe saga has become sickening. Even though in my brain I understand why the kid avoided any risk, my heart has been dealt so many blows that I will not even be able to enjoy Thursday night's schadenfreude if he slides down the lottery. The takes, the online outrage, I've had enough of it. Let's get this NBA Draft over with and move on with our lives as quickly as possible.
Tyler Thompson
For the first time since…I can't remember, I will not be watching the NBA Draft live. Instead, I will be at a minor league baseball game. Does this make me a bad Editor-In-Chief of a Kentucky sports website? Probably, but the plans were made months ago, and honestly, I'm looking forward to being offline as "Shaedon Sharpe from the University of Kentucky" hears his name called, gets a hug from John Calipari, and strolls across the stage.
There is no good end to this saga. As Nick said, Sharpe's decision not to play to avoid injury/protect his draft stock is understandable on its own; however, when you add in the mixed messaging from his camp, which included Sharpe himself vowing to return to Kentucky next season; the ill-advised marketing from Calipari ("Come watch Shaedon warm up!"); and the slow, inevitable end, it's just exhausting. And, as much as the fanbase hates it, if you're Cal, you kind of have no other choice than to associate yourself with Sharpe in case he turns out to be good.
Sharpe hasn't done himself any favors in recent interviews either. His comments over the past week show you why he didn't do any outside media while at Kentucky. Part of me feels really bad for the kid, who is clearly shy and has been given bad advice from his mentor, but mostly, I'm just ready for it all to be over.
That said, I'll be cheering hard for TyTy Washington. After a depressing 2020-21 season, TyTy helped inject life into the fanbase one Griddy at a time. Of the one-and-dones that have come through the program in recent years, he's one of my favorites, a fun kid that truly connected with #BBN and battled through injuries in hopes of making a run in March. I hope he does the Griddy across the stage.
Adam Luckett
I'm going to go out on a limb and say Thursday night will not be "the biggest day in the history of Kentucky's program." Instead, the Kentucky basketball program enters the 2022 NBA Draft without much fanfare three months after a first-round loss to No. 15 seed Saint Peter's in the NCAA Tournament.
All eyes will be on none-and-done Shaedon Sharpe after the former five-star prospect didn't play a game at Kentucky. However, the potential All-Star talent has a lack of tape available to NBA organizations making draft projections very unique for the young player.
Elsewhere, TyTy Washington could fall out of the lottery as the freshman guard is unfortunately likely going to be slept on similar to Tyler Herro, Tyrese Maxey, and Immanuel Quickley. Each was used off the ball at Kentucky but ultimately shined at the pro level with more spacing and the ability to be a secondary playmaker combined with effective three-point shooting.
For me, I'll be tuning in to see how things shake out at the top of the draft as there are a bunch of quality bigs to choose from, but the biggest steal could be Purdue's Jaden Ivey. The combo guard has elite two-way potential thanks to a solid three-point shooting stroke combined with absurd athleticism. Don't be surprised if he turns into the best player in this class.
Drew Franklin
The NBA Draft isn't the holiday it once was on Kentucky Basketball's summer calendar. Not this year.
In years past, the Big Blue Nation waved goodbye to players we hated to see leave so soon, in most cases, after less than a year on campus. But we tuned in for the draft each summer and rooted for those players' professional success because of the roles they played in making Kentucky Basketball better. Nobody loves the one-and-done system, but the Kentucky players who made an impact in their one-and-done year have been supported and applauded on their NBA draft nights and long into their careers.
This year, though, we have Shaedon Sharpe.
Kentucky's first none-and-done is conveniently its highest '22 draft prospect with expectations somewhere inside the top ten. I have mixed emotions regarding Sharpe's place as a Wildcat (the short version: he is one) but I'll be in front of the TV to see how the draft's broadcast plays the Kentucky angle and how John Calipari celebrates with the people that played him. It will be awkward, right?
Once I wipe away all of those Sharpe tears, I will be genuinely excited for TyTy Washington's name to be called a little later in the first round, hopefully not too far back. I always enjoyed TyTy's road-griddying and wish him the best at the next level.
Other than following those two, I'll need the draft coverage to be good or bad enough to keep me entertained because I'm excited to sink into the couch for it, even if it's not what it was back when it was a Kentucky commercial.
Zack Geoghegan
I won't reiterate what has already been said above about Shaedon Sharpe, because I have nothing else of substance to add. Personally, I will be cheering him on at the next level because that's what I do with most players chasing the NBA dream (except for you, Dwight Howard). He still went to Kentucky, even if he didn't play. I also think he has a chance to be very, very good, so I'm not going to deprive myself of watching greatness because his mentor pulled one over on everybody.
All that being said, taking into account his most recent interview comments, it's obvious why he was never made available to speak while at Kentucky… Those quotes might ultimately be what the BBN remembers him for the most.
As for TyTy Washington, I fall in line with Adam Luckett's thought process. The off-ball guard will likely slip out of the lottery and into the early- or mid-20s before his name is called, but he could very well wind up as one of the steals of the draft. There is an undeniable trend forming around UK guards who thrive at the NBA level with so much additional space.
I would love for my Cleveland Cavaliers to take a swing on Washington at No. 14 overall as the backup to All-Star point guard Darius Garland, but most mock drafts have him going several picks after that. My gut tells me he cracks the top 18 picks. But if he can land with the Memphis Grizzlies at No. 22 playing behind Ja Morant, I'd be fine with that too.
Jack Pilgrim
The media pushing will no longer matter starting at 8 p.m. ET, a breath of fresh air for folks dealing with the PR circus that is Shaedon Sharpe's camp. No more anonymous quotes, sources and speculation regarding his draft status and the way teams view him as a prospect. It's been exhausting sifting through clear favors for national media exposure and praise, efforts that have been poorly executed from the beginning. Now, it's up to NBA teams to decide where Sharpe's stock truly is, not talking heads looking for access.
As for Sharpe's presence in the NBA, it will be Kentucky's turn to benefit from the success the former five-star guard signee finds in the league. The school will forever be attached to his name, able to take at least some credit for his potential stardom thanks to his coaching and development competing against standout talent every day in practice as a Wildcat. For fans complaining about Sharpe taking all and giving none at Kentucky, it's one of very few positives about the experience — future recruiting benefits.
Elsewhere, it's a special night for TyTy Washington, who gave his all for the program and showed toughness by fighting through injury to close out the season. He's a better shooter than given credit for — similar to the pre-draft reputation of Tyrese Maxey — while showing off strong scoring from the mid-range and around the basket. Throw out his post-Auburn tape where he first rolled his ankle, and Washington is a lottery talent. He may slip into the second half of the first round, but it's hard to see the former Kentucky guard busting in the league. At worst, he's a solid role player capable of giving you scoring and playmaking off the bench. At best, he's yet another fantastic guard from Kentucky, one teams (again) regret passing on.
Also intrigued to see what happens with Kellan Grady and Davion Mintz, who have been working out with teams throughout the draft process. Neither are expected to hear their names called, but there should be solid UDFA opportunities available for both. From there, it'll come down to Summer League and training camp to create paths to an NBA roster.