KSR's Kentucky vs. UT-Chattanooga Predictions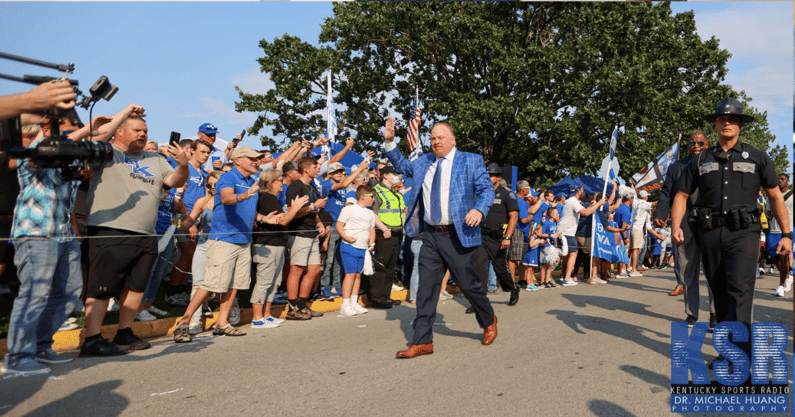 Now 2-0 to start the 2021 season, Kentucky head coach Mark Stoops isn't looking down the schedule. The most important game, as he says, is the game in front of his team. Entering Week 3, that team is FCS opponent UT-Chattanooga (1-1), which will be a 31-point underdog against the Wildcats' new versatile offense.
Saturday's matchup against the Mocs shouldn't be much of a challenge for Kentucky (unless you're a fan trying to figure out how you can watch, which you can learn more about here). Staying consistent with what they've been doing and avoiding any major injuries will be the important factors for Coach Stoops and his 'Cats.
So, with the bettors claiming Kentucky as a 31-point favorite, how will the actual result turn out? The KSR crew put together their thoughts and predictions ahead of Saturday's noon matchup on the SEC Network+.
Zack Geoghegan
Go ahead and schedule your second-half nap right now, Kentucky is going to earn this win with ease.
The 'Cats will simply be too talented, too physical, and too fast for the Mocs to keep up. The difference between an FCS team and an SEC squad will become apparent pretty quickly. Expect plenty of reserves to get their fair share of clock, especially backup quarterback Beau Allen. These are the type of opponents he lives for right now.
Kentucky should have zero issues heading down to South Carolina next week with a perfect 3-0 record.
Score: Kentucky 45, Chattanooga 10
Nick Roush
A week after the floodgates opened for Chris Rodriguez, it's Kavosiey Smoke's time to shine. After fumbling and dropping a pass in week one, he gained some steam in week two, picking up a few first downs to total 39 yards on the ground. Smoke will finally unleash a big play or two vs. Chattanooga to help the Cats break away early from the FCS opponent.
We will see the first team for one drive in the second half before Beau Allen takes over and throws his first touchdown pass, connecting with Chauncey Magwood for the score. Facing a bad offense, Kentucky will come oh so close to pitching their first shutout of the Mark Stoops era, but the Mocs get a late score to keep a goose-egg off the board.
Score: Kentucky 41, Chattanooga 7
Drew Franklin
Chattanooga choo-choos to Lexington this coming Saturday after the Mocs held North Alabama scoreless in Florence, Alabama, this past Saturday, a testament to the work of new defensive coordinator Lorenzo Ward. Ward knows Kentucky well having coached the defenses at South Carolina (2009-15) and Louisville (2017-18).
That being said, the Mocs will be heavily outmatched in Lexington as an FCS program visiting an SEC power like Kentucky. Terrell Owens ain't walking through that visiting locker room door.
Score: Kentucky 51, Chattanooga 7
Adam Luckett
The hangover effect will be real on Saturday afternoon as Kentucky gets off to a slow start. Chattanooga has size and experience on both lines and will be able to hold their own early in the contest. However, things become opened up in the second quarter.
Kentucky builds a four-possession lead at the half before pulling away in the third quarter. The Mocs have some major offensive issues that keep this from remaining close for too long. Kentucky holds a Week 3 opponent without a touchdown for the second year in a row.
Score: Kentucky 44, Chattanooga 3
Jack Pilgrim
Kentucky sleepwalks early in the first quarter and allows two early field goals to fall behind 6-0. Will Levis and the UK offense wake up to close out the rest of the half with several quick scores and shift momentum entirely back in favor of the Wildcats.
Chattanooga gets sloppy looking for a quick shortcut in its comeback efforts and turns the ball over to create easy scoring opportunities for the Wildcats in the second half. Beau Allen gets playing time to start the fourth quarter and the defense allows one final field goal in garbage time. Kentucky cruises to an overwhelming victory in Week 3 to move to 3-0 on the year.
Score: Kentucky 41, Chattanooga 9