Kyra Elzy tries to one-up Matthew Mitchell in Big Blue Madness debut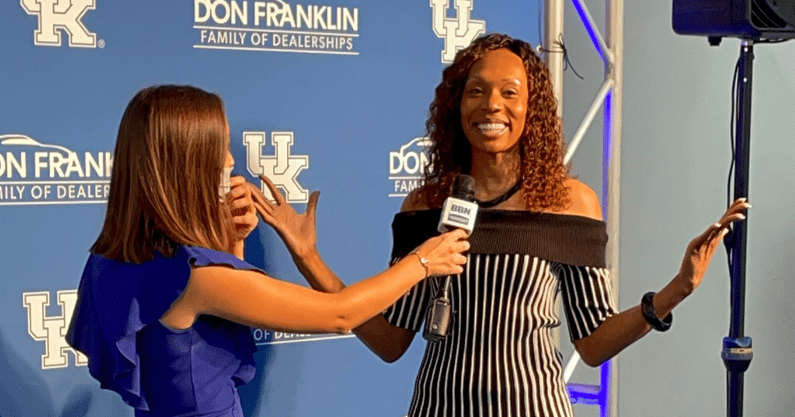 Matthew Mitchell's dance routines at Big Blue Madness became the stuff of Kentucky Basketball legend throughout his years as head coach. His retirement last fall was a huge blow to the Women's Basketball program he'd built over the last decade-plus, but it left an even bigger hole in the BBM entertainment department.
Well don't fret, you dance-crazed members of the Big Blue Nation; new head coach Kyra Elzy announced herself to the Rupp Arena crowd in thrilling (and slightly dangerous?) fashion.
After stepping in as interim head coach ahead of the 2020-21 season, the 2021-22 season will be the first full year as head coach of Kentucky Women's Basketball for Elzy. So what did she do to earn cheers from the endless sea of blue? By rappeling down from the rafters of Rupp Arena, of course.
Now THAT is how you hype up a crowd.
As mentioned above, Elzy is about to embark on her first full season as head coach at Kentucky. She took over after Mitchell's surprise retirement just weeks before the start of the 2020-21 season, but she didn't get the full Big Blue Madness experience until Friday night. With a packed Rupp Arena crowd there to witness it, Elzy received a massive round of cheers.
I'm already excited to see what she has in store for 2022. Welcome to the #ElzyEra.