Kyra Elzy is turning UK into the home of top Kentucky talent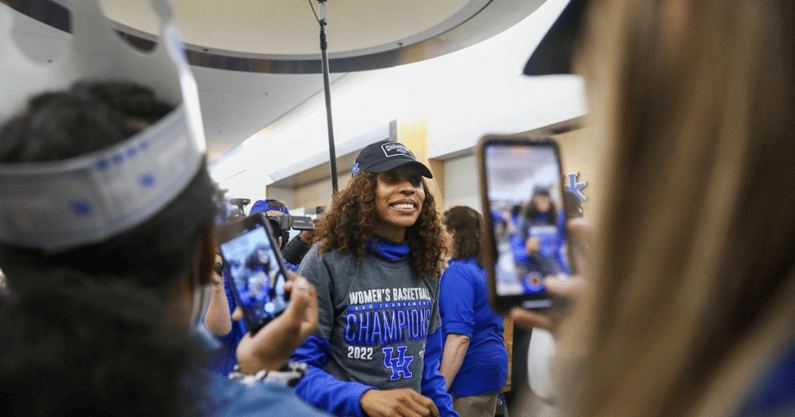 Kyra Elzy is making UK the prime destination for top Kentucky prospects.
On Friday, 2020 Miss Kentucky Basketball Maddie Scherr announced she'd be transferring from Oregon to Kentucky. In October 2021, Elzy secured a commitment from 2022 Miss Kentucky Basketball Amiya Jenkins. Elzy's hot streak holds historical significance.
Bringing Kentuckians home
A Miss Kentucky Basketball had not committed to UK since Bell County star Maci Morris joined the 'Cats in 2015. Following this pick-up, Kentucky lost out on multiple highly-touted Kentucky prospects, including Erin Boley (Oregon), Seygan Robins (Louisville/UT Martin) and Brooklynn Miles (Tennessee).
With Elzy leading the charge, Kentucky is firmly back in the forefront of native Kentucky prospects' minds. Wisely, Elzy uses this to her advantage by emphasizing the aspect of "home" in her recruiting pitches. Look no further than her tweet regarding the addition of Scherr.
"Her basketball resume speaks for itself and she understands the responsibility of competing for KENTUCKY. Elated to have her #HOME," Elzy tweeted.
Elzy utilized similar propaganda when Jenkins committed to Kentucky.
"She is a Kentucky kid that fits our style and bleeds blue. It's special to be from this state and wear Kentucky across your chest," Elzy said in a press release.
Kyra Elzy's master plan
Elzy didn't begin her Kentucky recruiting campaign this season. In reality, the 43-year-old head coach's Bluegrass blueprint has been years in the making. Elzy was key in getting a commitment from 2022 Miss Kentucky Basketball candidate Cassidy Rowe back in 2018.
Moreover, Elzy has built a welcoming culture for rising Kentucky stars. At the most recent Big Blue Madness, Elzy hosted numerous young Kentucky talents, including Sacred Heart's ZaKiyah Johnson, Bardstown's Leah Macy and Ryle forward Sarah Baker.
A Kentucky girl at heart
Elzy knows the importance of building connections with Kentucky natives because she is one. The La Grange native had a legendary career at Oldham County High School, winning two 8th Region titles and leading her team to the Final Four in 1993.
Elzy still remembers what it meant to be noticed as a Kentucky girl from a small town.
"There's all these other people that [Pat Summit] could recruit, but she picked me out of La Grange, Kentucky. She never let me forget it," Elzy said in a press conference in Feb. 2021.
Now establishing a winning culture of her own, Elzy will help other Kentucky girls make similar unforgettable memories.