Liam Coen reportedly in consideration for Miami Hurricanes OC/QB job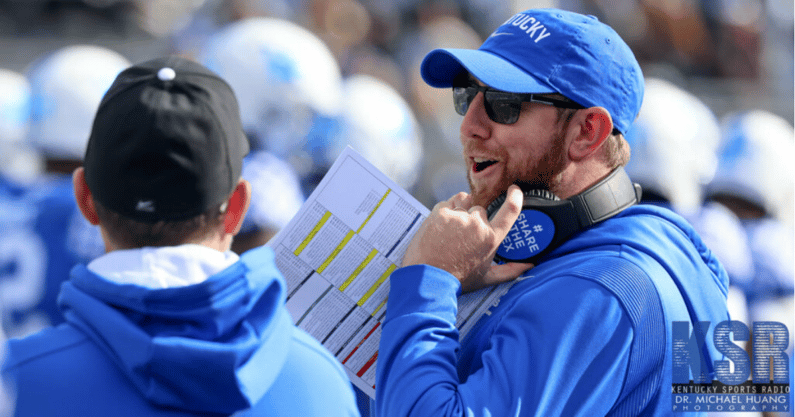 Here we go again… Another Kentucky Football coach has his name swirling throughout the rumor mill; this time it's Wildcat offensive coordinator Liam Coen.
According to Canes Access, a report from 247Canes says that Coen is a "name to know" in Miami's hiring process for a new offensive coordinator/quarterback coach position. The 36-year-old has been the OC at Kentucky for just one season, helping legitimize the 'Cats on passing offense for the first time under head coach Mark Stoops.
Coen was brought to Lexington as Kentucky's OC/QB coach back in Dec. 2020. He previously spent three seasons with the Los Angeles Rams, taking the pro franchise's new-aged offense to college where UK found immediate success through its passing game.
Kentucky's offense improved significantly once Coen took control of the wheel. The 'Cats jumped from 120th (2020) to 72nd (2021) in passing yards per game from among all Division I schools, tossing for an average of 225.6 yards behind transfer quarterback Will Levis this past season, which ultimately resulted in a Citrus Bowl victory. UK also jumped to 35th in scoring offense and 45th in total offense during Coen's first season.
If you're looking for a good sign, though, listen to SEC Mike, who says the move would feel like a "step down" for Coen. Miami recently hired Mario Cristobal away from Oregon to serve as its new head coach. Remember, Coen recently received a nifty pay raise from UK of over $300,000 earlier this month.