Miami publicly wants Mario Cristobal despite employing Manny Diaz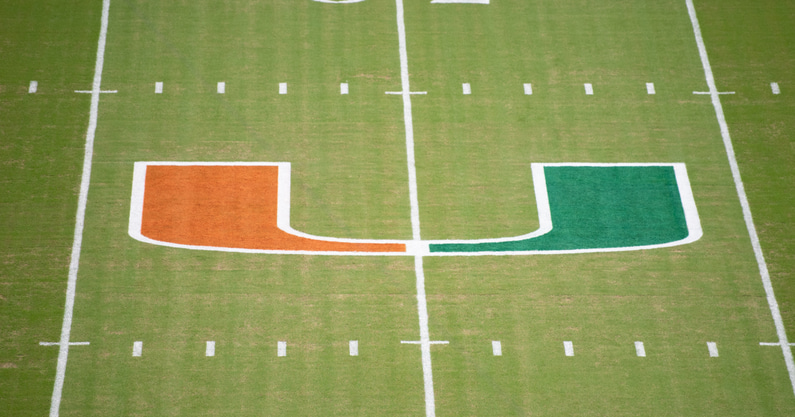 Manny Diaz is set to host players to campus for official visits this weekend after hitting the road recruiting for Miami all week. The administration appears to have other plans.
Over the last couple of days, Miami has made it known that the Hurricanes want to bring a pair of alums home. Clemson Director of Athletics Dan Radakovich and Oregon head coach Mario Cristobal are both famous names that might want to come home.
The U believes they can get both. Per Barry Jackson of the Miami Herald, there appear to be a lot of moving parts.
Swinging big for Mario Cristobal
Oregon took it on the chin on Friday night in the Pac-12 title game, but the overall job Mario Cristobal had done in Eugene has been solid. The Ducks are 35-12 since the 51-year-old took over the program with a pair of Pac-12 titles and a top-five finish in 2019.
Cristobal had the Ducks in line for a playoff bid in both 2019 and 2021 before a Week 12 loss in each. In the recruiting department, Cristobal and his staff have been elite as Oregon is well on its way to a consecutive top-10 recruiting class.
Miami is very attracted to that but doesn't want Diaz to stop recruiting yet.
Miami is conducting this search without an athletic director after letting Blake James go during the season. There are a lot of cooks in the kitchen down in Coral Gables.
Bags of money for administration
Dabo Swinney gets most of the credit for the rise of Clemson football. Under his watch, the Tigers have turned into one of the biggest brands in college football. However, Dan Radakovich created the alignment.
His work from the administration side allowed Clemson to build its football program by putting facility upgrades first and constant investing in the program thanks to fundraising. That ultimately led to multiple national championships and a ton of ACC championships.
Miami seems ready to commit to the same thing.
Miami is throwing some big money around. The Hurricanes want to make Mario Cristobal one of the highest-paid coaches in college football and to be joined by the highest-paid athletics director in college football.
Crazy carousel keeps delivering
USC pulled out all of the stops to hire Lincoln Riley. LSU followed by making Brian Kelly a very rich man. Virginia's Bronco Mendenhall resigned out of nowhere. The carousel keeps delivering, and Miami is looking to make another splash.
As both Florida and Florida State deal with issues, there appears to be a major opening in the Sunshine State. The Hurricanes have the most manageable division out of the three to go along with the better local recruiting base. Everyone knows the potential of the Miami football program, and the administration now appears ready to do what it takes to return the Hurricanes to national prominence.
Conducting a search like this for the two most important pieces of an athletics director seems like playing with fire, but this is a new day in college sports. We have reached a win at all costs point and money is flowing in from everywhere with monster television contracts.
Football is essential to any athletics department in college sports. To succeed, universities must have alignment with the administration and the football staff. The best way to accomplish this is by locking up a good head coach and keeping an athletics director.
Miami seems to know this and is deadset on accomplishing that no matter how the searches must be done.