Mark Stoops talks Chris Rodriguez, Will Levis on SEC Teleconference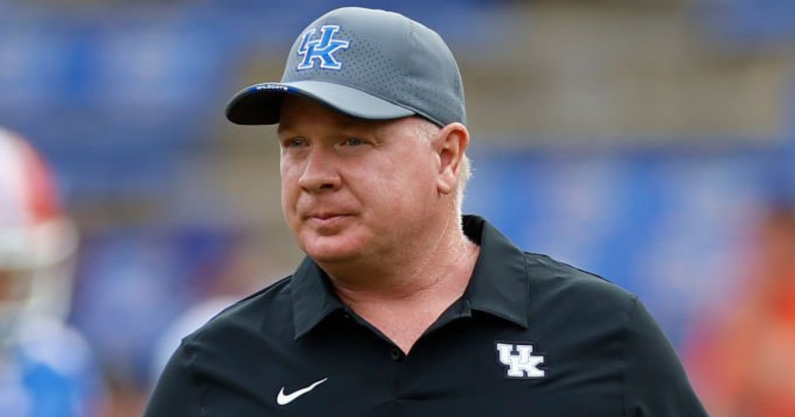 It's Wednesday, which means Mark Stoops and the league's coaches hopped on the SEC Teleconference to chat with reporters about their squads. As he did in his press conference on Monday, Stoops started by calling out the offense's inconsistency. He also confirmed that J.J. Weaver (elbow) will be out vs. Northern Illinois, raved about Will Levis, and shared how Chris Rodriguez is staying in shape ahead of his return vs. Ole Miss.
Check out the audio and a complete transcript below.
Opening Statement
Looking forward to having another home game, trying to improve. I felt like we did some really good things this past week, but we've been inconsistent in certain areas, in particular on the offensive side of the ball. It's just an assignment here, an assignment there, one guy making a mistake, either physically or mentally and you can't have that. We need to be more consistent.
I think defensively we're playing at a very high level. Special teams are doing some extremely good things. And offensively, you know Will Levis in the passing game has been extremely impressive. Will is playing at a very high level. There's been a couple of turnovers this past week that were a combination of things, not just all on him, but he's also doing some really good things. So we've got to continue to build on that passing game and we got to get more consistent in certain other areas and looking forward to the challenge of playing NIU here this weekend at home.
On his team's depth this season…
I think at certain positions we feel like we have very good depth and then, in others you may not be as deep as you'd like. Probably not unlike a lot of teams. You know you got a few there at the very, very top that are extremely deep but outside of that a lot of us fight certain battles with depth, and right now we're relatively healthy. JJ Weaver will not participate this weekend. He is out this week and we'll take another look at that next week.
On his impressions of Vanderbilt when watching the Northern Illinois game tape…
I was very, very impressed with Vanderbilt. They got down and didn't flinch and just hung back in there and really made plays when they had to. They had some big fourth-down stops. They converted on fourth down. They really played with a lot of poise. You could tell they're very well-coached and make significant improvements so very good win for them.
On whether or not UK has been able to explore more in the passing game with a second-year Will Levis…
Yeah, we have. I want to say heck, we might have thrown it 35 times or something this past week for 377 yards, almost 380 yards and he only had maybe six or seven incompletions and he's done some really good things. As we keep on working our protections, get cleaner in that area and continue to improve in the run game and get back to the way we like it, and find that balance we're looking for, I think it continues to open up more opportunities in the pass game as well.
On if that's been an added bonus for Kavosiey Smoke…
Yeah, definitely. You can see him getting better with more opportunities and I'd like to continue to feed him the ball and continue to improve in the rush game.
On whether Chris Rodriguez practiced while waiting to be cleared by the NCAA…
Yes, he's been practicing with the team. And as we got word that he was cleared to play in the Ole Miss game, he's been still taking some reps on the scout team just to stay in shape and get bounced around, taking some shots here and there and making his cuts. He's been taking reps there but also coming down and taking some reps with the ones and twos as well just to keep them keep him in tune with what we're doing. And then he's been doing some extra running and staying in shape. And so we're looking forward to having him back but we don't have him this week. So, we'll move on like we did the first three games without him.
On how physical Kentucky's practices are during the season…
We like to keep it physical on Tuesday and Wednesday. And we do and we go good-against-good. So we keep that intensity up. But we do THUD. It's a good pop, but we don't take anybody to the ground during a week, no.