Mark Stoops prepares for emotional Iowa reunion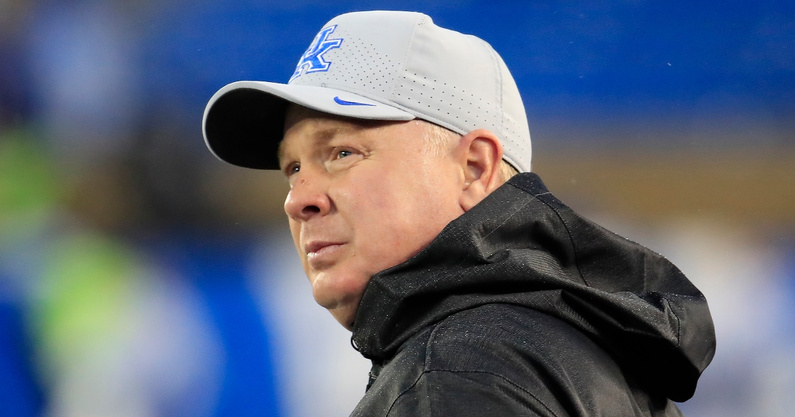 One storyline will dominate the lead-in to the 2022 Citrus Bowl. Kentucky head coach Mark Stoops will face his alma mater, Iowa, in the New Year's Day game. This is not just an excuse for us to see old clips of the head coach from his glory days. Stoops is preparing for an emotional reunion on the football field against the program that shaped him into the man he is today.
Youngstown to Iowa
Mark Stoops spent his formative years completely engrossed in football. His weekends in the fall followed a routine. On Friday nights the family patriarch, Ron Stoops Sr., coached defense at Cardinal Mooney High School. After the game Mark and the rest of the family piled into the car, then drove ten hours from Youngstown to Iowa City. They watched the Hawkeyes on Saturday, then made the 10-hour trek home Sunday morning. Between 1979-1991 there was at least one Stoops on Iowa's campus, either coaching or playing for the Hawkeyes.
"It's hard to put into words what the Iowa program has meant to us," Mark Stoops said Sunday evening. "Coach Hayden Fry and all the assistant coaches, the people of Iowa, everybody was just so good to us during our time there. It really helped shape a lot of what we became."
Initially, Mark was not dead set on following in his older brothers' footsteps. He was also recruited by Glen Mason at Ohio State, Nick Saban at Michigan State and Barry Alvarez at Wisconsin. Iowa head coach Kirk Ferentz, an assistant at the time, vividly recalls the youngest Stoops 'looking like a 15-year-old' on his visit to Iowa.
"I'll never forget, when Mark was in on his visit, and I walked by (defensive coordinator) Bill (Brazier)'s office and he was talking to Mark," Ferentz said Sunday. "Later on we had a staff meeting after the recruiting weekend, and Bill made the comment, he goes, 'You know, if this wasn't a Stoops, I would have sworn there's no way this guy is going to be a college football player.'
A Week from Hell
Mark Stoops tends to agree with his mentor's evaluation. Even though Sports Reference has the younger Stoops registered for a pair of interceptions during his time in the Iowa secondary, he believes his old highlight reel is best served as comic relief for his Kentucky players.
"I might have to break out a few for the players to give them a few laughs during the bowl practice," Stoops said. "No, I was not very impressive as a player that's for sure."
Stoops' career might have been much different if not for one life-changing week in the fall of 1988.
Cardinal Mooney was celebrating a triple overtime victory over crosstown rival Boardman when Ron Stoops Sr. suffered a heart attack. He died in the ambulance on the way to the hospital. Hundreds gathered in Youngstown for the funeral, including coach Fry. Despite the hectic game-week schedule, Fry flew to Youngstown with an Iowa No. 41 jersey, the same number all three Stoops brothers wore. Mark's game-worn jersey and Bob's Rose Bowl ring were placed in their father's casket. Days later, the younger Stoops received more bad news.
"I got back from my father's funeral on Wednesday and blew out my knee against Michigan on Saturday," Stoops said. "That was about the end of my career."
Mark Stoops' life was turned upside down. A defining moment that could have set Stoops spiraling turned out to be the beginning of an exceptional career in coaching.
Win One for Mark Stoops
When asked about storylines surrounding upcoming opponents, Mark Stoops rarely takes the bait. He's not interested in fanning the flames on the significance of a rivalry game when "every league game is important," or providing his opinion on news items that are "above my pay-grade." It's all about taking one game at a time and "getting back to work." Iowa is the only exception to this norm.
"It will be different for me," said Stoops. "My father has my game jersey from the Hawkeyes, very neatly folded and placed in his casket where he's buried in my jersey with the black and gold. It definitely will mean something to me different than anybody else I've played, that's for sure."
The game comes with extra baggage for Kentucky's head coach. The shoe is on the other foot. Typically Stoops is carrying the fans' baggage from a decades-long losing streak, or a player's baggage against the home state team that spurned him on the recruiting trail. This is a rare opportunity for the Kentucky football team to give Mark Stoops a win that just means more.
"It's really big for us," said super senior Luke Fortner. "He talked a lot about the way he felt when he was at Iowa. And I think the best thing about it is I believe that's the way we feel about Mark Stoops and the coaching staff. They are father figures to us, they make us feel comfortable and they would do anything for us… To get a win over Iowa for Mark Stoops, it would mean a lot to us.
"He works his butt off for us, and his coaching staff works as hard as they can for us. And to reward him with that win would be really big for us."
Stoops has knocked down a lot of doors on his way to surpassing Bear Bryant as Kentucky football's all-time wins leader. Before he reaches that milestone next season, there's an important, personal door for Stoops to walk through against his old team.