Mark Stoops says change in special teams personnel is "a possibility"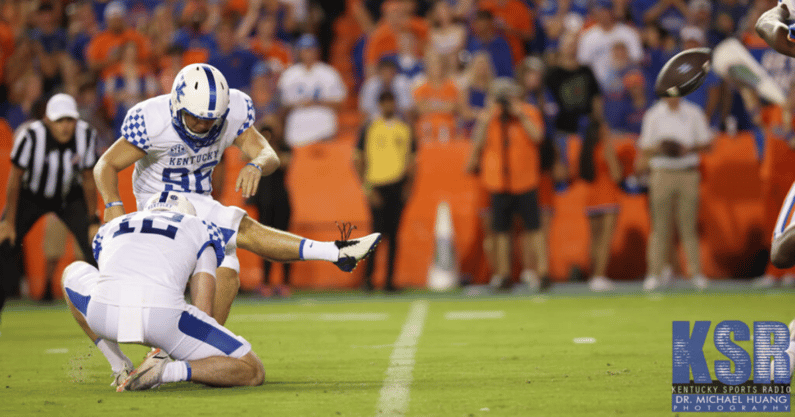 If it weren't for the explosiveness of Barion Brown, Kentucky would have one of the worst statistical special teams units in the country.
The Wildcats have repeatedly shot themselves in the foot this season when it comes to the third phase, costing valuable points that have ultimately come back to bite the team in close contests. There was no greater example of that than when Kentucky blew the opportunity to knock off an undefeated Ole Miss squad in October. Kicker Matt Ruffolo missed a 39-yard field goal and an extra-point attempt. Brown was tripped up by a teammate near the end of what would have been a kickoff return for a touchdown.
Kentucky would still score on that ensuing possession, but the minor special teams' hiccups continue to multiply, to the point where they aren't so minor anymore — the mishaps are costing the 'Cats wins. UK left four points on the board and lost to Ole Miss by just three. This past Saturday, in Kentucky's 44-6 loss to Tennessee, Ruffolo missed another extra point following the team's lone touchdown, foreshadowing the rest of the Wildcats' night in Knoxville. It's not all on him though. Simply snapping the ball has been an issue. Punter Colin Goodfellow has had multiple punts blocked this season.
The Wildcats have been criticized for not having a dedicated special teams coach, although there are multiple coaches within the program who split responsibilities. Could head coach Mark Stoops switch things up in the future? Tom Leach of the UK Sports Network posed the question.
"Yeah, there's a possibility, yes. We're looking at a lot of options," Stoops said about eventually changing the special teams' personnel during his radio call-in show on Monday night. "Definitely need to get better, there's no question. So not good enough, just like most areas Saturday, but yeah we're looking at any and all options."
At this stage in the season, don't expect any sort of massive overhaul, but it will be something to keep an eye on moving into the offseason. Eight games into the 2022 schedule, special teams issues are still far too prevalent. An eventual change from Stoops is probably needed. And again, if it weren't for Barion Brown, Kentucky would be considered much worse overall in the third phase.
According to Football Outsiders, Kentucky's special teams unit is ranked 26th in the country out of 131 schools. Pretty good, right? It is thanks to Mr. Barion Brown. UK is ranked No. 1 in the country when it comes to kickoff return efficiency (KRE). Brown has nine kickoff returns on the season for 329 total yards (36.6 yards per return) and a touchdown.
But everywhere else? Not so pretty. Per Football Outsiders, Kentucky ranks 107th in kickoff efficiency, 63rd in punt return efficiency, 106th in punt efficiency, 95th in field goal efficiency, and 120th in opponent field goal efficiency. Those numbers aren't helping UK's chances of winning games.