Mark Stoops says Josh Ali and Marquan McCall may return this week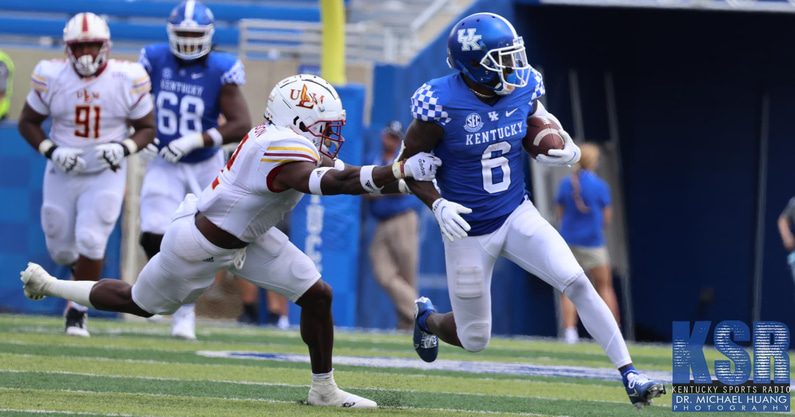 Could Josh Ali and Marquan McCall return to action this week for the Kentucky Wildcats? "We'll see," says Mark Stoops.
During his Monday press conference previewing Kentucky's trip to Mississippi State, Stoops said there is a "chance" the team's two injured standouts return for the Wildcats.
"We'll see," he said. "I feel like there's a chance, yes."
Ali suffered a leg injury against Florida and missed Kentucky's games against LSU and Georgia. The early expectation was that his injury would keep him out through the bye week, but a return against Mississippi State was on the table.
The senior receiver is currently second on the team in receptions (17), targets (23), and leads the team with a receiving success rate of 60.87 percent. Ali has 107 receptions in his career for 1,094 yards and 10 touchdowns. Prior to the injury, he had started 29 consecutive games for Kentucky.
As for McCall, he suffered a left ankle injury in the first quarter against Florida, one that was expected to keep him out "at least 5-6 weeks" before being re-evaluated. A return this week would be at least two weeks ahead of schedule.
McCall took over the starting nose tackle position to open the season after backing up Quinton Bohanna from 2018-20. In four games, the senior standout has picked up six total tackles, including three solo. The Detroit native has racked up 54 total tackles in his career, including 9.5 tackles for loss.
"We'll see."
Beyond Ali and McCall, Stoops also provided updates on two other injured Wildcats in Izayah Cummings and JuTahn McClain.
After suffering an arm injury in Kentucky's loss to Georgia, Stoops said he'll have to see how Cummings progresses throughout the week before knowing if he'll be back against Mississippi State.
"We'll see," he said.
Stoops previously said on his call-in radio show last week that Cummings was "banged up" and wearing a sling.
As for McClain, Stoops said the sophomore running back had a minor setback last week and his status was uncertain going into the trip to Starkville.
"He had a little setback," said Stoops. "He had a minor setback, physically a week ago. That kind of hurt."
---
In the wise words of Mark Stoops, I guess we'll see.