Mike the Tiger's Wednesday Morning Wakeup
I like animals more than I like most people, so I was very sad to hear about the passing of LSU's live mascot, Mike VI, yesterday. After a four-month battle with cancer, Mike the Tiger was humanely euthanized, bringing a sad end to his nine-year reign in Baton Rouge. The 500 lbs. Bengal-Siberian tiger was first diagnosed with spindle cell sarcoma, a rare form of cancer, in late May and, after radiation treatments, doctors were optimistic about his chances; however, as cancer does, it came back and spread. Mike was taken to hospice earlier this week, and put to sleep to end his suffering yesterday. Fans have flocked to his habitat on LSU's campus to pay tribute and the search is already on for his successor. https://youtu.be/M1zicQ1RRBQ Mike the Tiger was by far the coolest live mascot in the SEC and visiting him became a ritual for teams visiting Baton Rouge. Here's the basketball team saying hello to him in January:
It's becoming an annual visit while in Baton Rouge. The guys went to see Mike The 🐯. pic.twitter.com/AG5nrfWauY

– Kentucky Basketball (@KentuckyMBB) January 5, 2016
Rest in peace, Mike. Now, while I struggle to get a hold of myself, you all read over today's agenda.
We are one day closer to Madness
With football on a bye week, we're clicking into basketball gear with a slew of events on the horizon. Tomorrow is UK Basketball Media Day, followed by Big Blue Madness Friday night at Rupp and two NBA exhibition games in Lexington and Louisville Saturday. I usually think Madness is overrated, but am really looking forward to this year's event, not only for our first chance to see the new squad and the changes at Rupp, but because of some tricks UK has up its sleeve. The program has invited all of its former players back for Madness, and will be giving them the VIP treatment. Stay tuned to KSR over the next few days for more details. On Monday, crews began assembling the stage: [caption id="" align="alignnone" width="2048"]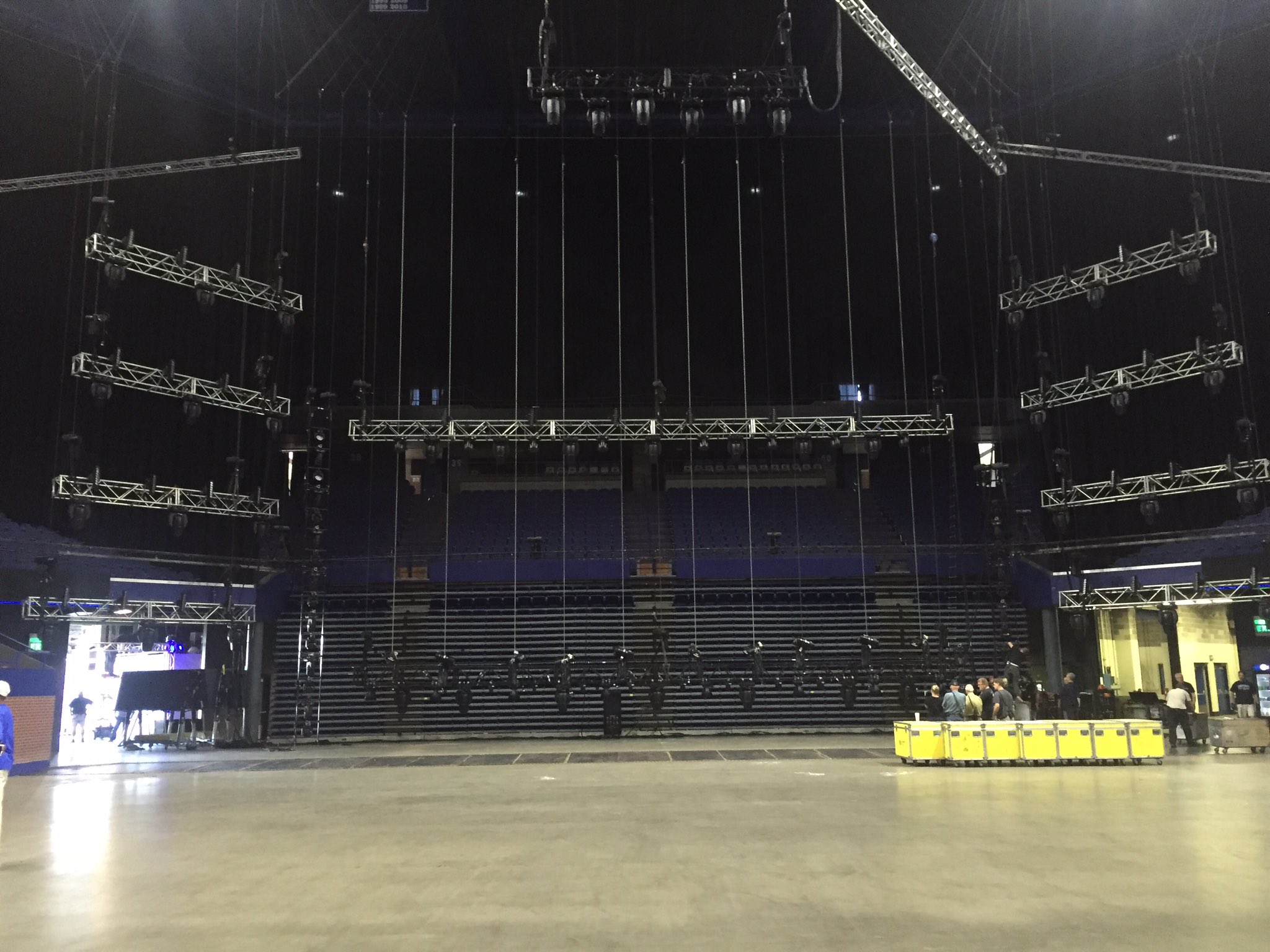 @UKAthletics
[/caption]
The back of the new media guide reminds me of another picture...
Hopefully the teams remind me of each other too.
Some injury notes from football practice
Mark Stoops told reporters that outside linebackers Kobie Walker and De'Niro Laster will be out for a while with injury and Stephen Johnson was hindered by a wrist injury vs. Vanderbilt. All three players are crucial moving forward, so let's hope the bye week is kind to their ailments.
Did you see Tim Tebow's latest miracle?
The saintly former quarterback and minor league baseball player is back in the news today after he comforted and prayed over a fan who suffered a seizure at his game yesterday. Tebow was signing autographs when the man buckled over and when Tebow put his hands on him and said a prayer, the seizure stopped. Tebow stayed with him for 15 minutes until paramedics came, offering him comforting words and chatting with him to keep him in good spirits:
ABC Breaking News
|
Latest News Videos
What will Tebow do next?
Students: you can get discounted tickets for Saturday's Wizards/Kings game
There may not be a football game on Saturday, but four former Cats will be in action at Rupp Arena. If you're a UK student, you are eligible for special discounted tickets to Saturday's NBA Preseason game featuring John Wall of the Washington Wizards against DeMarcus Cousins, Skal Labissiere and Willie Cauley Stein of the Sacramento Kings. UK students can get $15 off originally priced $40 tickets, which are located in the lower level end zones, and $10 off originally priced $25 tickets, which are located in the upper level sidelines. To get your ticket, head on over to the Rupp Arena Ticket Office and present a valid UK-issued student ID. Tickets will be available until tip-off on Saturday while supplies last.
Did you see John Wall on "Hey Kentucky"?
Wall Skyped in to preview this weekend's NBA exhibition game at Rupp Arena and tell some old stories, including the urban legend that Billy Gillispie kicked him out of a practice during a recruiting visit for being on his cell phone. If you haven't yet, check out the segment below: https://youtu.be/6FA1IBPkj7I
Click here
to watch the whole episode.
Radio in an hour
You ready?