National Signing Day 2013
A running diary of National Signing Day 2013...
Read Part 1 from the morning here.
*******
1:58 p.m...Hatcher to Hatcher
Jason Hatcher of Louisville Trinity HS is the second defensive end with his namesake. Jason Hatcher plays for the Dallas Cowboys and just gave a shoutout to the Trinity Hatcher, who almost immediately ReTweeted it. Is Hatcher confirming UK, or simply excited a Dallas Cowboy is tweeting him?
--Nick
1:47 p.m....Anymore surprises?
One of the players that whispers said could be a late Signing Say surprise, 4-star DT Keith Bryant, signed to pledge for Stoops' old school Florida State. UK was a long-shot, just entering the scene yesterday.
--Nick
1:19 p.m.... Kemp, Badet, and McClain showing off school colors.
1:06 p.m.... Chad Scott accidentally named Jason Hatcher as a UK commit.
In an interview for UKAthletics.com, running backs coach Chad Scott slipped up and mentioned Jason Hatcher as one of the players UK was able to keep in state.  He quickly noticed the goof and backtracked, saying the staff hopes to get Hatcher later today. -- 
Drew
12:56 p.m.... All 21 verbals commitments have signed.
Jeff Badet | Wide Receiver  | Orlando, FL Alvonte Bell | Defensive End | Miramar, FL Javess Blue | Wide Receiver | Babson Park, FL Steve Borden | Tight End | Waxahachie, TX Justin Day | Offensive Tackle | Aiken, SC Nick Haynes | Offensive Line | Niceville, FL Jacob Hyde | Offensive Line | Manchester, KY Jaleel Hytchye | Cornerback | Cincinnati, OH JoJo Kemp | Running Back | Deland, FL Austin MacGinnis | Kicker | Prattville, AL Blake McClain | Defensive Back | Winter Park, FL Marcus McWilson | Safety | Youngstown, OH Kyle Meadows | Offensive Line | West Chester, OH Regie Meant | Defensive Tackle | Cape Coral, FL Ramsey Meyers | Offensive Line | Orange Park, FL Alex Montgomery | Wide Receiver | Weston, FL Reese Phillips | Quarterback | Signal Mountain, TN Za'Darius Smith | Defensive End | Greenville, AL Khalid Thomas | Running Back | Tallahassee, FL Ryan Timmons | Wide Receiver | Frankfort, KY Nate Willis | Cornerback | Pahokee, FL -- 
Drew
12:51 p.m.... JoJo Kemp is official.
JOJO KEMP
All-Purpose Back
5'10", 180 lbs. Deland, Florida Rivals: 5.7 ESPN: 81 247: 87
Drew's Breakdown:
  Kemp is a former South Florida commit who Stoops was able to flip over to the blue side.  He had offers from a number of schools, including programs we're getting used to beating out for recruits, like Tennessee, West Virginia and Nebraska.  He was very high on the staff's list because of the way he fits into Neal Brown's system.  It's a perfect match and it won't be long before that's crystal clear to everyone. What makes Kemp such an attractive option in the Air Raid is his quickness and pass-catching abilities.  He'll be able to run routes out of the backfield and make plays catching the ball in open space.  Young guys like Dy'shawn Mobley, Josh Clemons, and Justin Taylor had bright futures in Joker's ground-and-pound system, but Neal Brown's pass-friendly offense plays more towards quicker, elusive backs like JoJo Kemp.  That's why I expect him to come in and compete early as a true freshman.  He's going to be really fun to watch. -- 
Drew
12:45.... Arkansas commit has the most bizarre story of the day
Alex Collins, the No. 13 wide receiver in America, signed his LOI for Arkansas this morning but there's a complication keeping him from getting it to Coach Bielema at Arkansas.  Collins' mother snatched the signed letter and fled the the press conference, because she doesn't want her son to leave home.  Collins' mother and the letter are nowhere to be found and Bielema can't comment without having the signed LOI. This has to be the craziest story of the day, and maybe ever.
-- Drew
12:34 p.m.... Asiantii Woulard to UCLA
As expected, Asiantii Woulard signed with the UCLA Bruins.  UK backed off of its pursuit not long after Woulard's visit last month. Best of luck to him. -- 
Drew
12:10 p.m… Two GREAT non-UK names on Signing Day
Dee Liner is a defensive lineman that committed to play for Alabama. I wonder if his parents knew he'd be a 5-star D-Lineman? Pittsburgh signed a kicker named Chris Blewitt. That guy CANNOT miss a game-winning field goal.
—Nick
12:04 p.m.... Asiantii Woulard is set to announce at 12:30 on ESPNU.
We'll leave this up until then, and hopefully we'll hear from JoJo Kemp by then. -- 
Drew
11:33 a.m.... JoJo, we can't live without you, so don't run away...
BBN is going crazy, crazy, crazy, just to thinkin about you lately...
-- 
Drew
11:21 a.m.... Tennessee website has a fax cam girl.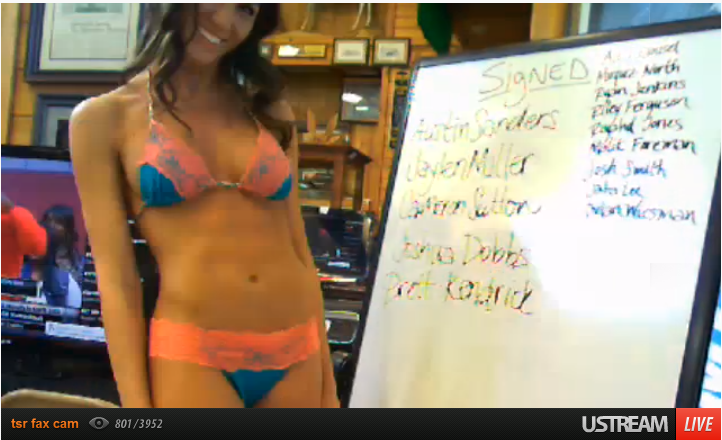 Sorry, guys.  I love you, but I'm not wearing a bikini.  Not for National Signing Day, at least. -- 
Drew
11:15 a.m.... Mackensie Alexander is going to Clemson...
... because "Mom and Dad gotta eat, so I gotta get out." His twin brother is going to Auburn. -- 
Drew
11:14 a.m.... Another video from inside the War Room:
-- 
Drew
11:11 a.m.... (Make a Wish) Corey Smith-DE target in the mix- signs elsewhere
Corey Smith was listed as a possible late commit for Stoops and Co. The 3-star was also in the mix at Uof L and Miami before signing to play for Arizona State.
--Nick
11:05 a.m...Khalid Thomas is your first official running back
Jojo Kemp is now the last man standing, with 20 LOIs in the books.
KHALID THOMAS
Running Back
5'10", 175 lbs. Tallahassee, FL Rivals: 5.7 ESPN: 79 247: 85
Nick's Breakdown:
When a recruit is labeled as ATH, it leaves a lot of questions on the table that usually cannot be answered until that person puts on a uniform. 
Is he good enough to play right away?
 or 
What will his position be?
 are questions that the coaches will have to answer during fall camp. For now the only thing we know for sure is that he will have some help when camp begins: his older brother Pancho is a linebacker entering his second season in Lexington. Khalid turned down scholarship offers from Ohio State, Notre Dame, and Miami to have the chance to shine on the field alongside his big bro. Thomas' athleticism fits the type for an Air Raid running back: a smaller, quick guy that catches well out of the backfield. Raymond Sanders and Co. were ineffective catching the ball out of the backfield this past season (then again, what wasn't ineffective), but the addition of Thomas along with Jojo Kemp should change that.
--Nick
10:42 a.m. Alex Montgomery is in!
ALEX MONTGOMERY
Wide Receiver
6'1", 190 lbs. Weston, FL Rivals: 5.7 ESPN: 78 247: 85
Drew's Breakdown:  
Montgomery committed to Wake Forest last summer, but reopened his recruitment in October and eventually picked Kentucky over Louisville, NC State, and Ole Miss, among others.  He was considering Kentucky when he originally committed to the Deacs back in June.  The old UK coaches, specifically Joker Phillips and Pat Washington, were one of the main reasons he ever had interest in Kentucky in the first place.  When Stoops and Co. were hired, they continued pursuit of the South Florida product and Big Blue Nation helped reel him in. Montgomery is tall, strong, very athletic and has amazing hands, as displayed in this
 one-handed catch
in the state title game.  He finished that Class 8A championship game, and his career, with a record nine catches for 199 yards and three touchdowns, plus one interception on the defensive side of the ball.  He'll be another weapon in Kentucky's already exciting receiver corps next season. -- 
Drew
10:29 a.m.... Ra'shaad Samples signs with Oklahoma State
But he thanked #BBN for all the support.
Damn.  I was just about to suggest we unfollow him, too.  He knows the majority of his Twitter followers are Kentucky fans. -- 
Drew
10:28 a.m.... CWS bill was introduced today
Things like this take time, but there are some things you can do to help assure that this important bill gets passed. 1) Call 1 (800) 372-7181 (the legislative hotline number). The person answering the phone can tell you who your House representative is. 2) Ask to leave a message for that person. The message is simple: "I am a constituent of yours. Please support HB 7 that authorizes the University of Kentucky to construct three important, planned projects on campus that are self-financed and require no state funds. Thank you!"
--Nick
10:22 p.m.... Waiting on Kemp, Thomas and Montgomery...
Come on, JoJo!!!  Come on, Khalid!!!  Let's go, Alex!!! These are three important offensive weapons in the class. -- 
Drew
10:19 a.m.... Jeff Badet knows where Asiantii Woulard is going.
Read into that however you'd like. -- 
Drew
10:17 a.m... Spring Game is 2 and a half months away
Feed the hype and 'buy in' by going to the Spring Football game on April 13th. It was announced this morning that it will be free to attend and open to the general public.
--Nick
10:07 a.m... Austin MacGinnis joins Punter U
He's technically not a punter but I couldn't care less.
AUSTIN MACGINNIS
Kicker
5'11", 170 lbs. Prattville, AL Rivals: 5.5 ESPN: 75 247: 82
Drew's Breakdown:  
With Craig "Auto" McIntosh hanging up his cleats for the final time at the end of the 2012 season, the door is open for a new kicker to step in and earn the starting role.  Joe Mansour, who handled kickoffs last season, is the best returning option, but Austin MacGinnis expects the job to be his.  MacGinnis was one of the top kickers in the nation as a senior and he says seeing Landon Foster start for UK as a freshman played a big role in his decision.  Kentucky was his first offer and he committed without hesitation.  My guess is he'll become Kentucky football's all-time leading scorer before his career in Lexington is over.
--Nick
10:03 a.m...That awkward moment when...
ESPNU is awesome right now. At first, even a football guy like myself thought it was dumb. Then I heard Derek Dooley's voice. Gene Chizik is an "analyst" that has to sit around while players commit to his former school and his colleagues talk about how bad Auburn was last year. They continually mention Chizik as a 2010 National Champioship head coach. Salt hurts on an open wound ESPNU.
-- Nick
10:00 a.m.... Here's your current 17 commitments:
Jeff Badet | Wide Receiver  | Orlando, FL Alvonte Bell | Defensive End | Miramar, FL Javess Blue | Wide Receiver | Babson Park, FL Steve Borden | Tight End | Waxahachie, TX Justin Day | Offensive Tackle | Aiken, SC Nick Haynes | Offensive Line | Niceville, FL Jacob Hyde | Offensive Line | Manchester, KY Jaleel Hytchye | Cornerback | Cincinnati, OH Blake McClain | Defensive Back | Winter Park, FL Marcus McWilson | Safety | Youngstown, OH Kyle Meadows | Offensive Line | West Chester, OH Regie Meant | Defensive Tackle | Cape Coral, FL Ramsey Meyers | Offensive Line | Orange Park, FL Reese Phillips | Quarterback | Signal Mountain, TN Ryan Timmons | Wide Receiver | Frankfort, KY Za'Darius Smith | Defensive End | Greenville, AL Nate Willis | Cornerback | Pahokee, FL -- 
Drew