No. 13 Kentucky Softball run-rules South Carolina for series win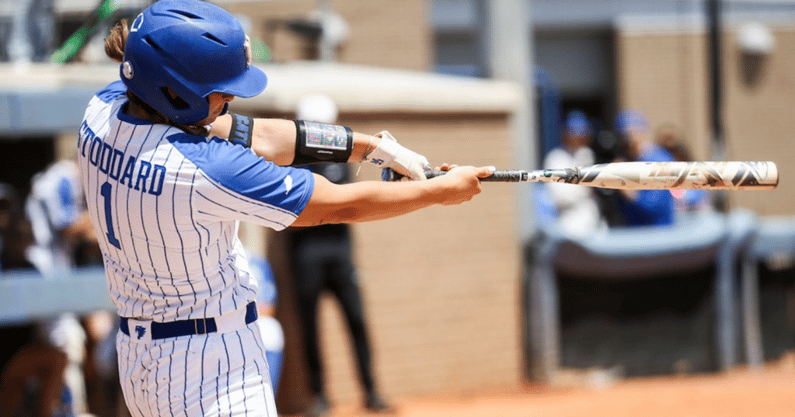 Good morning, BBN. It was a big weekend for the Bat 'Cats all around. While the baseball team was beating No. 1 Tennessee, the No. 13 Kentucky Softball squad was getting it done in Columbia as well. The 'Cats beat the Gamecocks 13-5 on Sunday afternoon to win the series in a run-rule, marking the final series of the regular season.
The series was tied heading into today's match. South Carolina took the first one on Saturday afternoon, but the 'Cats bounced back nicely with an 11-1 win in the second. Sunday's result was pretty similar to game two.
The Kentucky offense wasted no time finding their groove. Erin Coffel started things off with a deep homer to center field, making it a quick 2-0 game. Miranda Stoddard got in on the action in the second, sending a ball over the left field fence. A pair of doubles and a wild pitch afterwards gave the 'Cats a commanding 7-0 lead heading to the bottom of the inning.
A South Carolina throwing error allowed UK to tack on another in the third. Junior Emmy Blane hit a two-RBI homer to center field next, making it 10-0.
The Gamecocks finally tacked one on in the bottom of the fourth thanks to a Wildcat fielding error. They threatened to add more, but Kentucky pitcher Izzy Harrison worked her way out the jam and ended the inning with no further damage.
Lauren Johnson put an exclamation point on the day with a two-RBI homer of her own in the top of the fifth, making it 13-1. It was her seventh of the season.
The Gamecocks wouldn't go down without a fight, though. They scored four runs in a matter of minutes in the bottom of the inning, forcing a UK pitching change. Stephanie Schoonover finished the game for the Wildcats from the mound, helping them snag the 13-5 win in just five innings.
The win marks Kentucky's last regular season game of the season. They finished 35-16 overall and 13-11 in conference play. The 2022 SEC Tournament will begin on Tuesday in Gainesville.