No votes for Kentucky in this week's AP Top 25 poll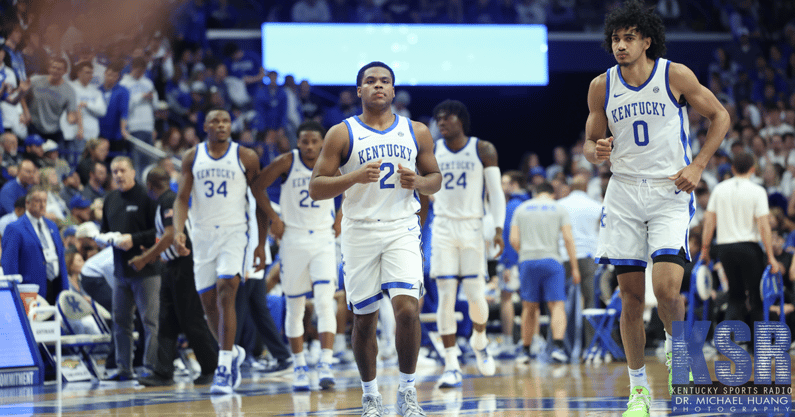 It's a new week for the AP College Basketball Top 25 Poll, yet another poll without Kentucky Basketball in it.
Today, the AP updated its Top 25 and your University of Kentucky Wildcats did not make the cut for a fifth consecutive week. Even worse, the Wildcats are going in the wrong direction because they weren't named among the other teams that received at least a vote in the process. 14 unranked schools earned a mention in Week 13.
At the top, Purdue maintained first-place status for a second straight week, one place ahead of Tennessee in Alabama's old spot at No. 2 in the country. The Vols jumped Houston at third in moving up from fourth to second in the new poll. Tennessee and Alabama switched spots due to opposite results in their respective SEC/Big 12 Challenge matchups.
Other notables include Kansas climbing one place from ninth to eighth for its win in Rupp Arena and only one other SEC team in the entire Top 25, Auburn hanging on at No. 25.
Missouri is knocking on the door.
AP College Basketball Top 25 Poll – Week 13
| | | | | |
| --- | --- | --- | --- | --- |
| RK | TEAM | REC | PTS | TREND |
| 1 | Purdue (62) | 21-1 | 1550 | – |
| 2 | Tennessee | 18-3 | 1443 | ↑ 2 |
| 3 | Houston | 20-2 | 1415 | – |
| 4 | Alabama | 18-3 | 1312 | ↓ 2 |
| 5 | Arizona | 19-3 | 1310 | ↑ 1 |
| 6 | Virginia | 16-3 | 1258 | ↑ 1 |
| 7 | Kansas State | 18-3 | 1190 | ↓ 2 |
| 8 | Kansas | 17-4 | 1034 | ↑ 1 |
| 9 | UCLA | 17-4 | 993 | ↓ 1 |
| 10 | Texas | 17-4 | 939 | – |
| 11 | Baylor | 16-5 | 905 | ↑ 6 |
| 12 | Gonzaga | 18-4 | 837 | ↑ 2 |
| 13 | Iowa State | 15-5 | 832 | ↓ 1 |
| 14 | Marquette | 17-5 | 769 | ↑ 2 |
| 15 | TCU | 16-5 | 752 | ↓ 4 |
| 16 | Xavier | 17-5 | 689 | ↓ 3 |
| 17 | Providence | 17-5 | 438 | ↑ 6 |
| 18 | Saint Mary's | 19-4 | 419 | ↑ 4 |
| 19 | Florida Atlantic | 21-1 | 392 | ↑ 2 |
| 20 | Clemson | 18-4 | 340 | ↑ 4 |
| 21 | Indiana | 15-6 | 250 | ↓ 5 |
| 22 | San Diego State | 17-4 | 170 | ↓ 4 |
| 23 | Miami | 16-5 | 146 | ↓ 3 |
| 24 | UConn | 16-6 | 131 | ↓ 5 |
| 25 | Auburn | 16-5 | 117 | ↓ 10 |
Other receiving votes: Missouri 74, Charleston 68, Illinois 56, Creighton 51, New Mexico 47, North Carolina 47, North Carolina State 39, Boise State 31, Duke 24, Rutgers 17, Texas A&M 16, Northwestern 13, Memphis 10, Arkansas 9, Pittsburgh 9, West Virginia 2, Nevada 2, Oral Roberts 2, Saint Louis 1