Pat Riley is the real winner of HBO's 'Winning Time'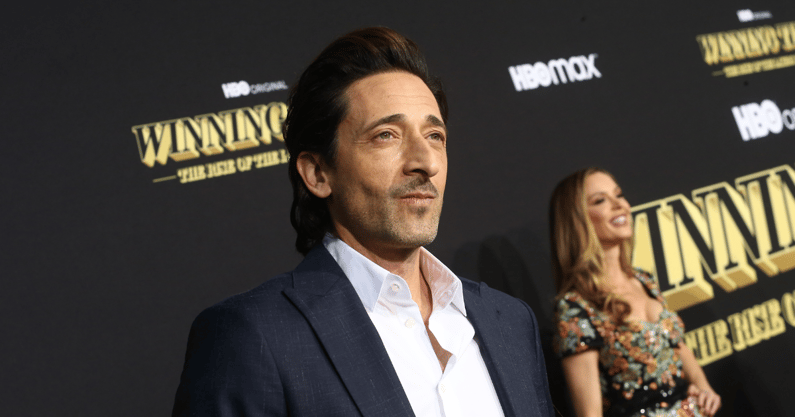 The NBA is a league built on narratives. Just look at Pat Riley, UK alum and President of the Miami Heat, whose team just clinched their sixth Eastern Conference Finals appearance in the past 12 years. Today, he's known around the world as one of the most accomplished coaches and executives in league history. But without one lucky break, he never would have gotten his shot.
HBO's hit series Winning Time: the Rise of the Lakers Dynasty tells the story of that break, albeit with a fictionalized bent. In the show, John C. Reilly portrays ebullient Lakers owner Jerry Buss as he embarks on the tumultuous 1980 season that ended in rookie Magic Johnson's first NBA title. Adrien Brody plays Riley, a fresh-faced assistant whose creative determination helps first-year coach Paul Westhead (Jason Segel) navigate his way to championship glory.
He may not play a feature role in the debut season, but everyone knows the story of the "Showtime" Lakers is as much Riley's as anyones. The sideline icon that would lead L.A. to four championships in the '80s is hidden just below the surface in Brody's layered persona.
In a show with so much else going on, the Wildcat legend's presence can be easy to overlook. But if you're waiting for a reason to give HBO's latest production a watch, let it be this.
The Man for the Moment
Riley enters the scene in Winning Time as an inexperienced broadcaster who gets promoted to assistant coach after Jack McKinney's bicycle accident (this much is true, although the timeline is slightly tweaked). He's not yet the slicked-back character we remember, but Brody's portrayal is one of the most enjoyable parts of the show.
As the season progresses, you start to see the conniving charm and conviction that would make Riley so successful as a coach and executive in the future. His direct nature compliments Segel's over-the-top Shakespearean take on Westhead, an unorthodox duo that nonetheless proved effective. By season's end, he looks right at home stepping into the spotlight:
Of course, Riley was destined to take over for Westhead just two years later, building the Lakers dynasty and launching his own career as head coach. But successful coaches come and go; like his boss, Riley became a transcendent figure in the sport through his brand. (Not many basketballers find themselves on the cover of GQ. Even less can pull it off looking like they woke up in an Armani suit.)
The thing that Winning Time captures perfectly — as exaggerated as it may be — is the story of a man capitalizing on his moment. Knowing what comes next makes it all the more fun.
Winning the Brand War
Early in the second episode, new office intern (and modern-day team owner) Jeannie Buss, played by Hadley Robinson, attends a brainstorming session with Lakers front office personnel. The goal of the meeting is simple: generate ideas to fulfill their new owner's vision of turning the L.A. Forum into a money-maker.
After a few acoustics-related suggestions, Buss chimes in. "This is Hollywood," she says. "We don't need to make the Forum sound good, we just need to make it cool."
This idea is at the heart of what makes Winning Time so compelling, despite its flaws. As Reilly's character repeats throughout the season, winning is not about X's and O's– it's about selling a desirable product. The Lakers became the team of the 80s by building a brand of basketball that was unlike anything the sport had seen before, and it lifted the entire league as a result.
Accordingly, for a show about basketball, there's very little on-court action to be found. Most of the series is spent chronicling the off-court drama surrounding Buss, Johnson & co. It's the "Showtime" philosophy in a nutshell: the truth doesn't sell tickets, magic does.
That brings us to our next point…
Fact vs. Fiction
The series has received mixed reviews, with critics pointing out "creative liberties" taken in characterization and historical detail. Lakers legend Jerry West has been the most vocal, even demanding an apology from HBO for his portrayal. The network stood by its choices, restating that show was never intended to be a documentary.
Objecting to a widely-syndicated false likeness of yourself is understandable. But at the end of the day, it's Hollywood — what do you expect?
Besides, outside of West (who comes off as a foul-mouthed miser) and Larry Bird (a perfectly villainous hick caricature), the embellishments are largely inoffensive. Keep in mind, this is what a mid-thirties professional athlete looked like in the 1970s:
Back in March, The Ringer's Katie Baker interviewed Brody about his approach to playing Riley. He spoke about the challenge of playing a larger-than-life figure at a point where the only person who believes in his potential is himself:
"You know where the man ends up and what he's achieved, and then you're asked to portray a lower moment in his life, and represent a sense of a drive, and maybe failures of belief at certain moments—but ultimately a sense of belief and determination in what you can achieve," Brody said. "It's like having utter faith that it will happen."
Brody absolutely nails this, and it's a joy to watch — as is most of the series, if you can set aside your disbelief for a few hours. But then again, isn't that the point of a show?
However you feel about the creative choices, one thing is certain: Winning Time captured the spirit of the "Showtime" Lakers' brand like never before. And in the process, it delivers a compelling origin story for the former Kentucky star who embodied that brand better than anyone.