Ranking Kentucky's 13 non-conference games in order of sheer enjoyment
Kentucky's 2014-2015 non-conference schedule is out, which means two things: 1) You can finally plan your late fall/early winter social gatherings, and 2) We can finally turn the page and focus on next season. With that in mind,
I spent the afternoon ranking UK's 13 non-conference games not in terms of difficulty, but sheer enjoyment
. Because that's how we do things around here.
13. WRIGHT STATE (Rupp Arena, Friday, Nov. 20)
This will be the fourth meeting between Kentucky and Wright State, and, predictably, the Cats lead the series 3-0. According to last season's KenPom and RPI, the Raiders are the second worst team on UK's non-conference schedule behind South Florida, but because this game doesn't take place in Miami and, I'm sorry, Wright State basketball doesn't really get my toe a tappin', it registers the lowest on my radar. It's okay. Someone has to be last.
12. NJIT (Rupp Arena, Saturday, Nov. 14)
The only reason NJIT is ahead of Wright State in my rankings is because I can already tell we're going to have fun with their nickname--the Highlanders. In fact, it's really a shame the NJIT game is the day after the season-opener against Albany because it probably won't get the attention it deserves. Except from me. There can only be one!
11. EASTERN KENTUCKY (Rupp Arena, Wednesday, Dec. 9)
It seems like most of the tension between the Cats and our neighbors down I-75 is on the football side, or this matchup would rank higher on my list. This is the second consecutive season UK will take on Eastern, who made it to the CollegeInsider.com quarterfinals last year because apparently that is a thing. Former UK men's basketball manager Dan McHale is now the head coach at Eastern, giving the affair even more of a Bluegrass feel. I can already tell we're going to like his postgame presser.
10. ALBANY (Rupp Arena, Friday, Nov. 13)
Nothing about Albany excites me, or probably anyone. Like our own state capital, they're kind of the afterthought of their state, which is pretty sad; however, their mascot is a Great Dane and they're the season-opening opponent, which boosts them up the list a bit. Ain't no game like the first real game at Rupp, after all.
9. ILLINOIS STATE (Rupp Arena, Monday, Nov. 30)
Nothing says sexy like Monday night basketball. Illinois State was actually pretty decent last season, making it to the second round of the NIT. The Redbirds even upset Wichita State during in the MVC Tournament and have beaten at least one Top 25 team in each of its last four seasons. That last factoid made me move them two spots up in my rankings. Eek?
8. BOSTON (Rupp Arena, Tuesday, Nov. 24)
UK beat Boston 89-65 last season in a game that will always be remembered for Dominique Hawkins' dunk. The only reason the Terriers are in my top ten is because I have an excuse to post this video again:
7. OHIO STATE (Barclays Center, Brooklyn, N.Y., Saturday, Dec. 19)
This game is part of the second annual CBS Sports Classic, aka "The Extra Neutral-Site Non-Conference Event Calipari Wanted." Normally, a game against the Buckeyes would be higher on my list, but D'Angelo Russell and their second leading scorer--
Googling..Googling
--Sam Thompson are gone. Nevertheless, this is a weekend in New York, so let's go.
6. ARIZONA STATE (Rupp Arena, Saturday, Dec. 12, 2015)
Bobby Hurley returned to Rupp last season as the head coach of Buffalo, and he's back again with Arizona State. This game will get attention for more than just the boos he'll receive; Hurley is a darling in the coaching world and many think he can make some noise at Arizona State. At the very least, he can be the star of some craptacular Photoshops.
5. SOUTH FLORIDA (American Airlines Arena, Miami, Friday, Nov. 27)
UK will head to Miami the day after Thanksgiving for a matchup with our old friend Orlando Antigua, the coolest man with the coolest Twitter profile pic ever. A lot of people are guffawing over the scheduling of this game--right after Turkey Day and right before the UK/Louisville football game--but a trip to Miami in late November has me volunteering to leave my family's festivities early. (Sorry, family. Love you.)
4. UCLA (Pauley Pavilion, Los Angeles, Thursday, Dec. 3)
The next week, the Cats will cross the country to play UCLA in Pauley Pavilion, another warm weather showdown. This is the first game in a two-year home-and-home series with the Bruins, and the first time Kentucky has ever played in Pauley. Last year, the Cats embarrassed UCLA 83-44 in Chicago, but the Bruins rebounded to make the Sweet 16. With palm trees, In-N-Out Burger, and Pauley, it's a true testament to the greatness of this year's non-conference schedule that this game doesn't rank higher.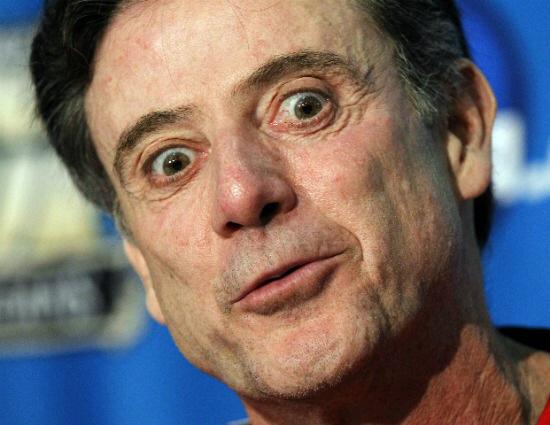 3. LOUISVILLE (Rupp Arena, Saturday, Dec. 26, 2015)
Louisville will be terrible this year, but that may make this game even more fun. In fact, if it were the same team with any other name, this game would be much lower on my rankings, but Louisville is Louisville and beating them in late December has become a holiday tradition.
2. KANSAS (Allen Fieldhouse, Lawrence, Kan., Saturday, Jan. 30, 2016)
I went back and forth between this game and Duke for the number one spot, but ultimately put UK's trip to Allen Fieldhouse second on my list; I could even list them 1a and 1b. I've never been to The Phog, but I've heard great things, and hopefully I'll draw this trip out of the KSR assignment hat. After the Cats wiped the floor with them last year, the Jayhawks will be out for revenge, and I hear that place can get quite loud. Bring it on.
1. DUKE (United Center, Chicago, Tuesday, Nov. 17)
Even just typing those four letters gets me hyped. It also makes me gag a little bit, especially when I went through the Google search and saw all their Championship pictures. Duke had nothing to do with Kentucky not making the finals, but that doesn't mean I don't hate them for winning. (
That was supposed to be us! That was supposed to be our blue and white confetti!
) Both teams are totally different now, but I still want Kentucky to beat them very, very badly. I bet Tyler Ulis does too. Your turn.